Yesterday, Ubisoft confirmed the news we'd all been waiting for: the next Assassins's Creed is indeed set in London, and will be called Assassin's Creed: Syndicate. We've got a five month wait until its release on 23 October, and we have to say, we're very excited!
Here's the key points from Ubisoft's announcement…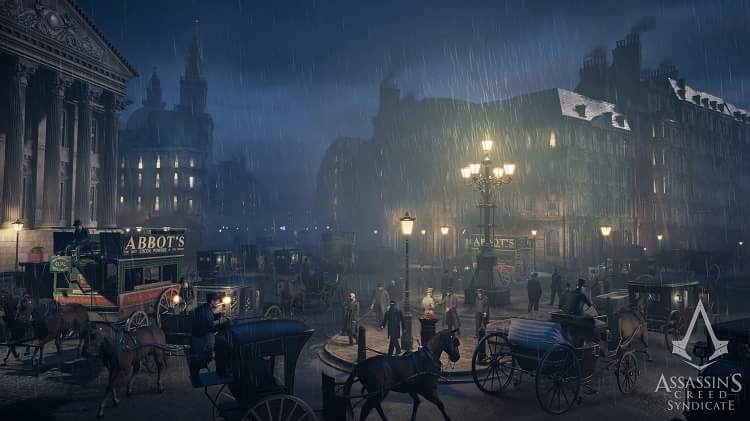 The most modern Creed yet
Rumours of an Assassin's Creed being set in London have been confirmed, and the next Creed will be set during in 1868 – right in the middle of the Victorian era and at the peak of the Industrial Revolution. That makes Syndicate the most modern Creed yet – and opens the gateway to new weaponry, new technology – and for the first time ever, vehicles!
Gang warfare
Protagonist Jacob is leader of an underground gang – and Victorian London is rife with gangs popping up on all corners of the city, as the working class revolt against the rich. The Assassins are on their side – and as Jacob it's your job to take over the gangs of London by brute force to establish "Great Britain's fiercest gang" – a force that will be strong enough to end the oppression.

Driving!
Well, we're not sure if it's still called driving when it's a horse and carriage, but for the first time in Assassin's Creed history, you'll be able to take the reigns of a vehicle and traverse the open world faster than ever before. That means that we'll see race missions, as well as vehicular combat. We've no doubt that this will add a whole new level of entertainment to the franchise.
No multiplayer or co-op
That's right. Assassin's Creed: Syndicate is entirely single player. The multiplayer modes that featured in earlier Creeds – and that proved to be very popular with many – have been scrapped, as has the co-op template that was tested (with mixed reception) in Unity. This could be a blessing – whilst fans of multiplayer will surely miss the action that frenetic online battling can offer, it means that the developers have focused all their attention into the main campaign. More people working on single player and more attention being paid to the story can only mean a better, stronger experience.
A female protagonist
Although the story mainly follows Jacob Frye, born and raised Assassin, you'll also get to play as his twin sister, Evie. Yup, feminists unite – finally, a female playable character in Creed! It sounds like about 25% of the game is from her perspective, so whilst it's not much, it's certainly cause for celebration, if playing as a girl is your thing.
The largest city ever
Ubisoft have promised that their recreation of London is the largest city ever created. That's quite a feat, because Paris in Assassin's Creed: Unity was positively massive. We're very excited to see the even bigger scale that London will be set on. We know that many famous landmarks will be recreated, including Big Ben, Buckingham Palace, St. Paul's Cathedral, and Waterloo Station.
New ways to traverse the environment
Parkour has always been a major factor in any Creed game, and Assassin's Creed: Syndicate will be no different – except thanks to the dawn of the Industrial Revolution, you have extra tools at your disposal. Syndicate includes the brand new rope launcher, making it even easier to climb up the tallest monuments and bridging gaps between buildings.
Watch the full reveal of Assassin's Creed: Syndicate here:
What are your thoughts about Assassin's Creed: Syndicate? Are you looking forward to gangs, driving and two playable characters? Do you think Victorian London will make a good backdrop? Comment below!