A couple of days ago, Insomniac Games teased us with a very cryptic aquatic trailer.
Turns out it's called Song of the Deep, a metroid-vania inspired action adventure game following a girl (Merryn) on her quest to find her missing father. It'll be launching this summer for PS4, Xbox One and PC – priced at $14.99 or roughly a little more than £10.
The story of Song of the Deep is inspired by the daughter of Insomniac Games Chief Creative Officer Brian Hastings and aims to provide a simple but powerful message: "no matter who you are, you have the ability to overcome adversity when you don't give up."
You'll be able to explore a non-linear underwater world and upgrade your submarine to access exciting new areas. In order to upgrade, you'll be giving coins to a friendly hermit crab and he'll give you abilities such as a brand new claw, sonar blast or torpedoes. Coming up with inventive ways to do battle with enemies is a key element to Song of the Deep, allowing you to craft your own playstyle, such as grabbing enemy projectiles with your newly installed claw and hurtling it right back at them.
In an interview with IGN, Hastings (Chief Creative Officer) said that Song of the Deep isn't designed entirely around combat, but more about telling a narrative and discovering amazing things in an unfamiliar universe. Puzzle-solving is another important element to the game and he expands on this, saying "[Merryn's] not a killer. She never hurts a human over the course of the story, but if she's just destroying things along the way, it didn't feel like it fit the tone and the mood and who she was… she's the hero because she's smart, because she's persistent and because she's resilient. How do you get that across as a character? How do you have the player feel that? A lot of that was, you need to explore, you need to solve puzzles, you need to use your mind in order to get through."
With the main character having such a close personal connection with Hastings, he believes that Merryn is an important reminder that female protagonists in games don't always need to be sexy or alluring to be successful. He also says that Merryn is a "different kind of hero" where her story lies in losing sight of what's important or best about ourselves and rediscovering this as we journey through the game.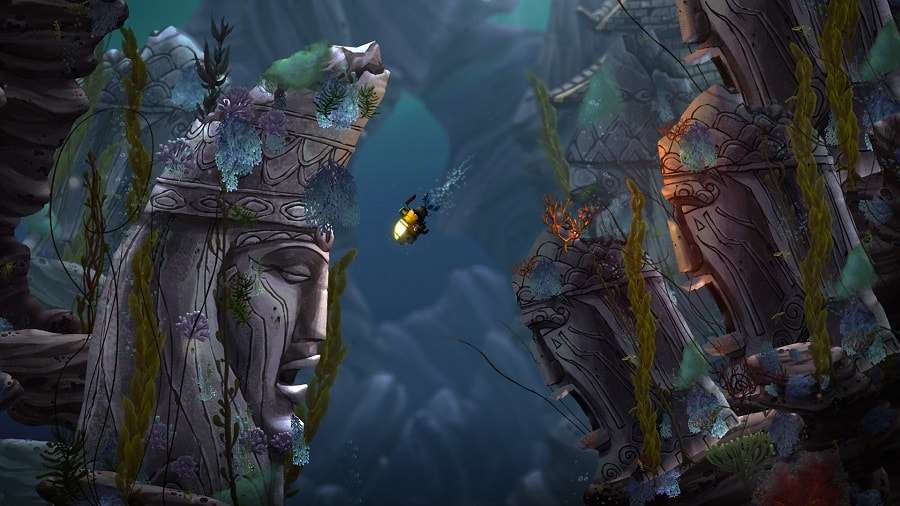 Another interesting feature about Song of the Deep is the partnership Insomniac Games has formed with GameStop. Popular videogame retailer GameStop are said to be taking control of promotion and marketing. The game will be available to download on multiple platforms but to purchase a physical copy you'll have to head into a GameStop store to do so. I must stress that Insomniac Games hold intellectual property rights, so the game and its development are firmly in their hands. It's a surprising relationship that happened to form thanks to a conversation between Ted Price (founder of Insomniac Games) and GameStop's Mark Stanley.
That's not all, Gamestop will also be retailing Song of the Deep merchandise. And Insomniac Games have partnered with Sterling Publishing, who're part of publishing company Barnes and Noble, to produce Song of the Deep children's books for those aged between 8-12. It's all about finding creative ways of producing extra content and I've got to give it to them, these are some neat ideas. I can see grown men purchasing the children's books to soak up even more lore; I reckon I'd like a cuddly hermit crab and I haven't even laid eyes on him yet.
Song of the Deep is touted for release this summer on PS4, Xbox One and PC retailing at $14.99 or roughly £10. Here's the original post for more information.