By Martin Blessing
As Mark Twain once said, "Golf is a good walk spoiled".
It's quite profound and fans of golf can certainly resonate with this saying. However, with EA's latest addition to their golfing franchise, Rory McIlroy PGA Tour, it may be more than the walk that is being spoiled here.
EA's latest golf game comes at us with a new makeover. For reasons I'm sure we're all aware, Tiger Woods is no longer affiliated with the long-standing golfing series, so instead they've teamed up with the new face of PGA golf: Rory McIlroy. What does this mean for the game? Well, not a lot really. Just a new endorsement and face to publicise their game. It has been two years since EA last brought us a PGA title, with Tiger Woods PGA Tour 14 being their last instalment on the Xbox 360 and PS3, and Rory McIlroy PGA Tour marks their first foray in to the current gen market with a golfing game. Unfortunately, it is rather apparent that the game is not utilising all the power that the current generation of consoles has to offer.
EA has certainly put out a clear message with their recent releases. We'll release you a game first, limit what is available on it, and then stranglehold you with a list of promised DLC over a span of around two years. This was very clear with Star Wars Battlefront: only four maps, but promises of more over a two year period – at a cost of an extra £40. I digress, but I draw similarities to Rory McIlroy PGA Tour. As standard, there are only 12 maps available to play. Just 12. Previous titles had around 20 at release and they were all real courses. In this instalment, only eight of these course are real-world golfing locations. Bizarrely, we even have a Battlefield course on the game; Paracel Storm. It may be me and my desire for a golf game to be an actual golf game, but I see no sensible reason as to why I would want to play golf on a first person shooter map. Ever.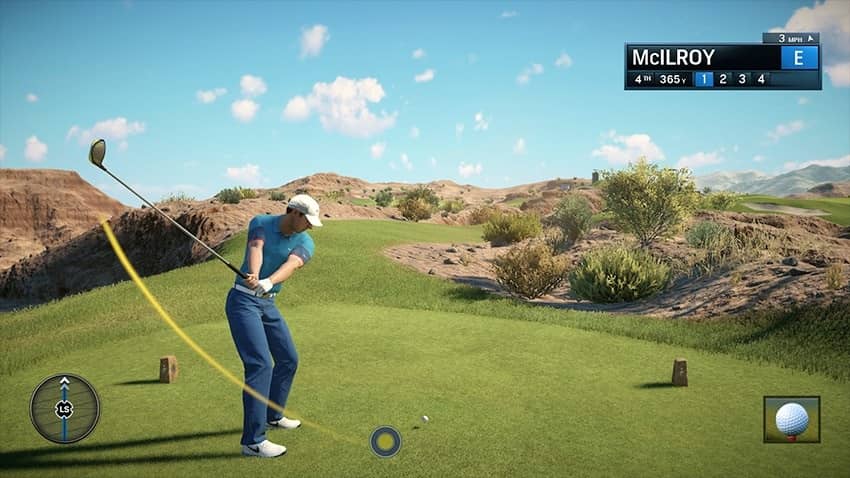 Since release, EA have released a further six free maps to the game, bringing its grand total to 18. With regards to the "genuine" maps, they are visually very pleasing indeed; playing 18 holes of St. Andrews is fantastic, with the course aesthetics mapped out fantastically. Not just St. Andrews, but all the courses as a whole are very well-designed with realistic graphics and a great attention to detail.
With regard to the actual gameplay, it's clear to see that EA have put some work into ensuring the game controls as well as it could. Not dissimilar to previous PGA Tour titles, you swing your club by pushing the left analog stick back and then forth in as best as a straight line as you can get it, minimising the risk of over and under swinging. It sounds very easy, but even the slightest bit of deviation can send the ball off in to areas of no return. Digging deeper, there are more advanced controls that more seasoned players may wish to make use of, such as managing where you can strike the ball to gain more or less loft, should you need it. The controls work seamlessly, and the overall mechanics are very well simulated toward real life play.
There is a selection of pre-set gameplay styles to choose from within Rory McIlroy PGA Tour; namely arcade, classic and tour. Arcade is the easiest of the three. It allows the camera to fixate on the exact point where you wish your ball to land, and gives you the ability to add varying levels of spin to your ball whilst in mid-air, allowing you to change direction of your ball if you've hit one wayward. It also gives you the ability to add additional boost to your drive when taking your back swing. Classic mode makes things a little harder, in that the ability to spin and boost your ball is turned off and the swing method is changed to stopping the swing meter at three points to engage in that perfect swing. Tour is the hardest of them all: the ability to change the camera to the point of where your ball will land is turned off. The putt assist is also turned off, leaving you to play the game as you would on the golf course, with zero assists. The modes suit all types of players; whether you're a high or low handicapper, there is sure to be a mode akin to your way of playing.
I'm afraid however, this is where the game peaks. Despite its great mechanics and great visuals, there just isn't enough game. Take the Tour Pro career mode. I for one would assume this would be the most played mode of the series, but unfortunately it's very thin on top. There's no depth, no progression, and it offers no challenge whatsoever. I'm not talking as if I'm a seasoned pro, but it's almost difficult not to progress in career mode, and when you do, there doesn't appear to be any particular reason to progress. The only incentive, from what I can gather at least, is to unlock new clubs and outfits for your player, which doesn't exactly give me much motivation if I'm being brutally honest.
There is another mode, Night Club Challenges, which involves playing on a golf course at night time, with floating neon signs and targets littered everywhere. The idea is to beat high scores by landing the ball in the centre of a target or pass the ball through a number of rings. As you progress, you are gifted different boosts which can aid you in various ways. The overall theme of it feels tacky and childish, but I'll give it some slack in that the mode is somewhat competitive and can be fairly entertaining. Once again though, it doesn't seem to conform with a true to life golfing game; it instead feels like I'm playing a Rocket League spinoff.
Overall, Rory McIlroy PGA Tour certainly does have its good points. The tight mechanics and gameplay cannot be overlooked and EA certainly has made good on that ground. Is it as enjoyable as the previous titles? No. It lacks the depth which its predecessors possessed and as a result, you're left with little will to return. Regardless, this is the first half-decent golfing game on the current gen consoles, and aside from the gimmicky Night Club Challenges and inclusion of Star Wars Battlefront-themed courses, Rory McIlroy PGA Tour offers a level of realism that you're unlikely to find anywhere else right now. Hardcore fans of EA's previous PGA titles may be a little disappointed at the comparative lack of content and the disappointing career mode, but despite its flaws, there's still plenty of enjoyment to be had.
Rory McIlroy PGA Tour is available on PS4 and Xbox One. We reviewed the Xbox One version.