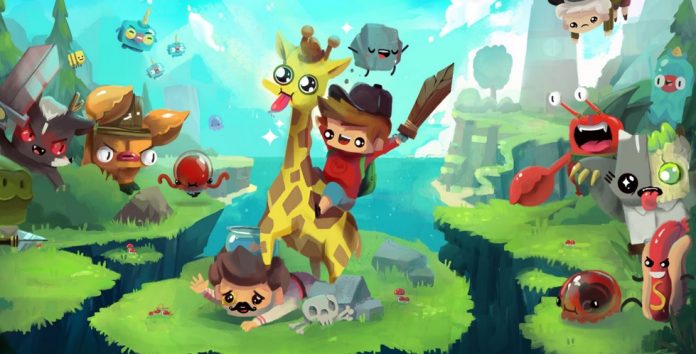 Not only is Friday a day to celebrate the oncoming weekend, get a takeaway and go out for a couple of bevvies with your friends and family, for us here at GameSpew it's time for #FreeGameFriday. That's right Spewers; it's the best day of the week.
For Free Game Friday this week (to combat the past week of horror-related things), Super Adventure Pals is cutesy, adorable and insanely entertaining. Developed by Julian Wilton of Australia-based Corupted Games, this charming RPG is about as tame as a honey badger. On the outside the art-style is so endearing; like Super Meat Boy and No Time to Explain all rolled into one with a dash of Adventure Time. But once you get into it, Super Adventure Pals is dangerously addictive and really quite challenging at times.
In order to track down the evil Mr B and retrieve your beloved pet rock, you and your trusty giraffe must battle across the land to conquer levels, complete tasks, level up and collect the rubies you need to progress further into the game. With each ascending level, the type of enemy and overall difficulty increases, meaning things aren't quite as straight forward as you initially thought.
After a shaky start trying to adjust to the controls, Super Adventure Pals was immediately hard to put down. With great art work, fitting soundtrack and some surprisingly well-written scripts, it's hard not to find something to love about it. Products like this so perfectly represent what I wanted to get out of Free Game Friday and why I started this feature back in September. Games like Super Adventure Pals, the Bad Dream Series and The Darkside Detective deserve to be recognised for the effort put into them and the quality of their results.
From what I've read Super Adventure Pals 2 is in production and waiting to be Greenlit on Steam, so if you've got an hour (or three) to spare, click the link below and get going. There's no need to download, just load up and play. Let us know how you get on in the comments or on Twitter by using #FreeGameFriday, we always love to hear your views, and I'll speak to you next week, folks.