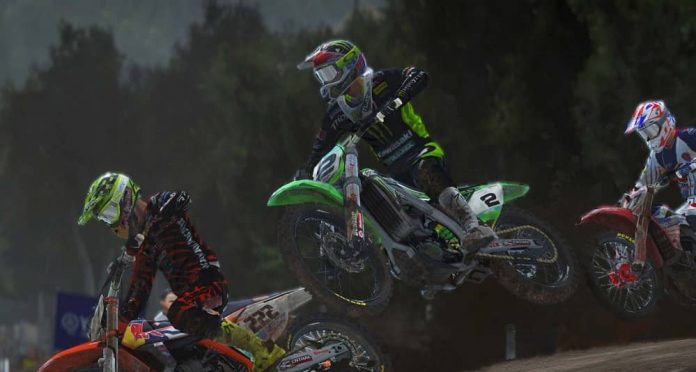 Let me be brutally honest with you for a moment and state that apart from the basics that I've learned from video games, I know very little about Motocross.
The truth is though, I don't actually follow any sports. I don't really care if team X has beaten team Y, or if player Z has sustained an injury that will likely take them out for a season; just put a pad in my hand and present me with a decent video game and I'm a happy chap. Racing games, along with loot filled action RPGs and story driven adventures, are a particular favourite of mine, and whether they're based on two- or four-wheeled vehicles, or even those without any wheels at all, I like to give them a fair go. With my last two experiences of Motocross games on the current wave of consoles being dire affairs however, I was cautious about Milestone's latest effort, MXGP2: The Official Motocross Videogame, but it turns I had no need to be, as thankfully, it's pretty good.
Anyone that's played a Milestone racing game before will know what to expect when they first boot MXGP2 up; the obligatory process of creating your rider, naming your team and selecting your logo of course. Disappointingly you can't really change the look of your rider apart from the gear that adorns him, and your choice of team logos is extremely limited, but I'm sure you're not considering buying the game for those aspects anyway; you just want to race with bikes, on mud, and more importantly, enjoy yourself doing so, surely? Luckily, as soon as you've reached the main menu, you can.
MXGP2 certainly isn't light on content, and straight from the outset you have access to pretty much all of it. In single player mode, you can get stuck straight into MXGP and Stadium Series events, allowing you to race on 22 tracks with either MX2 or MXGP bikes in Grand Prix, Championship and Time Attack modes. Then there's the Monster Energy FIM MXON mode, where you select your nation and take part in team races across three heats on your choice of a further six tracks. Motocross aficionados will revel in the Real Events mode, where you're able to re-enact real world events in MXGP history via 19 challenges, often tasked with changing the outcome for the better. The main attraction of MXGP2 for most though, will be its extensive Career mode, where you compete in numerous racing seasons earning reputation and money as you go. Beginning in MX2, your reputation is invaluable to impressing the many sponsors and teams; a crucial task if you wish to make a name for yourself and progress to MXGP. Money on the other hand, can unsurprisingly be used to purchase, upgrade and visually customise bikes, greatly assisting your goal of consistently placing highly in events, and with style nonetheless.
As a strong selection of singleplayer modes is no longer enough in the age of online gaming, MXGP2 also accommodates players who enjoy the challenge of racing other like-minded individuals across the world. The usual quick, search and create match options are available, as well as all the event types and modes found in single player with the exception of Career, Real Events and Time Attack.  There's also a wealth of race options available to further fine-tune your online experience, including the ability to change the AI difficulty of the bots filling in the empty spaces, turn collisions on and off, and even impose restrictions on the physics models that can be used. With its wide range of gameplay modes and options on offer, combined with good net code that ensures races are free of lag, Motocross fans should have a great deal of fun with MXGP2's online offerings.
Despite all the content and how many modes a game has though, it's the gameplay that determines just how good it actually is, and in the case of MXGP2, it's just that: good. Whilst the controls are responsive and reliable, you just never get a sense of the weight and impact of the bikes as they power around the tracks, jumping and sliding with reckless abandon. As such, MXGP2 is perfectly capable of giving you a thrilling racing experience, but it doesn't go the extra mile to give it the wow factor and make it more fulfilling. What is good though, is that it allows players of all skill levels to get involved thanks to a myriad of assists and difficulty options. Motocross vets can get their kicks with the AI set to hard, pro physics enabled and the use of the helmet cam, whilst new players can cut their teeth with a more lenient physics model and easy AI. Tutorial videos are also included that help you get to grips with advanced techniques such as using the clutch, managing your weight and performing a scrub (a manoeuvre used to reduce time in the air); all of which are vital to reducing your lap times to remain competitive at higher difficulty levels.
Another area where MXGP2 is merely good is in the audio and visual department. Graphically, MXGP2 is certainly not going to set your world on fire due to its less than impressive animations, mediocre track textures and a general lack of visual effects. But then again, when the game is pretty much just mud, mud and more mud in typically dull environments, I imagine it would be hard to make it truly interesting visually. Load times are also quite long, which ruins your immersion in the game a little, as do the mediocre sound effects and generic race music used throughout. On the upside though, performance is solid, with no noticeable framerate issues rearing their head during my time spent playing.
Overall then, MXGP2 is a good game, but it's not going to blow you away. The fantastic range of options and gameplay modes available means that there's plenty here to get stuck into to, and it's definitely enjoyable, but you'll never feel overwhelmingly impressed; an issue not helped by the  long load times and dreary audio-visual presentation. Regardless, if you're after a Motocross game for the Xbox One, this is currently your only option, and trust me, it could have very easily been worse.
MXGP2: The Official Motocross Videogame is available on PC, PS4 and Xbox One. We reviewed the Xbox One version.