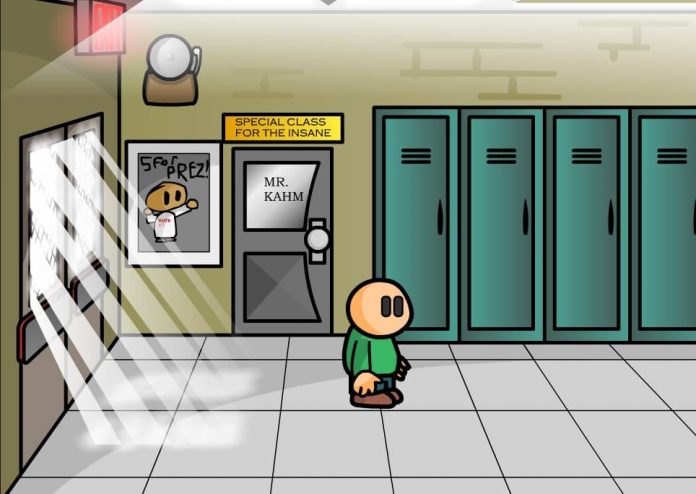 Not only is Friday a day to celebrate the oncoming weekend, get a takeaway and go out for a couple of bevvies with your friends and family, for us here at GameSpew it's time for #FreeGameFriday. That's right Spewers; it's the best day of the week.
This week's Free Game Friday is a bit of a classic. Some of you may remember the days of the flash game, back when YouTube was still a baby, Bebo was a thing, and when Albino Black Sheep was one of the best websites ever. In 2006 developer Jonochrome (JonBro back then) released a series of Riddle School flash games that, for whatever reason, have sent the internet crazy recently.
Riddle School is a very simple point-and-click adventure game where you play as a suffering student with a satirical attitude, desperate to escape the heinous confines of school. Back in 2006, when I was but a wee school girl, it was the dream of me and my classmates to escape, so no wonder it's coming back in a tide of retro frenzy a decade later. The first game in the series is short, so short you hardly feel like you've played anything at all, which leads you on to play another and another and another…
Typical of a point-and-click game of that era, there will be times in the series where you're clicking on everything but the actual thing you're supposed to click on and it's okay to feel stupid. Eventually you'll click on the only thing in the room you haven't clicked on and you'll embrace that feeling of idiocy and exchange it with satisfaction. You solved it, friend. You solved it anyway.
For whatever reason these sorts of games will always be timeless to me and I hope it's the start of that tide of retro fury because God knows I'm ready to replay those flash games I spent a large chunk of my teenage years playing.
So if you've got an hour to spare, click the link below and get going. There's no need to download, just load up and play. Riddle School works in any browser so no need to dive back into Internet Explorer for this one. Let us know how you get on in the comments or on Twitter by using #FreeGameFriday, we always love to hear your views, and I'll speak to you next week, folks.