Born as a concept by Spellbound in 2007, "Project Ravensdale" was shelved until 2013 in order to make way for other games.
That was until Black Forest Games decided to create a Kickstarter for the game under the title "DieselStormers". Now the project is complete and known as Rogue Stormers – an action filled multiplayer RPG about to take the indie world by storm.
From a first glance at Rogue Stormers, I got the sense that this is just any old action platformer. The opening credits offer little to no background on the history of the game, what it's about or who our characters will be; only that there are a lot of goblins, trolls and guns. However, going in with low expectations was maybe the right plan; I was instantly impressed after my first try at playing the first level.
Players must start as "Brecht" (Wolfgang Albrecht), the Stalwart Captain wielding a powerful motorgun. He is very much a "dive in and shoot everyone in the face" kind of tank, with his heavy blue armour and roaring lion shoulder plates. It turns out Brecht seeks revenge after losing his country and his wife.
You're then presented with a timeline; a linear strand of gameplay you must follow to complete the level. At the beginning is the very first "Battlegate", followed by about 10 more before the last marker very sinisterly says: "Final Boss". Seems simple enough? Complete each level and go fight some ogre or something. Cool.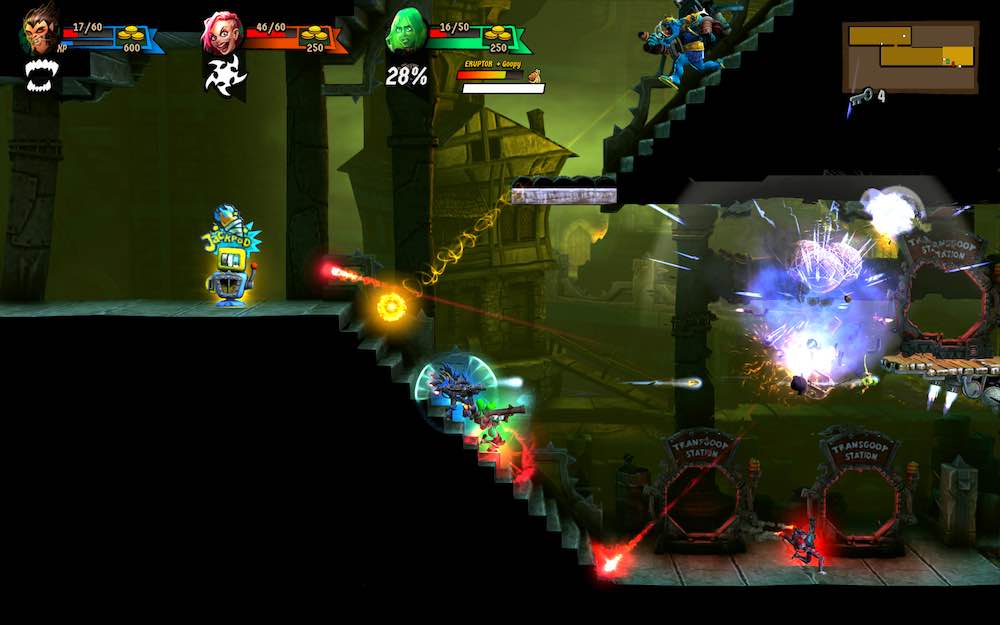 But it's not cool. Not cool at all. The first level presents not only a vast swarm of immediate enemies with guns and bombs as protection, but also plenty of traditional platformer-style puzzles to figure out while a horde of goblins leaps around, firing spike bombs in your general direction.
On my first go I died fairly quickly. That's okay, I thought. I'll only have to start the level again. But I didn't. The game transported me back to the character select menu. A sinking feeling of dread filled me. I tried again and got a little further underground, but died reasonably quickly again, and once again I ended up back at the main menu. I gulped.
Each level is, obviously, harder than the last, but right from the get-go, Rogue Stormers is no walk in the park. And with the added threat of having to start all over again, you need to proceed with caution and are forced to make tactical fighting decisions in order not to die straight away.
The first level is in fact a really interesting place, so at least you won't easily get bored of constantly coming back to the start. Its platform style integrates nicely with the laboratory feel of the overground. You quickly end up underground, however, into a sort of mud-lair filled with monsters. The crossover is fairly unusual these days and evidently a lot of work has been put into the details of each location.
However, the best thing the game offers is – weirdly enough – the music. In a true homage to its platformer ancestors, Rogue Stormers offers us an 80's themed electronic soundtrack to get players pumped and ready for battle. The game as a whole is clearly a flash of the past, updating those old Mega Drive games into a more intricate, immersive experience. Presented with excellent graphics, Rogue Stormers is an amalgamation of steampunk aesthetics. Though the characters are all fairly futuristic looking, the text is all in a gothic font, adding to the all-round medieval vibe.  This crossover gives the game an innovative "look", as it were, and makes it stand out from the other average platformers around nowadays.
Unfortunately, the game offers little in the way of lore/background to the story. All we can really gather is that there are some evil goblins that have seemingly taken over Ravensdale, and that we are supposedly avenging an anonymous wife's death. A little more storyline could have added a really exciting element to the game, and could have really blown me away. The problem with platformers is that without a proper story, there's not much else to it other than shooting bad guys and solving puzzles. Don't get me wrong, that can be fun; but giving a character a background, telling us how they came to be so vengeful, who their beloved wife was, or how they lived before the goblins arrived, could give players a whole new level of immersion.
That being said, Rogue Stormers is a lovable rogue-like RPG, filled with a tonne of action, shooting and puzzle solving. It has a great aesthetic, fantastic music, and a play style that is incredibly reminiscent of The Lost Vikings. Though a fairly hard game to master, it's the perfect find for anyone willing to grind away at levels and never give up. Infuriating as it is, Rogue Stormers is fun and innovative and I very much enjoyed playing it.

Rogue Stormers is available on PC.