2. Valiant Hearts: The Great War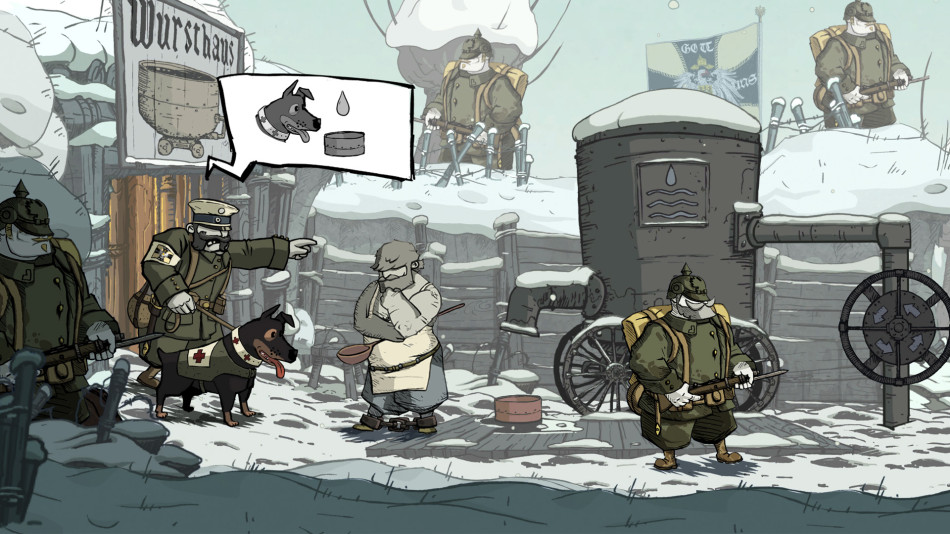 World War One is a landscape often neglected by the video-game industry and one that deserves more attention. Valiant Hearts: The Great War takes place during the chaos of the First World War and delivers an emotional narrative. Within this 2D side-scrolling adventure game, you play as multiple characters whose stories intertwine throughout the course of the conflict.
A touching tale is exacerbated by the game's hand-drawn artistic style that enables the game to emit a sense of hope despite the story's dire setting. The game manages to encapsulate the awfully violent nature of the war whilst telling an incredibly touching narrative. Furthermore, the game also serves as a brilliant history lesson with historical facts being littered across the battlefields that you traverse. With the Battle of the Somme commemorating its 100 year anniversary this year, you owe it to yourself and to those who gave their lives during this bloody conflict to experience this game and understand and appreciate the horrors of war.
1. L.A. Noire
Set during the most violent year of Los Angeles' history and amidst the Golden Age of Cinema, L.A. Noire is a tremendous crime thriller that perfectly illustrates how a game can use its setting to create tone and atmosphere. The year is 1947 and you play as Detective Cole Phelps, a returning war-hero turned crime fighter, who is tasked with solving numerous crimes throughout the City of Angels. The game tackles particular topics pertinent to the era such as race, war and cinema in order to craft a believable and authentic world.
However, whereas the story is suitably dark and engaging, the star of the show is definitely the city of Los Angeles itself. The faithful recreation of the city during the 1940's contains an incredible amount of detail that creates a level of immersion that's right up there with the best in video-games. Discover landmarks, take a stroll through Hollywood Boulevard or simply admire the attention to detail that the game delivers. L.A. Noire truly immerses the player in the period in which it is set and is certainly worth your time.
What did you think of our list? Are there any other video-games set in the past that you enjoy? Let us know in the comments below!