When Artifex Mundi shared the news of yet another Xbox One port – less than a month after their last one – I jumped for joy.
Sure, these aren't the most technically sound games; they're not the most polished nor do they have the most powerful narratives, but they're unfaltering. I know exactly what I'm going to get when I stick on the latest Artifex Mundi game, and very rarely am I disappointed.
Like all the others that came before it, Eventide: Slavic Fable is a "hidden object" style point-and-click puzzle game. Making your way through a series of static screens reveals a multitude of puzzles and a safe but mildly engaging narrative. In this case, you play as a young botanist as she visits her Grandmother in the eerie but beautiful Slavic heritage park. Unfortunately – as always is the case – your trip doesn't go quite to plan, and you end up risking life and limb to save poor old Granny from the clutches of a terrifying monster. Run-of-the-mill, everyday stuff in the world of Artifex Mundi games.
Eventide: Slavic Fable is a slightly newer title than other Artifex Mundi back catalogue games that have made their way to Xbox One. With some dating back as far as 2011 (Enigmatis: The Ghosts of Maple Creek), Eventide's relatively recent PC and tablet launch date of November 2015 shows in its slightly crisper, slightly improved cut scene quality. The animations are still not going to be winning awards any time soon, but a noticeable amount of polish is greatly appreciated.
As always, the majority of the game is made up of carefully detailed and visually pleasing hand-drawn stills. Artifex Mundi's signature art style is on top form here, with a series of locations that are thoroughly enchanting. Characters are markedly improved also – partly due to the fact that along with the cast of humans, this time anthropomorphic woodland creatures are along for the ride too. These animals are as cute as they are otherworldly, with a charm and mystique that single-handedly makes you want to continue on through the story. It's not quite Shakespeare, but the story is intriguing enough to spur you through each scene in order to find out what's going on.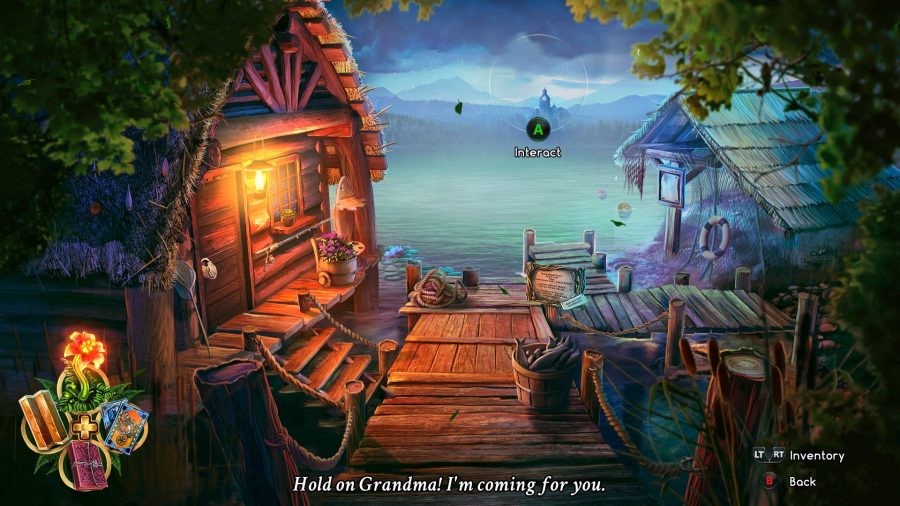 Disappointingly, Eventide: Slavic Fable's runtime felt shorter than the average Artifex Mundi title. I played through the main game and the bonus chapter in a little over two hours, finding all but one of the bonus hidden objects as I went through. The plot would have allowed for a little more development, and some extra scenes and puzzles could have been thrown in to elongate the play time. Still, what was there was more than adequate. The puzzles on offer are the usual fare of untangling, turning, finding, matching or clicking; there's nothing that's going to melt your brain but they're engaging enough to give you some satisfaction on completing them.
Of course there's a fair share of hidden object puzzles too – after all, that's the genre that these games get lumped in. Unfortunately, unlike Nightmares from the Deep 2 and a couple of other previous releases, these hidden object puzzles aren't optional; there's no substitute puzzle to choose from, so you're stuck clicking around for a list of stuff. Thankfully, they're fairly well spaced and unlike other games of this type, don't use the same locations too often. You may revisit the same scene to find new objects once at most, but some titles have you back at the same pile of stuff three or four times.
Eventide: Slavic Fable isn't going to set your world on fire, but it's a great way to pass a few hours – and for achievement hunters amongst us, it's probably one of the easiest games to net 1,000 points with. If you've played and enjoyed Artifex Mundi titles in the past, then you know exactly what to expect, and Eventide is perfectly on form. If you're yet to take the plunge into this type of simple but cathartically enjoyable gameplay, this is a perfect starting point. It's never going to be for everybody, but as far as "hidden object" games go, you don't get any better than Artifex Mundi.
Eventide: Slavic Fable is available on mobile, PC and Xbox One. We reviewed the Xbox One version.