Dark Flame has everything you want from a 2D ARPG title. Fantastic environments, fluid mechanics, and great enemy design all come out in droves. Just within this pre-alpha build, a solid foundation for a great game exists. While, for most of the demo, it feels more like a tribute to Castlevania than anything else, that doesn't come across as a bad thing. There's promise in what is here.
Dark Flame, from the moment it begins, takes you back to classic 2D gaming. Hand-crafted environments that look darkly beautiful, and an atmosphere that perfectly matches the mood of the game hit you first. Even in its infant stages right now, it is truly impossible not to see the massive influence of Castlevania on this title. From level design to character movement, the inspiration is palpable. But, nonetheless, Dark Flame comes into its own after time. It's crafted with care, born from respect for the genre (or so it seems), and plays quite well. So, let's sink our teeth into this demo a bit more.
Much like its predecessors, Dark Flame has one character which you do not customise or alter in any way, Taharial. A knight tasked with fighting the horrid darkness creeping over the land, Taharial is as bold as he is quiet. The world which you must explore is filled with foul creatures, traps, weapons, NPCs, armour and much more. A foreboding soundtrack follows you throughout, although it sometimes gets a little more modern than the world feels. The music definitely feels like an ode to Metroid, as it stirs some memories of Samus' adventures. One great thing about the demo is that it doesn't push you in one direction, and I hope that is kept and expanded upon in the full release.
The combat variations available here aren't vast but show that the game is heading in the right direction. Only swords are available, as well as a few spells along with active and passive abilities. A leveling system allows you to apply skill points to one of three areas: strength, endurance, or intellect. Basically attack, defense, and magic. Weapons seem to have slight differences, though I hope they become more pronounced later on. The magic attacks differ greatly, and allow for close or long range attacks, allowing for different gameplay styles, which is always great. Combat is challenging and balanced, it just needs…some flare, some variation. Enemy encounters can always aide in that cause.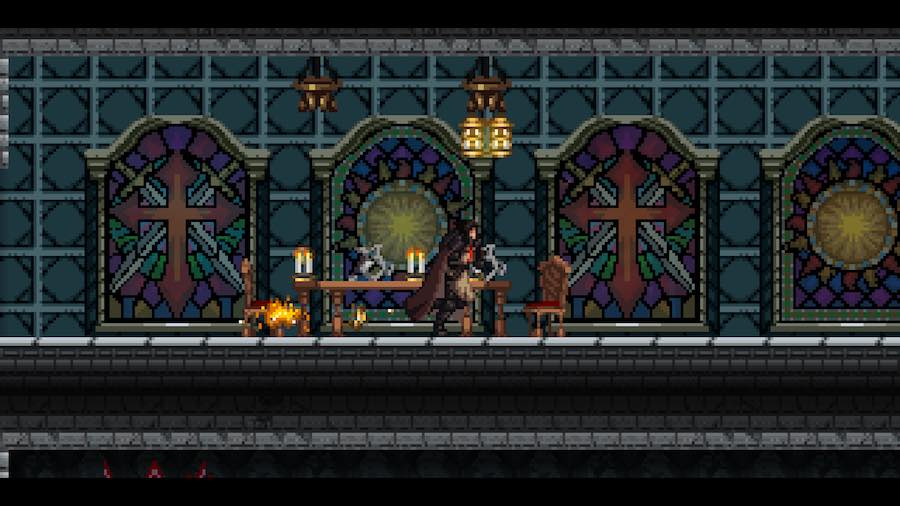 Enemies range from annoying to rather difficult. Granted, annoying is a subjective observation, but there are a few that may benefit from some minor tweaking. The boss battles are extremely reminiscent of Castlevania fights, and they require patience and skill. Dark Flame continually surprised me with its well-crafted difficulty, and the thought of a full scale game like this is nice. NPC encounters, though sparse, were enjoyable and darkly funny. There are undoubtedly some Dark Souls and Legend of Zelda inspirations here, as well. This demo really had a great feel to it, and left me wanting little more. I think it just needs to expand and grow, with only slight deviations, not an entire re-mapping.
It is hard to deny where Dark Flame came from. Its inspirations and foundations are clearly laid out, and they come from a rich video game history. In a time of remasters and remakes, its easy to call this a copycat game, but there's differentiation between copy and imitation. Dark Flame shows promise as a great look back to the classic times of Castlevania and Metroid, with its own quality. It's said imitation is the best form of flattery, and this game is shaping up to be a great ode to its predecessors. With time, room to grow, and some expanding, Dark Flame will morph into a great addition for your library. What's there now can certainly become something noteworthy.
Dark Flame is in development for PC. Visit the official website for more information.
---