Just why do we play video games?
It's a question that has no definitive answer; we all play them for different reasons after all. There's one response that I'd expect to see quite a lot though: to escape. Whether it's from our boring day jobs, overactive minds or troubled homes, video games give us the perfect way to sit back, relax, and be somewhere or someone else, even if only for a few hours. The Elder Scrolls series by Bethesda has always been one of the best enablers of escapism in my eyes, and the latest entry, Skyrim, now remastered for the current generation of consoles and PC, is no exception.
With its massive open world, perhaps even dauntingly so when you first start, there's so much to see and do in Skyrim that it's easy to lose hours at a time, unmoving and unblinking. Every journey you make into uncharted territory is full of new sights and sounds, and every quest you undertake offers its own adventure, but yet, the world of Skyrim is not perfect. As you go about your business, you'll find that sometimes it all just feels a bit dead. Very rarely do you see people travelling from town to town, hoping to peddle their wares or see friends and relatives. Similarly, I can count on one hand how many times I've encountered adventurers just like myself, making a name for themselves by performing impressive feats. I've raided countless bandit strongholds, sure, and stumbled upon many hurriedly assembled camps, careful to not show aggression until I've established whether its inhabitants are friend or foe, but the general sense of stillness when out in the open world is disconcerting.
Skyrim has other issues too. The melee combat system, for example, feels awfully limited, and the strength of your foes can be quite erratic, leading to some frustrating moments if you've failed to remember to save for a while. Meanwhile, its skill system feels unnecessarily dumbed down compared to that of earlier entries in the series, exchanging a great deal of depth for transparency and ease of use. Furthermore, the main questline is quite frankly dull, with few events worthy of note. It's irritating that a large number of miscellaneous quests can't be effectively tracked. And finally, your limited carrying capacity always looms over your head; often sucking the fun out of your dungeoneering as you yet again can't pick up that lucrative piece of loot you've just found as it makes you "encumbered". I mean, come on, your character doesn't even have any pockets.
The truth is though, is that none of Skyrim's problems particularly matter that much. It's somewhat the perfect example of a game that comes together to be greater than the sum of its parts. The sense of adventure and exploration is awe inspiring, regardless of the sub-par mechanics that empower it. Skyrim's magic is in the things you discover when on your travels. The people you meet and how you interact with them. It's the type of game in which you head off to a location with a clear purpose, but then find yourself on the other side of the map after being enticed by a chain of undiscovered locations and what they may have in store for you. It's immersive on a whole level to itself, as you create your digital avatar and be who you want to be in a fantasy world full of mystery and wonder. It's not perfect, but it perfectly captures the essence of escapism.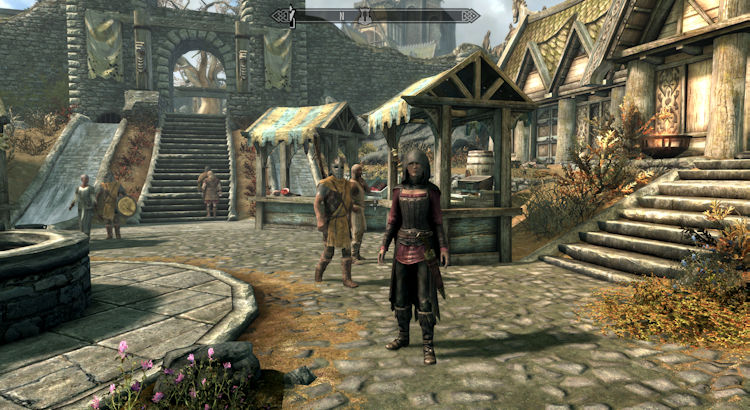 So, at this point, if you've already played Skyrim before you're probably wondering "when's this guy going to stop waffling and tell us what's different about this new special edition?" Well, here goes: not much, and yet also possibly a great deal. With regards to the base game itself, all of the available DLC is included, which is nice, and the graphics, whilst still not what you'd call "cutting edge", have been greatly improved.  Playing on Xbox One for the purposes of this review, textures are sharper, colours are richer, and enhanced lighting and special effects work together to bring more spectacle to the environments. More impressively, I encountered no frustrating bugs during my time spent playing, and the framerate holds up extremely well, rarely dropping to affect the gameplay in even the most hectic of times. New to consoles though, is mod support, allowing players to access a whole host of game-changing content that could keep them entertained for years to come. Or at least on Xbox One anyway, which isn't subject to the silly content limitations that Sony have imposed on the PS4 version. Whilst using mods disables achievements – a move which will no doubt be frowned upon by many – the way they can be used to transform the experience is simple, but opens the floodgates for a tide of creativity.
Before I round things up, a special mention must be given to Skyrim's musical score, which is absolutely stunning. Composed by Jeremy Soule, each track complements your adventures like a childhood friend, knowing which strings to pull to get you in the mood for the situation at hand. From soothing, slow paced melodies that enhance the calmness of a woodland stroll to the rousing drum beats that provide the backdrop to battle, your ears will be stimulated every step of the way in a way that they very rarely are. It truly is an aural treat.
With its host of visual improvements, solid performance and the inclusion of all DLC, Skyrim Special Edition is a must buy for those that are yet to step into its world. Whether it is worth double-dipping for those that have already seen and done everything however, is for them to decide. There's nothing new to behold, beyond the inclusion of mods which console owners haven't before been privy to, but there are far worse ways to spend your time and money. This is a fantastic remaster of what was already a great game, offering a thoroughly absorbing experience that could easily run into the hundreds of hours. Available for £35 or less, that's a hell of a lot of fantasy adventuring in exchange for your coin.

The Elder Scrolls V: Skyrim Special Edition is available on PS4, Xbox One and PC. We reviewed the Xbox One version.