Not only is Friday a day to celebrate the oncoming weekend, get a takeaway and go out for a couple of bevvies with your friends and family, for us here at GameSpew it's time for #FreeGameFriday. That's right Spewers; it's the best day of the week.
For today's Free Game Friday we're taking a look at Picross Touch, a fun and very addictive puzzle game available on Steam. Picross Touch is, if you haven't already guessed, a bunch of picross puzzles – those picture-based logic puzzles where you need to fill in a grid in order to make a picture.
In Picross Touch, the puzzles can get quite complicated – and there are a lot to get through. I'm still working my way through the 50-odd 5×5 puzzles, but there are also over 100 10×10 and 20x2o puzzles. It's very addictive, especially when the game reminds you that there is no guessing involved and each puzzle can only be solved by using your noggin and a bit of logic.
Picross Touch is pretty stripped back, but to its advantage: there's no music so if you just need some "me time" to sit down and fiddle with a few puzzles you can do so to your own soundtrack. It's also quite fun working your way through the level and realising that each picross makes a sort of picture. Whether its a smiley face, a strange looking man, or simply a box within a box, it's entertaining discovering all the different images you can make from just a few boxes.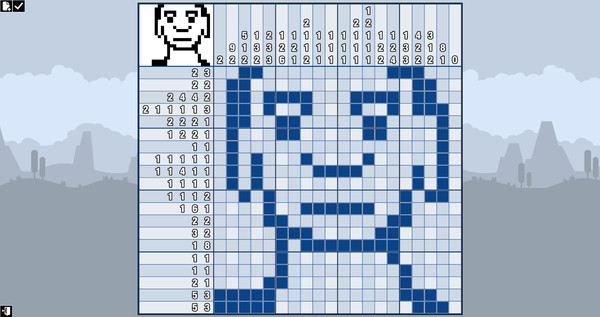 The other interesting element of Picross Touch is the player-created levels. There are many levels created by other players that you can play through. You may find yourself making a Pokémon or a clown, and it's a nice break from some of the more boring puzzles in the main game. You can also, of course, create your own puzzles in the editor menu if you fancy having a go at becoming a master picross maker.
That's it for this week's Free Game Friday. Picross Touch is a really addicting and fun way to get your brain moving. I like doing two or three puzzles in the morning before I get out of bed to remind my own brain that it's time to start the day. If you decide to give it a shot, do let us know how you like it in the comments below or on Twitter using #FreeGameFriday, we love hearing from you. Here's to a great weekend everyone and see you next week!