Somehow, we're already a month into 2017. While January was a little slow for releases, February is set to be a bigger and busier month, with some long-awaited titles coming to PlayStation 4 – Horizon: Zero Dawn, anyone?
Here's every new game that we know is set to release on PlayStation 4 in February. What games are you most excited to play? Let us know by commenting below!
Note: release dates may vary slightly depending on your region. 
Naruto Shippuden: Ultimate Ninja Storm 4 – Road to Boruto
3rd February
Technically, Road to Boruto is DLC for last year's Ultimate Ninja Storm 4, but it's getting its own, full physical release too. It will add new playable characters, new areas to explore and a brand new storyline to follow.
Nioh
7th February
In Nioh you get to play as a historical figure from the 17th century, William Adams, who travelled to Japan and became the first Westerner to become a samurai. Of course, the game is heavily fictionalised into becoming a dark fantasy setting, with demons and other monsters roaming the Sengoku-era Japan.
Nioh draws strong inspiration from the Soulsborne games, but replaces open world with discrete missions. With a couple of demos already made available, we have an idea of what to expect from Nioh, but we're still excited to see the finished product.
For Honor
14th February
Ubisoft's latest endeavour, For Honor is a multiplayer hack-and-slash putting you in the shoes of a Viking. You're sold already, right?
Jamie previewed the game in one of its earlier public alpha tests and found a lot to enjoy between its realistic combat, beautiful graphics and excellent audio design. He said: "It remains to be seen, though, if For Honor can conjure up an engaging and equally bloody single player campaign but, even if it doesn't, For Honor is set to be an excitingly unique experience amidst the tired tropes and mechanics of most multiplayer-focussed games today."
Sniper Elite 4
14th February
Prepare to shoot off Hitler's testicles once again as the WWII stealth/snipe action series returns with its fourth instalment, this time taking place in Italy.
You play as Karl Fairburne, an elite marksman fighting alongside the Italian resistance. When they announced the title, developers Rebellion claimed that the maps in Sniper Elite 4 would be "many times the size of those in Sniper Elite 3". There will also be many locations on offer ranging from coastal towns and forests to Nazi buildings and mountain monastaries.
Semispheres
14th February
Semispheres is part meditative experience and part engaging puzzle game. With a soundtrack from Sid Barnhoorn – composer of The Stanley Parable's soundtrack – and a gorgeous yet minimalist visual style, it should be on the radar of any puzzle fan.
The goal of Semispheres is to reunite two avatars, stuck in parallel worlds. Both analogue sticks control opposite sides of the screen, setting it apart from usual titles in the genre.
MX Nitro
14th February
Miniclip might be most known for creating browser games, but MX Nitro is their debut title on console. It's an action-packed 3D motorcross racer, where stunts are key. Think Trials and you can't go far wrong.
Vertical Drop Heroes HD
15th February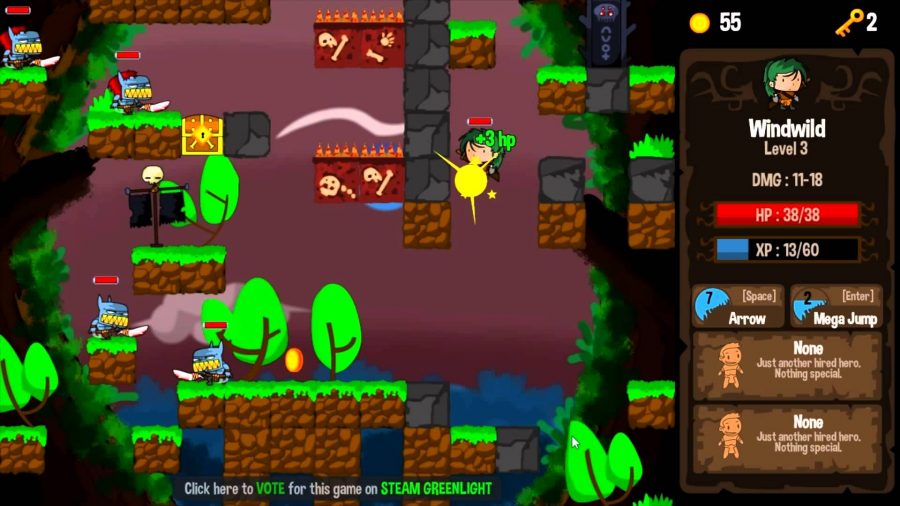 "Vertical Drop Heroes is a procedural platformer RPG hybrid with roguelike elements, where your hero adventures through randomly generated stages. Armed with a variety of skills and traits, you must use your cunning and reflexes to survive the dangers of each stage, until you face the final boss and uncover the truth behind the game!"
Psychonauts in The Rhombus of Ruin
21st February (PSVR)
Popular platformer Psychonauts is back, this time in virtual reality form. The Rhombus of Ruin bridges the gap between Psychonauts and Psychonauts 2. Unsurprisingly, given the fact that this is a VR title, it will be played in a first person perspective, and gameplay will be more like a point-and-click adventure than the platforming antics of the first two titles.
Ys Origin
21st February
A prequel to the original Ys, Origin is set 700 years prior to its events. While the game was originally released in Japan in 2006, this is the first time it's been available in the West, and it's been 'authentically recreated' and enhanced for PS4.
For fans of Japanese RPGs, this is one that shouldn't be missed.
Night in the Woods
21st February
It's been in development for three years, but indie adventure Night in the Woods is finally releasing this month. It's an adventure game that's led by your own exploration – you'll need to play through it more than once to see everything it has to offer as your actions determine where you'll end up.
It looks to be a very stylised game, with a very attractive 2D cartoon style. We're always happy to see an indie game that tries to do something different, and it looks like Night in the Woods might be just that.
Berserk and the Band of the Hawk
24th February
Published by Koei Tecmo, Berserk and the Band of the Hawk is the latest 'Warriors' title – although this is set to be the "most brutal yet". Cool.
Unlike the typical Warriors games where you're fighting waves of human armies, Berserk pits you against a vast array of monsters, from ogres to evil spirits, golems, demonic knights and trolls. We've always got room for a bit of mindless hacking and slashing, so this is one that will be firmly on our radar.
Horizon: Zero Dawn
Feb 28 (PS4)
One of the most hotly-anticipated games of 2017, I doubt Horizon: Zero Dawn needs much introduction. After a long wait, it's finally almost here.
Our writer David Brooks previewed the title back at EGX in September and was very impressed with what he saw. "Open-world RPG-lites may not be Guerrilla Games' previous forte and so the idea they could make one of the most exceptional looking titles in this genre is remarkable to say the least. But that's exactly what they've done and they've done it with style!"
Need I say more?
Torment: Tides of Numenera
28th February
It's a sequel to a game that came out in 1999, and after a Kickstarter in 2013 it was originally set to come out in December 2014. But here we are, two-and-a-bit years later, and the long-awaited Torment: Tides of Numenera is finally just around the corner.
A deep RPG, Torment places a lot of emphasis on story and character development, letting you shape your character as you make your way through the game. Set in a medieval-like distant future, you'll play as "The Last Castoff", on a quest to fight evil and answer the immortal question, "what does one life matter"?