A new month is already upon us, and that means a wealth of games that are set to release. While January was a little slow in terms of new releases, February is set to be much more jam-packed on Xbox One.
Here's every new game that we know is set to release on Xbox One in February. What games are you most excited to play? Let us know by commenting below!
Note: release dates may vary slightly depending on your region. 
Naruto Shippuden: Ultimate Ninja Storm 4 – Road to Boruto
3rd February
Technically, Road to Boruto is DLC for last year's Ultimate Ninja Storm 4, but it's getting its own, full physical release too. It will add new playable characters, new areas to explore and a brand new storyline to follow.
Knee Deep
3rd February
A narrative-driven game with a difference, murder mystery Knee Deep is set up like a theatre production, including over the top set designs, stage directions and all.
It's worlds apart from the usual adventure game, but feels like a point and click in its essence, minus the fact there's very little involved gameplay here – besides a few narrative choices and the odd puzzle. As far as storytelling goes though, Knee Deep is certainly worth checking out.
Aqua Kitty UDX
3rd February
It's an all-new release of the popular arcade-style shooter especially for Xbox One, including an exclusive 'Dreadnaught' mode.
As a submarine-controlling kitty, it's up to you to shoot your way through mechanical foes as an army of cats drill for milk. If it sounds crazy, that's probably because it is.
Pixel Heroes: Byte & Magic
3rd February
Headup Games, the publisher of Pixel Heroes, claims that this is "one of the funniest roguelike retro-RPGs ever created". We'll have to take their word for it.
Originally released on Steam back in 2015, Pixel Heroes lets you play as a team of three heroes as you explore dungeons and meet bizarre creatures and NPCs. In true roguelike style, no two playthroughs are ever the same.
8DAYS
7th February
8DAYS is a fast-paced twin stick shooter that puts you in the shoes of a mercenary for private military company G.O.D. Inc (that's "Gold, Oil and Diamonds"). It supports both single player and co-op, and it's your job to clear the world of the dark threat that looms.
Uncanny Valley
10th February
Pixellated survival horror game Uncanny Valley is a combination of exploration, action and puzzle solving. It's definitely a love letter to old school survival horror, but with a lot of optional story content, it could prove to be a rather interesting – and creepy – title.
Crypt of the Necrodancer
10th February
Originally released on PS4 and Steam back in 2015, Crypt of the Necrodancer is finally coming to Xbox One this month.
It's a roguelike crossed with a rhythm game – kill enemies to the beat of the music, either from the game's pumping soundtrack or your own MP3 collection. With a Metascore of 87 on the PC version, it's gotta be worth checking out.
For Honor
14th February
Ubisoft's latest endeavour, For Honor is a multiplayer hack-and-slash putting you in the shoes of a Viking. You're sold already, right?
Jamie previewed the game in one of its earlier public alpha tests and found a lot to enjoy between its realistic combat, beautiful graphics and excellent audio design. He said: "It remains to be seen, though, if For Honor can conjure up an engaging and equally bloody single player campaign but, even if it doesn't, For Honor is set to be an excitingly unique experience amidst the tired tropes and mechanics of most multiplayer-focussed games today."
Sniper Elite 4
14th February
Prepare to shoot off Hitler's testicles once again as the WWII stealth/snipe action series returns with its fourth instalment, this time taking place in Italy.
You play as Karl Fairburne, an elite marksman fighting alongside the Italian resistance. When they announced the title, developers Rebellion claimed that the maps in Sniper Elite 4 would be "many times the size of those in Sniper Elite 3″. There will also be many locations on offer ranging from coastal towns and forests to Nazi buildings and mountain monastaries.
MX Nitro
14th February
Miniclip might be most known for creating browser games, but MX Nitro is their debut title on console. It's an action-packed 3D motorcross racer, where stunts are key. Think Trials and you can't go far wrong.
Halo Wars 2
17th February
The sequel to Halo Wars, Halo-turned-real time strategy, is set to release this month. Take Warthogs, Spartans and the rest of your favourite Halo forces to wage a bloody war against a new threat. If you liked the first Halo Wars, you're bound to like the sequel.
If you pre-order, you get early access to Halo Wars: Definitive Edition included. Not a bad pre-order bonus.
Vertical Drop Heroes HD
17th February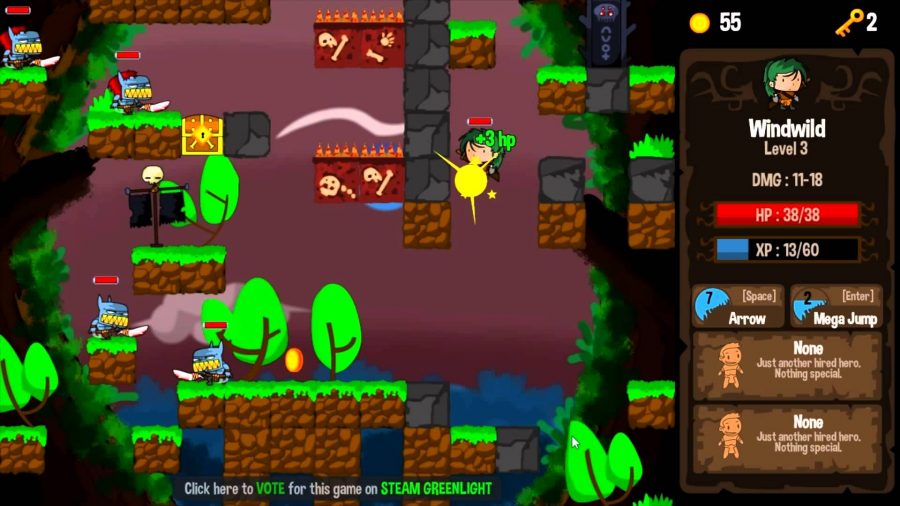 "Vertical Drop Heroes is a procedural platformer RPG hybrid with roguelike elements, where your hero adventures through randomly generated stages. Armed with a variety of skills and traits, you must use your cunning and reflexes to survive the dangers of each stage, until you face the final boss and uncover the truth behind the game!"
Bokosuka Wars II
25th February
Originally released some 30 years ago, Bokosuka Wars was an 80s action RPG. For some reason, 2017 seemed like a good time to release a sequel. Bokosuka Wars II is a strategy RPG that takes on the original style of the 1983 release with a modern day twist, adding new features and a two-player co-op mode.
Torment: Tides of Numenera
28th February
It's a sequel to a game that came out in 1999, and after a Kickstarter in 2013 it was originally set to come out in December 2014. But here we are, two-and-a-bit years later, and the long-awaited Torment: Tides of Numenera is finally just around the corner.
A deep RPG, Torment places a lot of emphasis on story and character development, letting you shape your character as you make your way through the game. Set in a medieval-like distant future, you'll play as "The Last Castoff", on a quest to fight evil and answer the immortal question, "what does one life matter"?
---