The evolution of video games over the last 30 years has been a remarkable, amazing journey.
From Pong to modern day classics like Grand Theft Auto 5, the creativity of this industry has never ceased to amaze me. But for all the advancements made in hardware and software technologies, the success of a game is still mostly dependent on one thing. "Is my game fun to play?" is, and always has been the most important question any developer should ask themselves.
In the late 80s and early 90s, when developers couldn't rely on graphical fidelity to wow consumers, they had to resort to other methods. Back then gameplay was king, which is why some of the most fun and mechanically interesting games were created during the early years of PC gaming.
Microsoft's first operating system MS-DOS was released in 1981, and between then until support for the OS ceased in 2000, thousands upon thousands of game were released. The following list contains my personal favourites from a sometimes forgotten era of gaming greatness.
Though many of these games have been released or remastered on other platforms, I'd still recommend playing them on PC. Luckily, most of them are available from sites such as GOG.com or Steam for a very modest price tag.
10. Syndicate Wars (1996)
Developer: Bullfrog Productions
The first of two Bullfrog MS-DOS games on my list, Syndicate Wares takes place in the year 2191.  It paints a bleak picture of mankind's future and our relationship with technology. Corporate mind control and religious indoctrination and central themes here, giving the player lots to think about as they try to wrestle back control of the world from the opposing factions. A fantastic mix of combat, RPG progression and sci-fi setting make this game an important must-play for any nostalgic gamer.
Syndicate Wars in available to buy from GOG.com.
9. The Elder Scrolls II: Daggerfall (1996)
Developer: Bethesda Softworks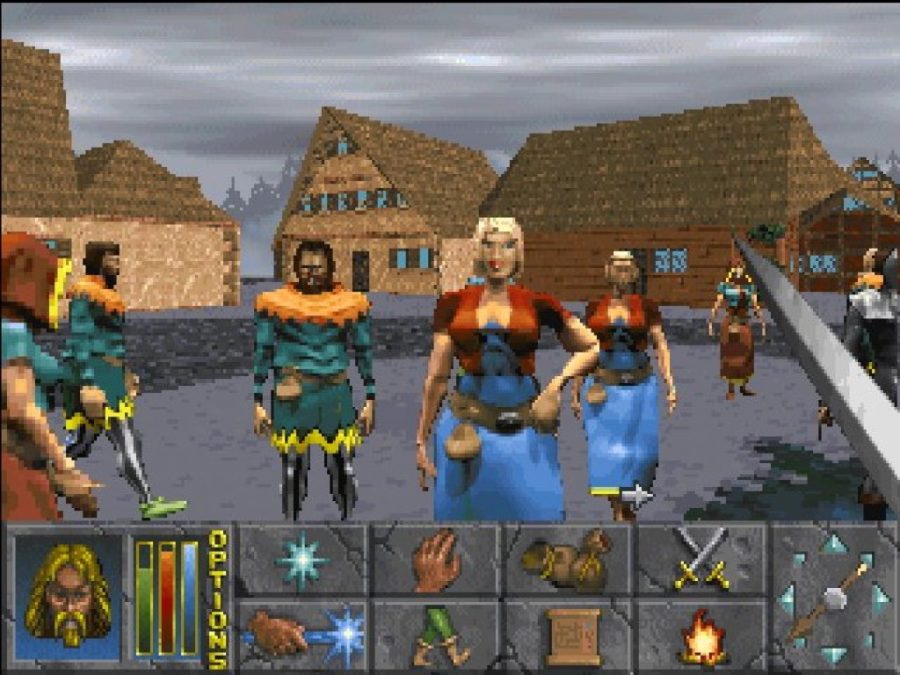 If the current trend in gaming is massive open worlds, 1996's Daggerfall still dwarfs its modern day counterparts, including later editions in the Elder Scrolls series such as Skyrim. The map is a whopping 161,000 km² – making it the second largest game world ever created (the biggest being No Man's Sky). But Daggerfall doesn't rely solely on its size to impress; it's well written, mechanically sound and it helped to cement many staples of modern day RPGs. If you're in any way intimidated by RPGs and their tendency to rely on statistics and number crunching, then this MS-DOS game isn't for you as it's designed with the hardest of hardcore adventurers in mind.
The Elder Scrolls II: Daggerfall is available for free from its official website.