When Sony revealed PS Plus, you'd be forgiven for being one of the many sceptics who initially questioned the value such a new and unprecedented service could offer.
The Xbox 360 was at its height when the service first launched in June 2010, presenting many cult and niche Indie experiences through its to-this-day very robust and cohesive online platform, Xbox Live. PlayStation had a lot to prove, and thankfully they did through PS Plus' highly successful and alluring Instant Game Collection.
Eventually going on to be mirrored by Microsoft's Games With Gold service, we thought we'd celebrate some of the very best gaming experiences made available to PS Plus subscribers through the years, and those that had we not been subscribed, we may never have tried.
Here are our top 10 PS Plus games ever released on PlayStation – the games that grabbed us and simply wouldn't let go until tens of hours were poured into them!
10. Transistor (PS4)
A hyper-stylised turn-based strategy game that undeniably took many cues from the likes of Blade Runner and Star Wars, Transistor was available to PS Plus subscribers in February 2015. Placing you in the role of Red, a famous singer in the city of Cloudbank, you embark on a thrilling journey to reclaim your voice accompanied only by your trusty sword.
Developed by Supergiant Games, the running threads of their previous title Bastion can still be felt in Transistor. This is most evident when looking at the game's isometric perspective, heavy reliance on narration to relay key story points, and absolutely gorgeous (though different) art style. You're really doing yourself a disservice if you haven't experienced Transistor. Its soundtrack, turn-based gameplay, and storytelling are some of the best found on the indie scene.
9. Broken Age (PS4, Vita)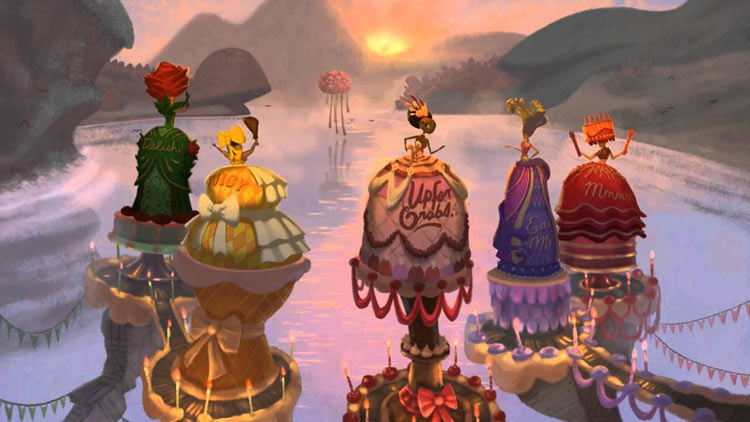 The brainchild of veteran adventure game developer and enthusiast Tim Schafer, Broken Age will always be remembered for its admittedly very rocky crowdfunded success story, but should be noted for its doing reviving the adventure game genre. The game was made free for PS Plus subscribers as a complete package on both PS4 and Vita in the October of 2015, and instantly strikes you with its whimsical sense of charm and intriguing characters.
A tale of two journeys concerning characters attempting to break free from the confines of the world around them, Broken Age is an adventure game for those who either haven't experienced or actively hate the genre. To combat the sense of frustration that can often arise when bumping up against a certain puzzle, you can switch between either Shay or Vella at any time. It's quirky, magical, and at times disturbing – ready to be experienced by all.