With Guardians of the Galaxy Vol. 2  about to hit cinema screens, Telltale have opportunistically released the first episode of their new series based upon the comedic Marvel franchise. Mind you, with it taking inspiration from the original 2014 film, you can't blame them, and I'm sure it's going to go down well with fans.
Episode one of Telltale's Guardians of the Galaxy – entitled Tangled Up In Blue – reunites us with Peter Quill (Star-Lord), Gamora, Rocket, Groot and Drax; already working together (albeit dysfunctionally) as the Guardians of the Galaxy. The story gets off to a surprising start, quickly having you dispatch a villain of considerable gravitas and recovering a powerful artefact.  From there things slow down a little until you reach the final two acts of the episode, but it manages to maintain your attention throughout thanks to some great writing and convincing voice performances. Ultimately the episode introduces us to the potential series villain – a female Kree named Hala – though at this stage who knows how events will play out.
Thanks to Telltale's game engine being particularly suited to creating comic book-styled visuals, Guardians of the Galaxy Episode One feels true to the characters and the world they inhabit. Characters are as colourful as you'd expect them to be, and though the animation still has room for improvement, each character has their own quirks and expressive facial animations that enable you to connect with them. Most importantly, performance is solid – in the two hours it took me to complete, there were hardly any stutters and zero slowdown, meaning I could concentrate on the story QTEs without being distracted by technical issues.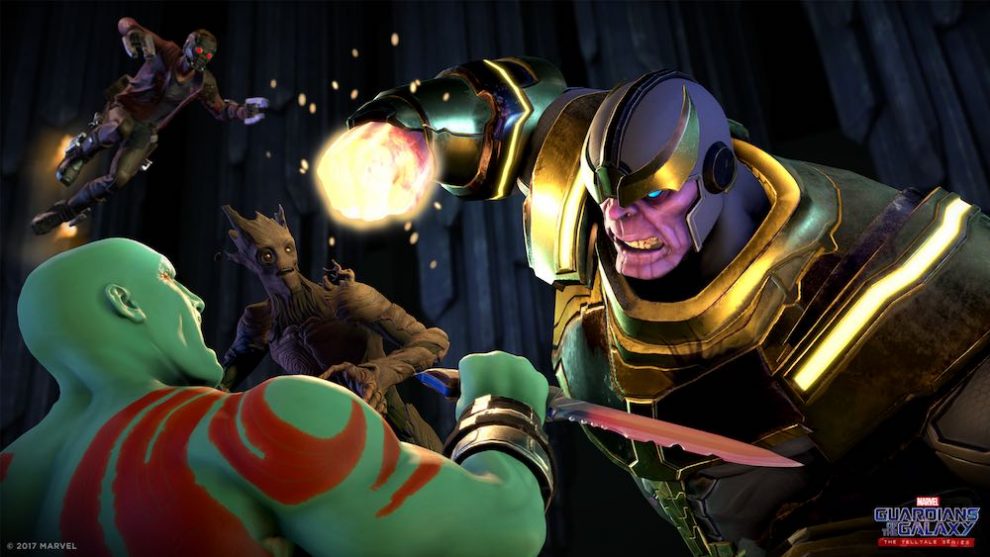 Gameplay wise, there's nothing out of the ordinary for a Telltale game to be found within Guardians of the Galaxy Episode One. You watch scenes, choose dialogue options, complete QTEs, and engage in a bit of light exploration. What's surprising about the episode though is just how well it all works. Nothing feels forced; progression between scenes feels logical, and QTE button prompts feel relevant to the action being performed – more than any other Telltale game I've played, Guardians of the Galaxy Episode One is a seamless experience free of any fluff or jank.
In keeping with Star-Lord's love of 80's music, the episode rocks some great licensed tracks to go along with the action. Accompanying it is some stellar voice acting talent, including the venerable Nolan North as Rocket. They manage to bring the characters to life, delivering their lines with conviction and great timing, something that's very important considering the number of genuinely amusing gags to be found throughout. Guardians of the Galaxy is notable for its ability to be fairly serious and downbeat one minute before flipping the switch and being downright daft, and I like it for that.
Guardians of the Galaxy: The Telltale Series – Episode One: Tangled Up In Blue is without a doubt one of the best Telltale Games episodes I have ever played. It is undeniably a strong start for the series, filling me with optimism for what's yet to come. A culmination of a great cast of characters that have been well represented, a solid script full of drama and humour, and tried and tested gameplay systems that have been finely honed, Guardians of the Galaxy Episode One is a must for fans of the unlikely group of heroes, as well as anyone who's a fan of the story-driven adventure genre.
Guardians of the Galaxy: The Telltale Series is available on PC, PS4 and Xbox One. We reviewed the PS4 version.