With a vague release date of simply summer 2017, the contents of the first DLC pack for the excellent The Legend of Zelda: Breath of the Wild have been revealed, and they sound pretty good to be honest.
Included as part of the expansion pass that's available for the title, no indication has yet been given as to whether the pack will be available to buy on its own but it's hard to imagine it won't be. Anyway, see what you make of what's included in it. The contents are as follows:
Trial of the Sword
The "Trial of the Sword" challenge sounds like the most exciting piece of content in The Legend of Zelda: Breath of the Wild's first DLC pack. By visiting a certain sacred location, it allows you to fight wave after wave of enemies, starting out without any weapons or equipment. Those who rise to the occasion will awaken the true power of the Master Sword apparently, which can only be a good thing.
Hard Mode
No doubt eagerly awaited by some masochists out there, Hard Mode gives enemies regenerating health and also ups their power levels by one, making them more formidable than ever before. For some reason, it also adds enemies and treasure chests floating on platforms in the sky. Yup, I'm as perplexed as you are.
Hero's Path Mode
Hero's Path Mode is an interesting addition that could actually come in rather handy. It allows you to see where you've travelled during the last 200 hours of play, highlighting the areas that you have yet to explore. All I know is that if it helps me find more of those pesky shrines, I'm in!
Korok Mask
With 900 leafy little Koroks hiding in The Legend of Zelda: Breath of the Wild, finding them all without some form of help is a pain in the backside for sure. Well, the Korok Mask is here to make things easier for you. By shaking whenever you're near a Korok location, your travels will assuredly be more bountiful with it equipped – you'll have to find it first though!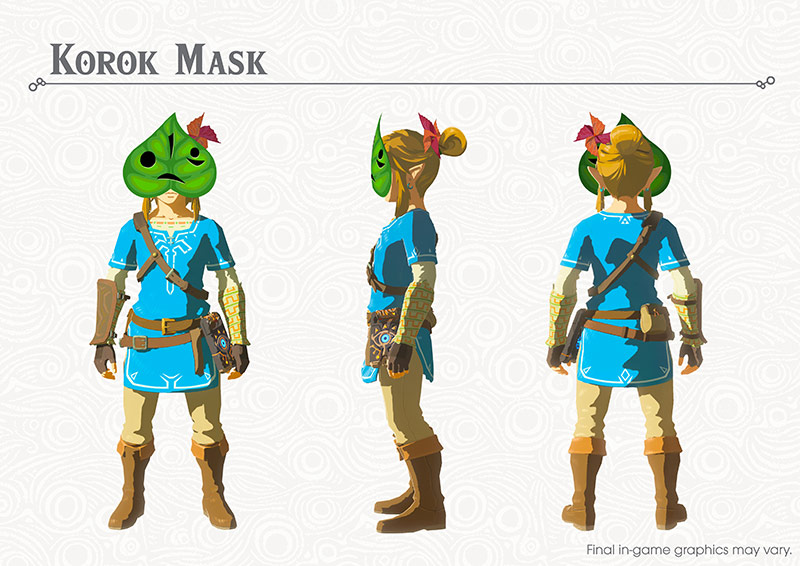 Travel Medallion
If fast travelling to any activated shrine or tower isn't quite convenient enough for you in The Legend of Zelda: Breath of the Wild, locating the chest that contains the Travel Medallion may be high on your agenda. Activating it registers your current location as a fast travel point until you use it again. It may prove to be useful in some circumstances, but I feel it's perhaps a bit unnecessary.
Armour, Armour and Yet More Armour
Do you want to dress like Tingle or adorn yourself with Majora's Mask? Of course you do! Spread throughout Hyrule are eight additional chests, each containing a new piece of snazzy armour for you to collect. Find them all and you'll have two new outfits to wear as well as a mask and a helmet. Not bad, eh?
Like what you see? Does it make you want to go exploring in Hyrule yet again? Let us know in the comments below.