Across all the formats it has been released on, I've probably put in at least 1,000 hours on Diablo 3.
From its rocky beginnings on the PC, I've seen it develop and metamorphosise into what is perhaps the most feature-rich, content-laden action RPG ever created. At one point in time I used to lament how much better I thought Diablo 2 was in comparison, but now, I honestly don't think I could take the step backwards and feel good about it. Diablo 3 is a masterpiece, but, inevitably, its grip on me was weakened after experiencing nearly all it had to offer.
After a six month hiatus, I once again find myself utterly consumed by Diablo 3's dark and desolate world. The reason – aside from a wealth of new items, areas, monsters and features that have been added for free since my last tango with it – is the Necromancer.
Released on 27th June, the Rise of the Necromancer DLC pack has well and truly reignited my passion for Diablo 3. I didn't expect it to. Being more of a sword and board Diablo 3 player, I expected to enjoy it as a nice diversion from hacking and slashing from time to time. Instead, the Necromancer will probably be my main character class going forward.
So, what's so good about the Necromancer, you're probably wondering. Honestly, there's lots to like.
What's immediately striking is how cool the Necromancer looks, no matter which gender you opt for. Blizzard's character designs never disappoint, but they've really hit the ball out of the park with the Necromancer. Dark and moody, the Necromancer looks cool in all sorts of gear, and they have a presence about them that just commands respect.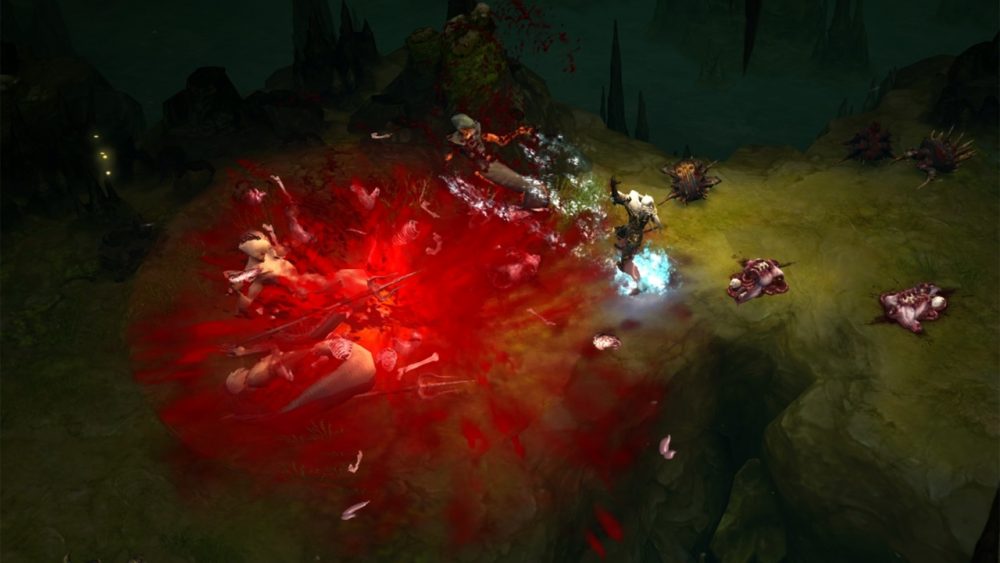 Good looks aren't worth much when there's an army of hell's minions approaching you though. For that, a character class needs a range of skills and abilities that will enable you to deal with them with ruthless efficiency. Luckily, the Necromancer is more than well-equipped.
I'm actually astounded by how versatile Blizzard has made the Necromancer. There are so many build options that no matter what your preferred playstyle is, the Necromancer has something to offer. You can make a melee-focused build utilising Grim Scythes as your main attack, standing toe-to-toe with your enemies while clad in temporary bone armour. You can keep your distance, pricking groups of enemies' feet with bone spikes that emerge from the ground while unleashing a barrage powerful spirits their way. Or, you can rely on an army of minions to do your bidding for you while you skulk in the shadows. The choice is yours, and there are many more options than those I've just outlined.
One skill in the Necromancer's repertoire stands out as a highlight, however: corpse explosion. Allowing you to violently explode the corpses of the enemies you've felled in battle, in all my time playing Diablo 3 I've not encountered a skill that provides as much visual delight. When the screen is awash with enemies, which as we all know happens a lot in Diablo 3, it's not unusual to have to kill only a handful of small fry before finishing off their legion of friends with a chain of bloody explosions that has got to be seen to be believed. It's gory, powerful, and oh so satisfying – I honestly don't think I'll ever get tired of it.
Available now on PlayStation 4, Xbox One and PC, I urge you to pick up the Rise of the Necromancer DLC pack for Diablo 3 if you have any love for the game. And if you're yet to step into the world of Diablo 3, just what are you waiting for? It's brilliant as a single player game, but in co-op in absolutely shines.
---