The Switch's library is exploding lately, and one new game to be added to the roster is the delightful Stardew Valley.
I don't need to tell you how delightful Stardew Valley is by now. Even if you haven't played it yourself, you've undoubtedly seen the entire internet be wax lyrical about the indie hit since it first released on PC almost two years ago. With releases following on Xbox One and PlayStation 4 last year, it's now available on Switch. We can now farm, hunt for treasure and romance townsfolk on the go! Yay!
The Switch version is exactly the same as the console version, so if you've played it before you'll be instantly familiar with how everything works. My only disappointment is that when playing in handheld mode, there's no touchscreen support. Considering you still need to use the right stick in order to move around a cursor to access some menus, it's a strange design choice – but it's certainly not a dealbreaker. This is still Stardew Valley, after all. It's a game that can practically do no wrong.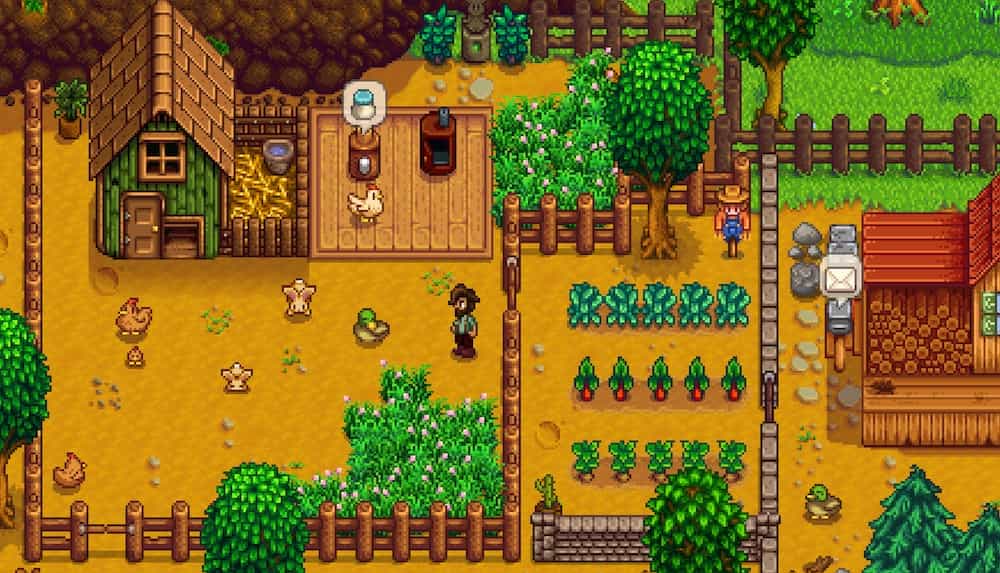 Personally, I prefer the joy of seeing my farm on a big screen – there's a lot of detail to take in, and seeing it as big as possible makes the experience better in my opinion. But playing handheld on the Switch is a novelty, too. Sure, everything's fairly small – Stardew Valley has a lot of menus to navigate and on a little screen it can be a bit fiddly, but everything's big enough to see clearly.
It's been about eight months since I last played the game, on Xbox One. Starting from scratch on Switch has required a little bit of a learning curve – everything is familiar, but I've had to reacquaint myself with the ins and outs of how everything works. But with a game like Stardew Valley, relearning everything is a pleasure. That's the joy of this game: nothing is a chore, and nothing need be rushed. It's all about playing at your pace, however you like.
That's an ethos that fits perfectly with the Switch, I think. For me, when it's not docked, the Switch is a console I'll pick up and play for 20 minutes while the TV plays away in the background. I'll play it for an hour while I'm commuting. I'll have a quick blast on a game for 10 minutes while my dinner is cooking. And Stardew Valley allows that. It works around your schedule. You can take as long, or be as quick, as you want to be. Coupled with the Switch's sleep function that'll keep your progress at any point, it's a wonderful combination.
It only promises to get better, too, with co-op support coming to all formats next year – starting with Nintendo Switch. If you've already played Stardew Valley and don't have it on Switch yet, then you know exactly what you're missing out on. And if you're yet to try the game — well, what are you waiting for?
---