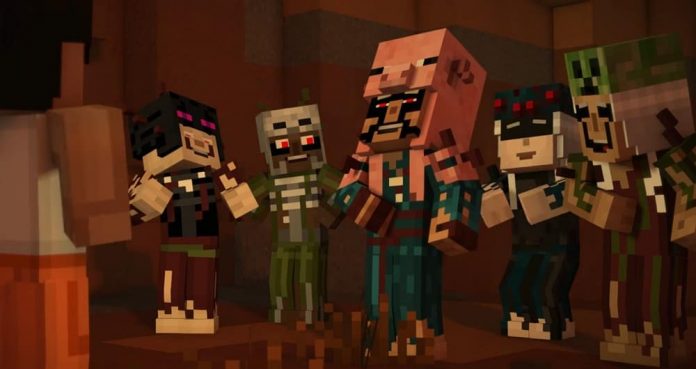 Below the Bedrock's pace occasionally falters, but it's a solid outing which will leave you hyped for Minecraft Story Mode Season 2′s conclusion.
After the disappointing Jailhouse Block, which was as satisfying as chewing on a handful of packing peanuts, Below the Bedrock sees a return to form for Telltale's episodic Minecraft series. The episode starts on a major high note as Jessie and her fellow adventurers tunnel their way through to a vast, subterranean otherworld. Gazing across this bizarre landscape is enough to give you the shivers, even before you encounter any of the horrors that dwell within; think H.P. Lovecraft meets Hollow Earth theory and you're in the right blocky ballpark. Even if you're a longtime Minecraft player, you won't be immune to Below the Bedrock's unsettling atmosphere since it takes you to depths the main game has yet to plumb.
Below the Bedrock advances the plot at a respectable speed as you hunt for a weapon to combat the Admin, the season's big bad who, you're informed in a real stake-raising moment, is wreaking all manner of havoc on the surface. There's tension aplenty, though Telltale does play things a little too safe at times. While it's true that Minecraft is a child-friendly property, it lessens the impact of a character's "death" when, as you suspected, they return alive and well by the end of the episode.
Jessie and company are, by now, pretty well established, so there's not a great deal of character exploration to be found here, nor does there need to be. Petra has her moment in the spotlight, but for the most part you learn about the Admin himself who, as it transpires, wasn't always the insufferable megalomaniac you encounter. Below the Bedrock offers food for thought by drawing some neat parallels between his story and Jessie's own which left me eager to discover whether, in the final episode, he'll be given his own shot at redemption.
There are a few moments which, while they'll give you cause to chuckle, chip away at the episode's otherwise speedy pace and sense of urgency. At one point you're tasked with winning a trivia contest, and on two separate occasions you're asked to construct a statue, all of which break up the game's flow. Though I'm willing to forgive the game for the latter since I had the underworld's few remaining citizens praising me for building a giant arse on their doorstep; a rare experience indeed. Below the Bedrock's appeal is bolstered by its appealing, otherworldly setting which blends the familiar and the alien; one moment you're exploring a house, the next you're outside, gazing into a vast, bottomless abyss.
This penultimate episode doesn't reach the dizzying heights of the season's opening salvo, but it's a solid, satisfying outing. Minecraft Story Mode Season 2: Episode 4 – Below the Bedrock neatly balances action and dialogue, advancing the plot just enough to whet your appetite for what promises to be a killer finale.
Minecraft Story Mode Season 2 is available on PC, Xbox One and PlayStation 4. We reviewed the PlayStation 4 version.