How on Earth do you go about reviewing a game that you've been playing on and off since you were 12 years old?
The Sims first launched in February 2000, shortly before my 12th birthday. I remember rushing out to buy it with my birthday money, confident that it would be One Of My Favourite Games. I wasn't wrong. I played the crap out of it, as I later did with Sims 2 and Sims 3 and most of their respective expansion packs. I haven't played as much of Sims 4 however. I've dabbled with the PC version for 20 or so hours over the last couple of years, but nowhere near as obsessively as the previous versions. Maybe I'm just too old and busy now to devote my time to playing God to a computer generated family. Or maybe I just don't like sitting in front of my PC in my spare time anymore. It's probably the latter.
But now, for the first time ever, the full PC version of The Sims is available on consoles. It's a revolution, surely — but just how well do those mouse-and-keyboard-heavy controls transfer over to a pad?
Well, quite decently actually. No doubt the controls have been the number one barrier that's prevented The Sims from coming to console in its native form for so long. We saw a console release of Sims 2 and 3, but both had gameplay heavily adapted to suit the format, with a more story-driven, mission-based style of play. The Sims 4, on the other hand, transplants the very same desktop experience onto the Xbox One or PS4, letting us massage our God complexes from the comfort of our sofas with a controller in hand. Obviously, it's not as easy or intuitive as it is with a mouse; the console version still approaches things with a cursor which you control with your analogue stick, and navigating menus requires more button presses than we're used to. It takes a little bit of adjusting to, but on the whole, the controls are about as good as we could've ever hoped for in a true console port.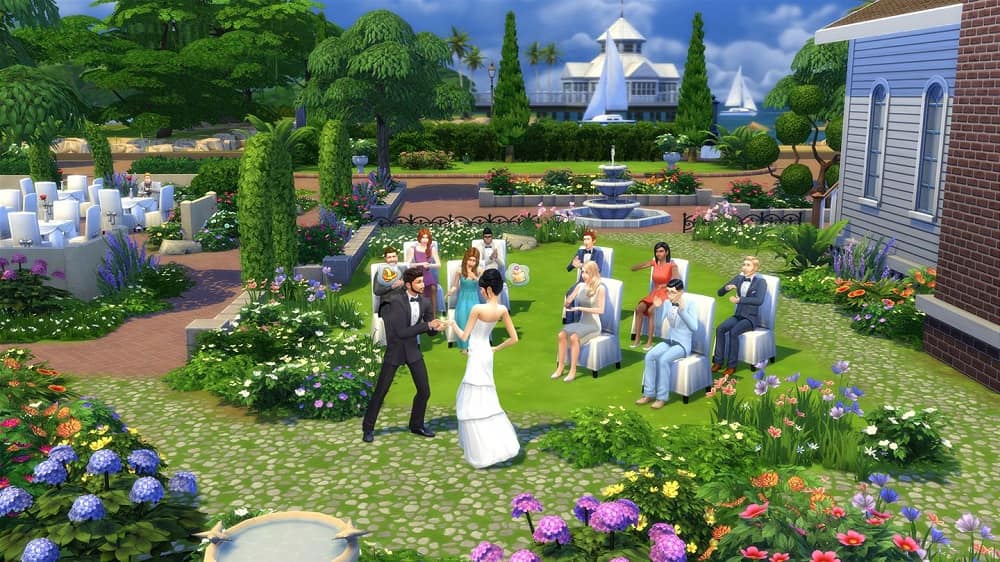 It's been a long time coming – The Sims 4 first released on PC back in September 2014. Three years is a long wait, but in that time the game has undergone a lot of tweaking, patches and enhancements. While the console version doesn't include any of the expansion packs — they will be available separately — it is the most up to date version of the game, having taken into account the quality-of-life updates that the PC version has received over the last three years. And as far as the port itself goes, it all feels pretty solid.
I've encountered a few bugs in the 12 hours or so I've played it — my nanny lost all her clothes, for example, and one of my toddlers became a churning whirlwind of dust for about three days. But looking on Google, these seem to be random game bugs that have existed on PC previously, so aren't new problems to the port. Throughout its 17-year lifespan, The Sims has always been subject to random game glitches, and Sims 4 is no different. They're rarely gamebreaking, and usually quite entertaining.
The trickiest thing with The Sims 4 on console is, unsurprisingly enough, build mode. I've always relished building lavish properties and in the past have spent way more time building than actually playing, but perfecting wall layouts, applying wallpapers and floor coverings and getting everything just right feels much more laborious. As such, I've spent my time in the pre-built plots, playing with my families rather than being an architect.
There isn't much point in me going into detail about The Sims 4's gameplay. By now, you've heard of The Sims, surely, and you know if this kind of life simulation is for you. The console version isn't going to change your mind on the game; it's clearly intended for existing fans who prefer gaming on their consoles to their PC. That would be me. In all honesty, playing The Sims 4 on PC is still the best way to enjoy it; as good a job as Maxis has done in refining the controls for console, it's always going to be more convoluted than it is with a keyboard and mouse. But console gaming is more relaxed — I don't need to sit upright at my desk, I can slouch on the sofa and still get my Sims fix. That is something definitely worth buying into.
Being primarily a console gamer, I've no doubt that I'll play way more Sims 4 now that I have it on Xbox One. The slightly awkward controls are a small price to pay for the luxury of being able to play while lounging. If you've never played The Sims before, the console version isn't a great starting place, but if you're already a convert, then it's a must-have in your collection.

The Sims 4 is available on Xbox One and PlayStation 4. We reviewed the Xbox One.