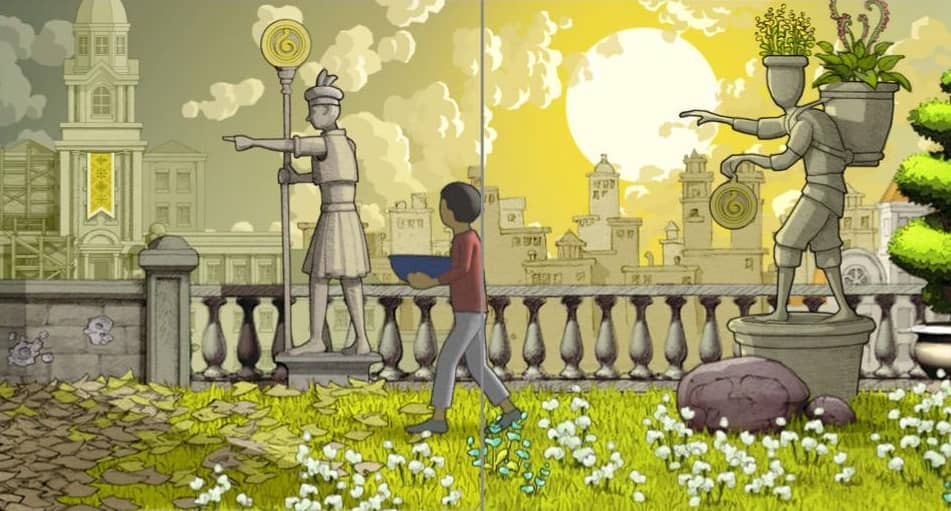 Gorogoa is a weird game to talk about.
In fact, it's probably unfair to call it a "game" at all. There are some gameplay conventions, sure, in the form of puzzles to solve, but Gorogoa would be best described as an interactive piece of art.
And as an interactive piece of art, it's quite something. Completely hand-drawn, Gorogoa is at very least an impressive showcase of artistic ability. But it's how the drawings are put together that makes it really stand out. You see, Gorogoa is presented as a grid made up of four squares. Images in each of those squares can be  interacted with, zoomed into and moved around to combine with others or to make completely new images. It's really quite ingenious how it works.
The gamification comes in the form of interacting with the images. The basic premise of the game involves finding five "fruits", each representing a different element. To find them, puzzles need to be solved to allow characters within the images to move between frames. For instance, the image of a doorway can be picked up and placed on top of another image to allow that doorway to lead somewhere new. It's very clever… but it's not particularly fun to play.
Gorogoa lasts around 90 minutes give or take, depending how much trouble you have with the puzzles. Nothing stumped me for more than a couple of minutes, and pretty much everything can be solved with a bit of trial and error and clicking around. There are a limited number of areas that can be interacted with, which makes it very easy to stumble across solutions without needing to give the game much thought.
For me, that's pretty much all my experience with the game was: clicking around some images for an hour or so. Sure, I appreciated the gorgeous artwork, but it felt like something I'd enjoy much more by simply watching it unfold rather than "playing" it myself. I use quotation marks because this really is a game in the loosest sense of the word.
There's a loose narrative thread that runs through Gorogoa, which involves a young boy needing to collect the afore-mentioned five pieces of fruit in order to rid his world of a strange monster that's suddenly appeared. It's abstract in nature, and to me there was nothing particularly moving in the story. It felt more like a loose device simply to frame the imagery of the game, rather than vice versa.
I wouldn't say I disliked Gorogoa. It's definitely an impressive piece of work. Considering it's been designed and illustrated by just one man, Jason Roberts, it's very clearly an amazing feat. It's been a labour of love for several years, and the care and dedication put into it clearly shows. It takes someone quite extraordinary to see the world in such a way to connect images like Roberts does in Gorogoa, and for that alone I'm glad I've been privy to it. It'll stick with me as a piece of art to admire, but not as a video game to enjoy.
Gorogoa is available on PC and Nintendo Switch. We reviewed the PC version.