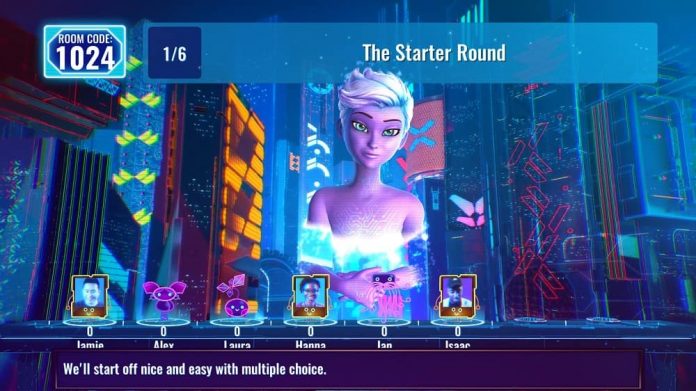 Can anyone remember Buzz!, the PlayStation Quiz game series hosted by the titular Buzz himself?
I've spent many an hour with friends and family playing the various Buzz! releases over the years, though games usually ended with someone sulking because they'd supposedly been given a buzzer that doesn't work. Because of course, it's not that they didn't know the answers or were too slow in pressing the right buttons, it was because the controller was faulty. All of the time. Still, playing Buzz! was always a barrel of laughs, but then the series was axed.
The last Buzz! game was released some ten years ago, but from the ashes of Relentless Software – the development studio behind the series – a new company has emerged called Snap Finger Click. Its newest game, It's Quiz Time, aims to fill that Buzz! shaped gap left in your life, and you know what? It does a bloody good job of it.
Let's get the bad out of the way first, shall we? It's Quiz Time's host, an AI named Salli, simply pales in comparison to the lovable Buzz. Her robotic speech is rather clever, being able to vocalise whichever name you input at the start of the game without fail (even rude ones!), but eventually it just begins to grate. Plus, her mannerisms are a bit scary. She gets really excited between rounds, twiddling with her fingers and crashing cymbals together with a wild look on her face, and it just makes her come across as a bit neurotic.
More problematic, however, are some of It's Quiz Time's questions. Being avid gamers, when presented with a choice of topics it's always the videogame-related ones that we select without a second thought. Quite often though, the resulting questions have us starring at the screen in disbelief. According to It's Quiz Time, for example, Smite is a first-person shooter. And there are some issues with other topics too. In one round, nearly all the questions about TV shows from the 2000s were centered around Lost. That's great if you're a fan, but not so much for someone like me who's never watched it.
Fortunately, pretty much everything else about It's Quiz Time is rather good. The visuals are quite simple but everything is nice and clear and well presented, just how a quiz game should be. The music has that quiz show feel to it too. And best of all, you don't need any plastic buzzers to play the game either – you just use your phones and/or tablets. Unfortunately it doesn't work quite as easily as the Jackbox games in which you just head to a website and enter a room code – you need to download an app instead – but still, it's better than the annual task of digging out some dusty plastic peripherals and untangling their cables. You get to make use of some handy interactive features too, like sharing to social media.
Once you've assembled a band of players, playing It's Quiz Time is simple. The standard mode has you competing across six rounds, with only the first – the starter round – and the final – the big finish – being set in stone. The four in between are randomised from a pretty decent pool, ranging from simple quick-fire rounds to those in which you need to place answers in the correct order. Our favourite round, however, is one in which you're given a topic and need to talk about it for a minute, hopefully mentioning the words that are displayed on all the other players' screens. It's something entirely new to quiz games for us, and proves to be hugely entertaining.
Once you've played the game for a while and worked out which rounds are your favourite, you'll be pleased to find that It's Quiz Time allows you to create your own custom playlists. Also, those without friends or who just want to test the matter between their ears can jump into a 30 question Solo Score Attack mode, with their score being posted on global leaderboards. Just don't be disheartened when you don't make it into the top 10. Live Show mode is what will impress many It's Quiz Time players the most though.
In the age of Twitch, YouTube and Mixer there's a real gap in the market for a game like It's Quiz Time, and Snap Finger Click has flung itself at it. By Connecting a camera to your PC or PlayStation 4 you can host your own quiz alongside Salli, competing with up to 10,000 viewers if you're popular enough. Though without everyone that's playing being in the same physical room, it does open the game up to cheating. Still, it's a great multiplayer experience that simply shines when played with an honest community.
With over 25,000 questions and the hint that there's more content to come on the game's main menu, It's Quiz Time is now the essential quiz game to play with friends and family on special occasions, and to stream online all year round. It has some minor issues that can cause you to raise an eyebrow, but its varied rounds and ample range of modes and features makes it a winner, and the fact that you don't need a collection of controllers or buzzers to play it is just the cherry on top. Salli may not be quite the charismatic host that Buzz was, but her show is now the one in the prime time slot.

It's Quiz Time is available on PlayStation 4 and PC. We reviewed the PlayStation 4 version.