The feel of the grass, the smell of sweat and the atmosphere of thousands of people shouting abuse in unison may not be replicated in Football Manager 2018, but the feeling of joy, glory and despair are certainly there.
Never was this more true in my latest playthrough. As a Charlton fan, I only know too well about heartbreak and despair. Over the last four years of poor ownership under the clueless Roland Duchâtelet, Charlton have dropped down a league and fans have been left feeling isolated. Decisions to force out popular players and managers through a revolving door in favour of unknown talents have made fans lose touch with their team. Many protests have occurred, many of which I am proud to say I have attended, channelling the anger and passion of fans.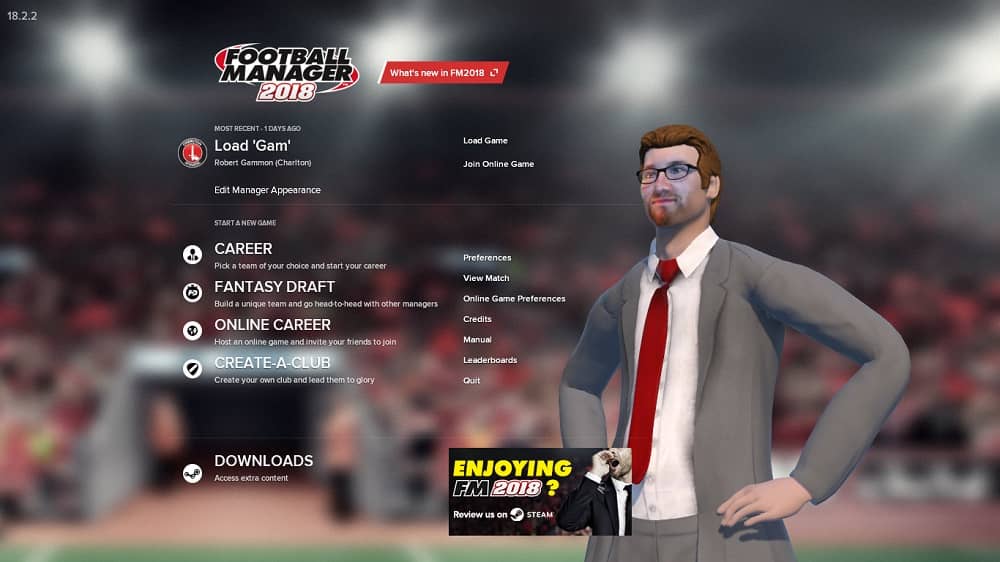 This disaster has been somewhat replicated over the last few years in the Football Manager series. This is typically shown in the way Charlton start with a wage budget lower than the total wages being spent, meaning that any budding manager has to try and sell players on silly wages, usually to no avail.
Despite the hopeless situation you were placed in, it never gave you the feeling of anger and frustration that watching a club you love being systematically destroyed evokes. There was little to no mention of fan protests, and the in-game version of Duchâtelet didn't seem to act like the spiteful person he is in real life. That was until Football Manager 2018.
On the outset of the season, things look positive for Charlton. You have a fairly competitive squad and teeny bit of money to spare to get in a loan or two of your choosing. Just like Karl Robinson's men of this year, I was able to muster a strong start until injuries plagued the team in early November. Somewhat spookily similar to real life, I was on the edge of the playoffs come January. All I needed was a new owner with a bit of desire and I would be away.
I was positive; there were signs of a takeover come mid October and the end of this horrible era was in sight. I was freaking out. I was living out the reality, with a takeover on the horizon in real life too. This was uncanny!
Then the despair crept in. The takeover fell through.
The bastard had overvalued his business and the two parties couldn't come to an agreement. Football Manager had opened up my soul and shown me my deepest fears. The realism of this virtual football game had me angry.
I did manage promotion though. By completely scraping off all the dead weight and getting a few of my own men, I was able to go a run playing 4-4-2 instead of the 4-2-3-1 that was essential before.
Perhaps this will happen for Charlton and my game of Football Manager 2018 will be some kind of mystical glimpse into the future? Maybe we will also get rid of the owner that has plagued our last four years. Most likely though, he will sell us to someone who will leave us in crippling debt, with a wage budget lower than the start of the game!
Here's hoping.
---