Revenge drives people to do desperate things.
Take A Way Out's Vincent and Leo, for example. Both imprisoned for serious crimes, there's one man at the centre of both of their incarcerations: Harvey, and they're both prepared to go to extreme measures to settle the score.
A strictly co-op affair – there really is no way to play the game by yourself – A Way Out tasks two players to make their way through a truly cinematic adventure. Each gameplay segment is essentially a scene – one with its own goal and locations – and it's up to you and a co-op partner to reach the end of it.
Initially, your tasks revolve around escaping from prison. You'll need to work together to steal tools, keep an eye out for prison guards and navigate dark tunnels to find an exit. Then, once you've left the confines of the prison you go on the run, employing stealth to escape those who seek to once again put you behind bars. And after that… well, I don't want to spoil A Way Out for you, but let's just say that evading the grasp of the authorities is just half of the adventure.
It's easy to say that A Way Out is a game filled with variety. It has fist fights, car chases, stealth, gunplay, and more. In some ways it reminds me of an Uncharted game but without the climbing bits that separate the real action. It has the production values of an Uncharted game, too. Its environments, voice acting, character models and animation are all top notch, allowing you get easily absorbed into the action.
And what I didn't expect were the myriad of ways in which you can waste a little time on your adventure. Vincent and Leo may have pressing matters on their hands, but that doesn't mean that they can't stop and enjoy a game of darts, horseshoe throwing or arm wrestling for a short while. And that's just a few examples of the sort of side activities that are on offer.
Games like A Way Out are quite rare these days to be honest; games that genuinely surprise you around every corner. From its gameplay that always keep you on your feet, to its narrative which can make you feel a full range of emotions – it's simply wonderful. But it's its co-op focus that makes it stand out, but also unfortunately what will limit its audience somewhat.
When played in local co-op with a friend by your side, A Way Out is simply perfect. Honestly, there's nothing bad you can say about it; it's one of the most entertaining gameplay experiences you can have. Partner up with a friend online and the experience will still remain extremely rosy – just perhaps not as riotous.
Many of the challenges you face in the game pose little problem when you and your partner co-ordinate yourselves effectively – perhaps the only times you'll hit an impasse is when you enter into heated discussions as to whose plan you should follow when presented with an option. But that's the only way to experience A Way Out – with a friend – as there's no online matchmaking.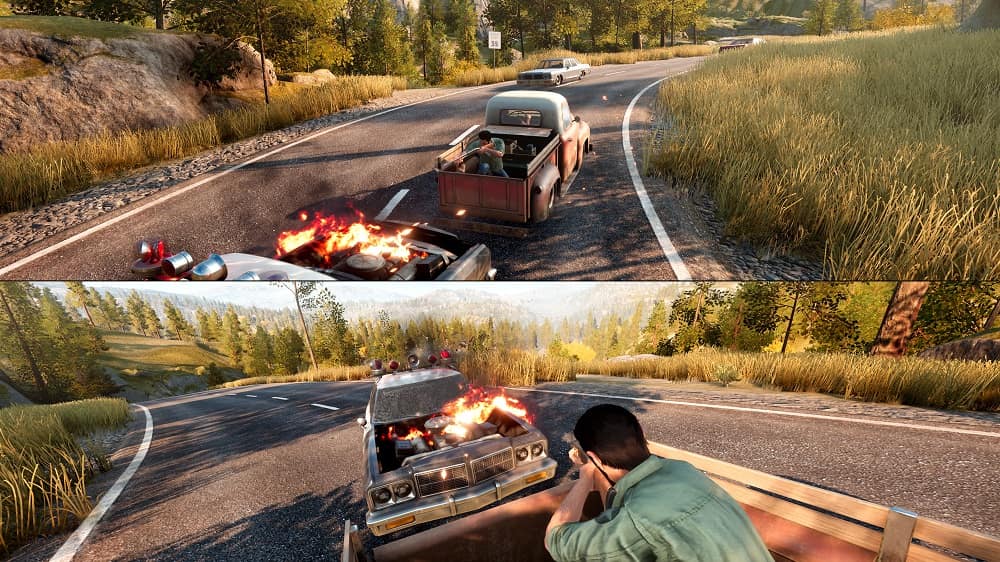 I can understand why online matchmaking is absent; communication is key to A Way Out, and so playing with someone who isn't willing to talk will make the game much harder. Additionally, both players not being on the same page could make the whole experience very frustrating. What do you do, for example, when one player wants to push on with the story but the other wants to play Connect Four? A Way Out demands efficient teamwork, and when playing with randoms online you might not always be graced with that.
It just feels rather limiting to not be given the choice to at least try though. Vincent and Leo start out as strangers to each other at the beginning of the game, so it would be interesting to see if two random gamers could perhaps replicate their journey. Still, it's a decision that has been made with good intentions, and to criticise the game too much for it considering that a free friend trial is included with each purchase feels unfair, especially when everything it does is so wonderfully realised and crafted. A Way Out is a game made with a very clear vision – one that has been executed flawlessly without any compromises – and that deserves applause. You can tell that Hazelight Studios, led by Josef Fares, has poured passion into this project, and it has paid off.
A Way Out is a triumph for co-op games. From the way it's uniquely presented to the way it demands that you work together to overcome problems you can't solve independently, it grabs your attention and doesn't let go until the credits roll. And then you'll probably go back to make different choices during pivotal key scenes to see what you've missed.
At its budget price, its running time of around six hours doesn't need any justification, especially when there is reason to go back and replay scenes. And, given that its story is better than what sits at the heart of a lot of Hollywood movies these days, consider it like buying a film. A Way Out is pretty much the best interactive movie you'll ever play – just make sure you've got a friend to bring along for the ride.
A Way Out is available on PlayStation 4, Xbox One and PC. We reviewed the PlayStation 4 version.