I like games, and I like stuff. So it stands to reason that I like game-related stuff.
Numskull, one of the biggest names in game-related merchandise, has partnered with Bandai Namco to bring us a range of Ni no Kuni II-themed merch. And it's all lovely. Oh so lovely.
The kind folks at Numskull were kind enough to send us a few bits of the range to get our grubby little mitts all over. We were sent a set of magnets, a heat-reactive mug, and a wee drawstring bag.
The magnet set is by far my favourite thing in the range. A set of four metal magnets, there's one each of Evan, Lofty, Roland and Tani. They're wonderfully detailed, edged with silver and filled in with bold colours. The four of them have taken pride of place on our office noticeboard. Because, you know, forget about important memos when you've got Ni no Kuni magnets to display.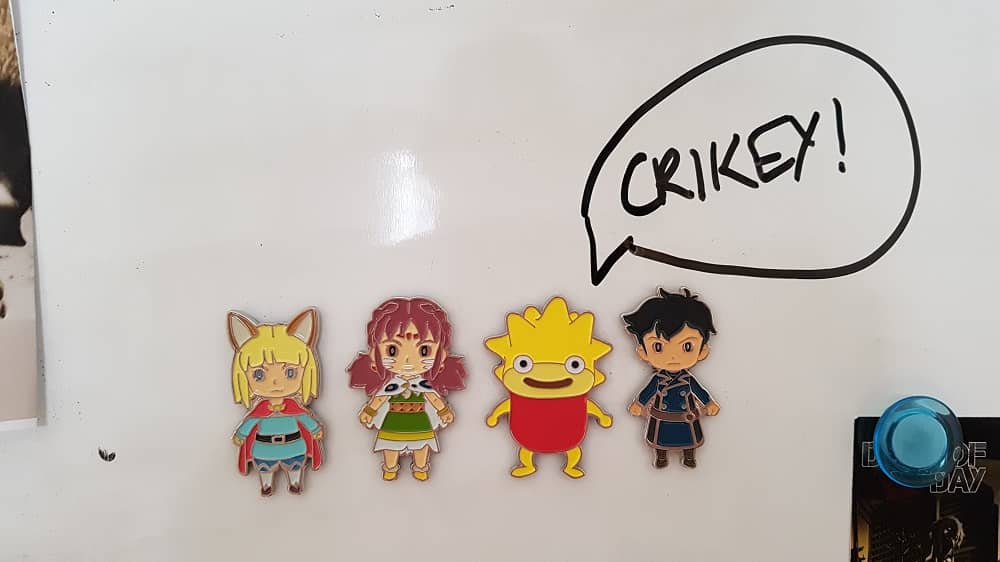 The heat-sensitive mug is pretty cool, too. You've probably seen similar mugs: they're fairly plain to begin with, but when you fill 'em up with hot water to make your brew, the mug changes to reveal a more interesting picture. The Ni no Kuni 2 mug starts off plain blue with just the game's logo on display. Add hot water and it'll change to artwork from the game.
The drawstring bag we were sent is made of a lightweight waterproof material, with a gorgeous design of Evan looking out over his kingdom. It's not massive, but it's the perfect size to pop a few essential in.
In the range, there are also pin badges, t-shirts, keychains and charms available. The t-shirts are especially cool — four unisex designs are available; two basketball-style shirts and two traditional t-shirts. I also have my eye on the pin badges — they look like miniature versions of the magnets, with the same metallic designs, and come in a nifty chest-shaped presentation box.
You can shop the entire Ni no Kuni 2 merchandise range on Amazon.