I'm quite a fan of RedLynx's Trials series.
Don't get me wrong, I'm not a master at them, but I love the physics-based challenge that they provide. The last pure Trials title to be released was 2014's Trials Fusion though, and while it still has legs, I've recently been longing for a new Trials experience. Thankfully the Polish development studio Teyon has heeded my call with its Switch exclusive Urban Trial Playground.
With over 50 levels for you to complete spread across a considerable number of environments, Urban Trial Playground is a pretty sizeable game. Each level also features up to three challenges to complete and a number of chips to collect in order to boost your cash. And cash is something you're going to want, so I can guarantee you'll find yourself revisiting levels from time to time to improve your performance on them.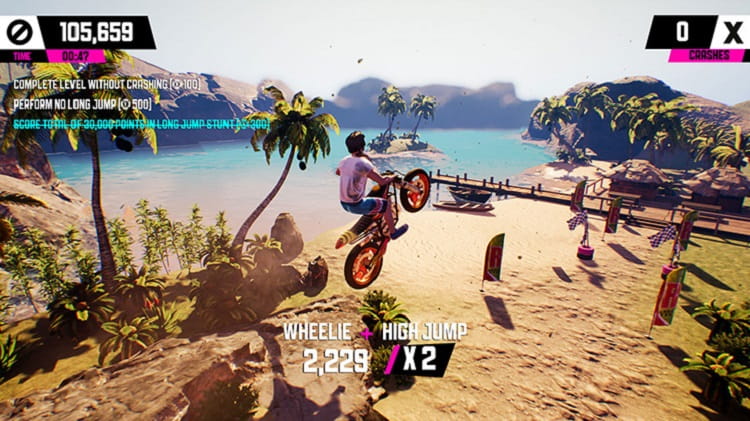 Progression through the 50-odd levels is powered by stars. Some levels grant you stars for finishing quickly, others for meeting score targets, with up to five stars available on each. Some players will undoubtedly prefer one type of level over another – I prefer the ones that challenge me to speed through them, for example – but in any case, the differences between each force you to take a different approach to how you tackle them.
For score-based levels you'll be wanting to perform high jumps and spins, chaining them by landing into wheelies. You'll get penalised slightly if you take a while to complete them, but your finishing time isn't really something to be concerned with. For speed-based levels, however, you'll be wanting to limit your time in the air, find the quickest route, and pull off speed-boosting wheelies as much as possible.
It's unfortunate that Urban Trial Playground's tricks are limited to spins, wheelies and stoppies, as its over-the-top nature lends itself well to the more outrageous. It honestly feels strange gaining massive air but not being able to arrange myself into some sort of pose before landing back on the ground. It just feels like the game is missing something. But alas, Urban Trial Playground focuses more on you chaining what tricks it does have, and its system for that is solid.
As you make your way through the game's career, new bikes will be unlocked as you hit star milestones, and any cash you've earned can be used to upgrade their performance and also buy new clothes for your rider. It serves as a nice carrot at the end of a stick, spurring you on to earn more stars and cash. After all, as the performance of your bikes improve, so does your ability to get the fastest times and achieve the highest scores.
Online leaderboards are included, allowing you to see how your single player endeavours stack up to others, and Urban Trial Playground also features two-player split-screen multiplayer for when you want some direct competition. It's just a shame that there are no online multiplayer options.
Presentation wise, Urban Trial Playground leaves a good impression. Menus are easy to use, clear, and quite colourful. Its soundtrack is easy on the ears. And while the in-game graphics aren't particularly sharp, they are detailed and overall quite impressive. Performance is good too. You're not going to get aggravated by slowdown or stutters while playing.
One thing to note, however, is that Urban Trial Playground's physics just don't feel as tight as those found in RedLynx's Trials series. They feel more arcadey overall, though it's not really a problem, rather more of an observation. Urban Trial Playground is obviously inspired by RedLynx's series, but it deviates enough from the formula to feel like its own game.
For fans of the Trials series looking for a similar experience on Nintendo Switch, Urban Trial Playground comes highly recommended. It may not feel like quite as skillful a game to play, but it's still challenging and entertaining nonetheless. It also packs quite a lot of content for its budget price. Only those expecting online multiplayer offerings will be truly disappointed with what Teyon has served up.
Urban Trial Playground is available on Nintendo Switch