Yakuza 0 spoiled us.
Thanks to its wealth of side activities and multiple fighting styles, those who used it as their first step into the Yakuza series may find subsequent entries feeling like a step back, and that unfortunately includes Yakuza 6: The Song of Life. Though that doesn't stop Kazuma Kiryu's final outing from still being a brilliant piece of entertainment.
Yakuza 6 starts like pretty much all Yakuza games: slow. Serving yet more prison time so that he can emerge a new man, able to support Haruka and all the kids at Sunshine Orphanage without his history with the Yakuza getting in the way, Kiryu quickly finds that life never goes how you expect it to. Returning to find Haruka missing, Kiryu heads to Kamurocho to see if he can track her down, and of course, he gets dragged into another escapade that will see him face off against yakuza, triads and more. Honestly, he can never catch a break.
While the story starts out slow, despite a few shocking revelations, it picks up considerably around its halfway mark and remains riveting from thereon. There are the usual twists and turns that you'd expect, a heady mix of humour and drama, and being Kiryu's last outing, you can be sure that there's some emotional moments, too. I'm sure we all love Kiryu, but Yakuza 6 finally gives him closure, which is both refreshing and satisfying.
Like its story, Yakuza 6's gameplay also becomes more engaging as you progress. With only one fighting style, combat initially feels very basic. As you earn experience by fighting, completing challenges, eating, drinking and engaging in activities, however, you can extend Kiryu's repertoire of moves and improve his stats, making combat much more varied and fun. You never have quite the variety of abilities found in Yakuza 0 or Yakuza Kiwami, but the combat in Yakuza 6 feels more robust, as if just focusing on one style has allowed SEGA to further fine tune it.
Getting into fights when on the streets of Kamurocho and Onomichi, an area new to Yakuza 6, is now seamless, too. If I were to nitpick I'd suggest that you perhaps have to get a little too close to your potential opponents before combat is initiated, but it's nice to not be taken out of the action as you go around your business. Many buildings such as shops can now be entered without encountering a loading screen as well, all because of a brand new game engine.
When you're not fighting and/or enjoying Yakuza 6's story scenes, there's a considerable amount of side content to tackle, as per usual. Though again, things feel a little light compared to Yakuza 0. You can make Kiryu sing his heart out at a karaoke bar, play Mahjong, hit some baseballs, entertain yourself with classic SEGA games to play such as Out Run, Super Hang-On and Virtua Fighter 5, and more, but favourites like bowling and pool are strangely absent.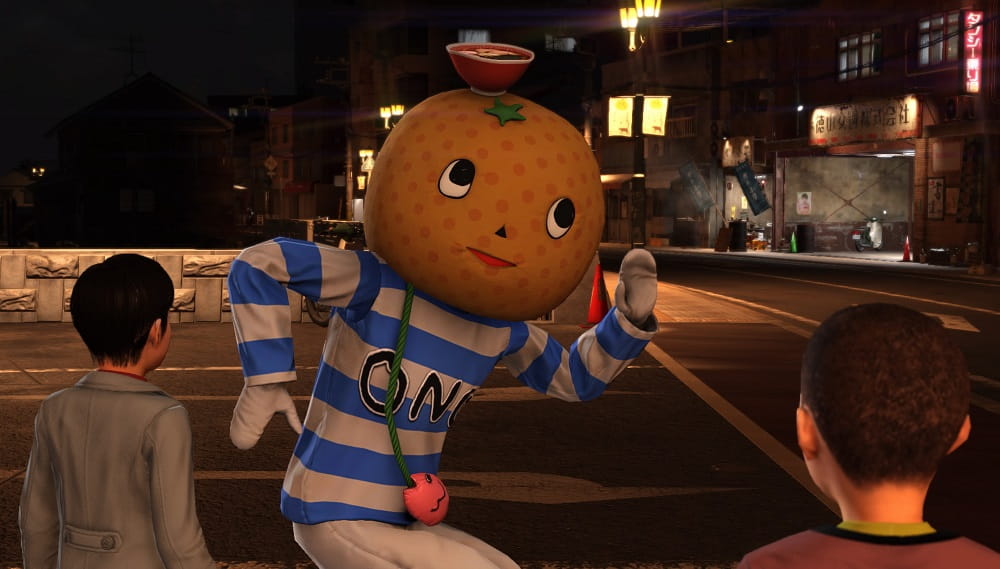 Kooky side stories are also still in the mix, offering funny and sometimes strange scenarios that are well worth your time. Amongst others, you'll find yourself enjoying the pleasures of live chat, winning the adoration of cats and struggling to rid your mobile phone of a needy AI, which Kiryu will simply take in his stride in a way that's always amusing.
New to Yakuza 6 are a couple of activities that allow you to eke even more life out of the game. Creating a clan to combat an organisation called JUSTIS is the meatiest of the two, tasking you with recruiting new members by finding them in Kamurocho and Onomichi before showing them who's boss. You can then take part in RTS-style battles, deploying a range of units to deal with JUSTIS' forces. It's a bit of a departure for Yakuza but it's fun nonetheless, and finding all possible members will take a reasonable amount of time.
An app on Kiryu's phone called Troublr is another source of ongoing content that's often fun to undertake. As you explore Kamurocho and Onomichi you'll often be alerted to crimes or suspicious activity in the area, and by pressing X you can accept a quick mission. Sometimes you'll have to rescue someone who's in a sticky situation, other times you'll have to simply take down some thugs causing a ruckus. In any case, Troublr activities are short, sweet, and always fun.
Yakuza 6, aside from its single fighting style and absence of a couple of staple activities, is pretty much just what you'd expect then. It's a sizeable game with content that encourages a range of emotions, and thanks to it being the first to employ a new game engine made for the PlayStation 4, it's more seamless and visually impressive than ever. Though there is still a fair amount of aliasing as you explore its open environments, and some animations leave a little to be desired, too.
It's a shame that Kiryu's last game isn't the best, but then Yakuza 0 is such a tough act to follow that it's understandable. It doesn't stop Yakuza 6 from being a worthy send-off to the series' charming star though, and with the new engine in play I really am looking forward to where the series goes next with its new protagonist. Offering closure on a long-running saga while also entertaining on so many fronts, Yakuza 6 may feel smaller in scale at times, but that still doesn't stop it from being a mighty fine game.
Yakuza 6: The Song of Life is available on PlayStation 4
---
More On Yakuza 6