The most relaxing games on Xbox One
Playing games like Gears of War and Dark Souls can be fun, sure, but it can also sometimes be stressful.
Whether you've driven yourself to the end of your tether after dying time and time again in your favourite game, or have just got home from a bad day at work and want to chill out, there are plenty of games available on Xbox One that you can relax and unwind with. Games that have beautiful sights and place you in situations that are pretty much stress free. Want to know what they are? Read on to discover 10 relaxing games on Xbox One.
The Vanishing of Ethan Carter
On a standard Xbox One, The Vanishing of Ethan Carter looks nice. On an Xbox One X, however, it looks astounding.
The impressive visuals are a large part of The Vanishing of Ethan Carter's appeal. It's a game all about exploration, you see, as well as solving puzzles. If you ever want to have a couple of hours of chill out time, simply boot up The Vanishing of Ethan Carter and play through its story. In fact, you don't even need to do that. Thanks to the introduction of a free roam mode, you can now just explore the game's lovingly created world at your leisure. As relaxing video game experiences go, it's up there with the best.
Read our review of The Vanishing of Ethan Carter
Abzu
Abzu is lovely in just about every way. And besides from one small encounter with a shark, it's a game that's entirely free of stress. A game about exploring the depths of the oceans, Abzu allows you to go entirely at your own pace, take your time to look around, and push forward only when you're ready.
When a game looks as beautiful as Abzu, you will certainly want to take your time to soak in your surroundings, too. Packed with endless colourful fish and marine life along with ruins of lost civilisations, Abzu is one of the most relaxing games available right now on Xbox One. It'll take you around three hours to complete, but we promise you'll want to jump straight back in to experience its beauty over and over.
Assassin's Creed Origins
We know what you're thinking. "Assassin's Creed Origins, relaxing? Pfft!" It can be at times though, when you're just simply out exploring. But it's not on this list for that reason. It's on this list because of its wonderful Discovery Mode.
Assassin's Creed Origins' Discovery Mode takes all the possible stress out of the game and allows you to explore its beautifully crafted world at your leisure. There are no enemies, no quests, no puzzles to solve; it's just you let loose in Egypt. It's educational too, if you want it to be. Discovery Mode contains a wealth of information about Egypt's history and its landmarks. Essentially then, Assassin's Creed Origins is the complete package. It's action packed and intense when you want it to be, yet can be totally laid back and relaxing when you don't.
Read our review of Assassin's Creed Origins
Aer: Memories of Old
While Abzu takes us to the depths of the ocean, Aer: Memories of Old takes us soaring into the skies. A beautiful adventure game that rewards exploration, Aer puts you in the shoes of a woman who's able to morph into a bird, taking to the skies to fly from island to island.
It's colourful and mesmerising, and most importantly, flying as a bird is incredibly relaxing and enjoyable thanks to responsive and intuitive controls. Speed up by flapping and flying with the winds, and slow down by hitting both of your triggers. On land, you can morph back into a human in order to walk around and take in the beauty that each island holds. There are plenty of secrets to find and some puzzles to solve, but Aer: Memories of Old lets you do everything at your own pace. And with no enemies to bump into and no fear of death, there's absolutely nothing to worry about.
Read our review of Aer: Memories of Old
Shred It!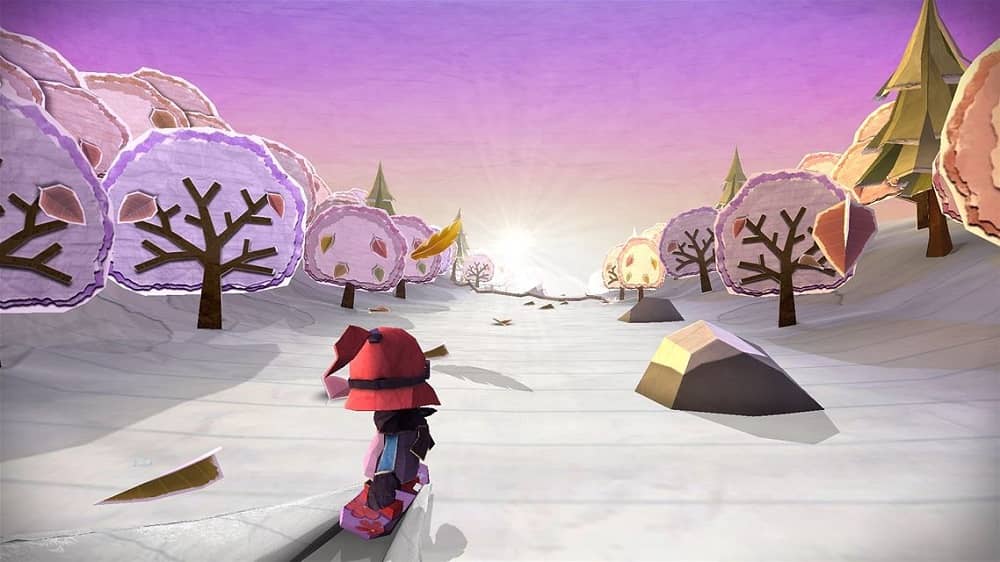 Endless runners aren't particularly well-known for being relaxing, but Shred It!'s papercraft visuals and enchanting soundtrack make it the perfect game to sit back and chill out with. It helps that it's also one of the most lenient endless runners out there.
Featuring multiple game modes, and a whole host of content to unlock including new playable characters, Shred It! is a game you'll return to time and time again. Where else can you dress up a dog before making him snowboard, or should that be paperboard, downhill? Nowhere. That's where.
Dear Esther
One of the most revered 'walking simulators' – and perhaps the game most credited with giving life to the genre – Dear Esther is a pleasant, if melancholy, walk across a picturesque island.
A narrated story is revealed as you progress, but as segments of the narration are triggered by walking past certain parts of the environment, you're free to walk at your own pace. With plenty of gorgeous views to take in, you'll probably want to take your time, backtrack along paths, and just soak in your environment.
Read our review of Dear Esther
RiME
A gorgeous adventure that follows a young boy explore a mysterious but beautiful island, RiME is one of the most relaxing adventure games you'll find on Xbox One. It might hit you in the feels towards the end, but your time with RiME will be nothing but a pleasure.
First of all, everything about this game is absolutely beautiful. If you're anything like us, you'll spend more time taking screenshots of the surroundings that you will actually playing the game. There are some puzzles to solve, but you're free of any time restraints so can choose to explore the island at your leisure if you wish. There are plenty of hidden nooks and crannies along the way, and you'll not be able to help falling in love with the young protagonist.
Stardew Valley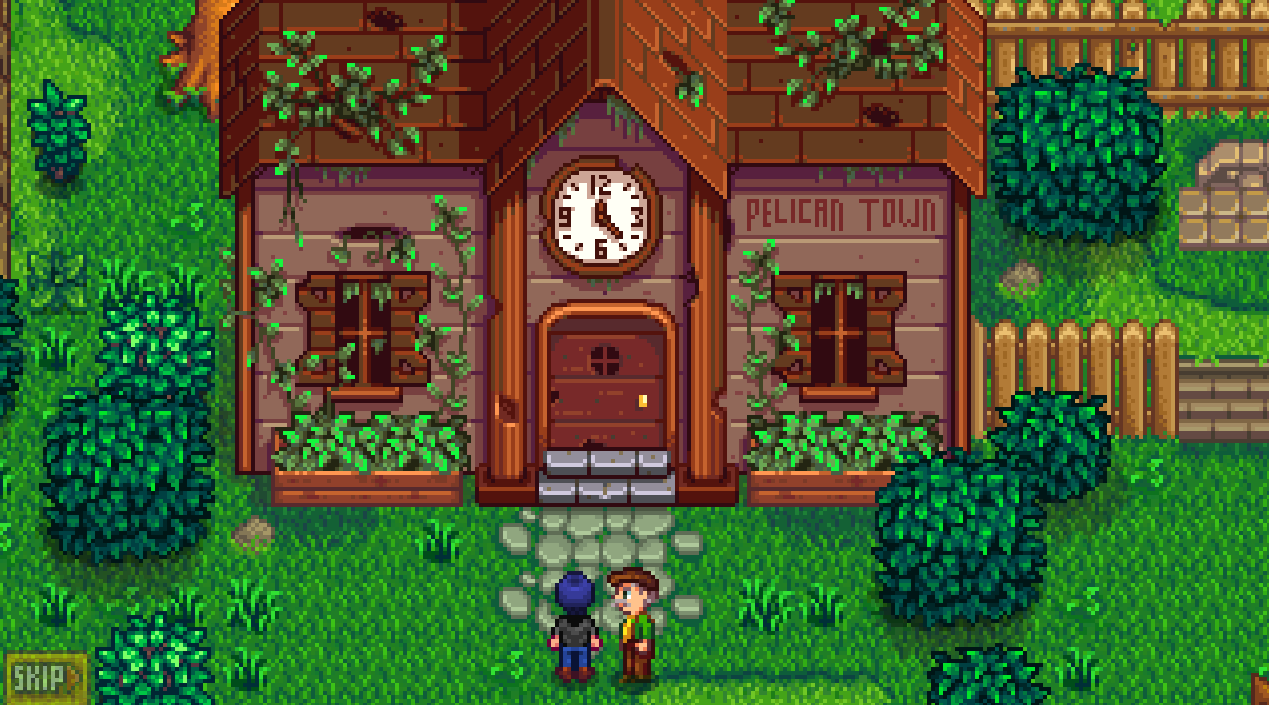 Like any of the most relaxing games, Stardew Valley manages to be so cathartic because it lets you do exactly what you want, whenever you want. It's a farming simulator meet action-adventure meet sandbox meet dating simulator — and about ten other things. There's so much to do in this small pixellated town, and everything can be done at your own pace without any pressure.
Whether you'd rather plant and tend to crops, meet people in town or go exploring in the mines (there are enemies down there, though), Stardew Valley is a beautiful blank page waiting for you to write your own story – and not one ounce of it will be stressful.
Read our review of Stardew Valley
Disneyland Adventures
We would say that Disneyland Adventures is great for kids to sit down and relax with, but as we've spent many hours doing so ourselves, we'll say it's laid back fun for everyone. Particularly if they're into Disney.
While Disneyland Adventures does have minigames, they're not particularly challenging. Most of your time spent playing the game involves just exploring Disneyland. You can meet all the well-known Disney characters, helping them out with any tasks that they may have. It's basically one of the most sickeningly sweet games you can play, though being a remaster of an Xbox 360 game, it can look a little bit ropey at times.
The Sims 4
The Sims can be relaxing, or it can be bloody stressful, depending on how you approach it. But since this is a list of the most relaxing games, let's focus on the relaxing elements.
The great thing about The Sims 4 is that you can play however you want. While trying to control a house full of half a dozen people can be overwhelming, having a small household of one or two can be a great way to unwind. And if you do want a bigger family, giving your sims autonomy and sitting back and watching what happens can be hugely entertaining and relaxing – just like watching your favourite TV sitcom. We also enjoy getting lost in a house build – especially if cheats are turned on so money is no obstacle.
---