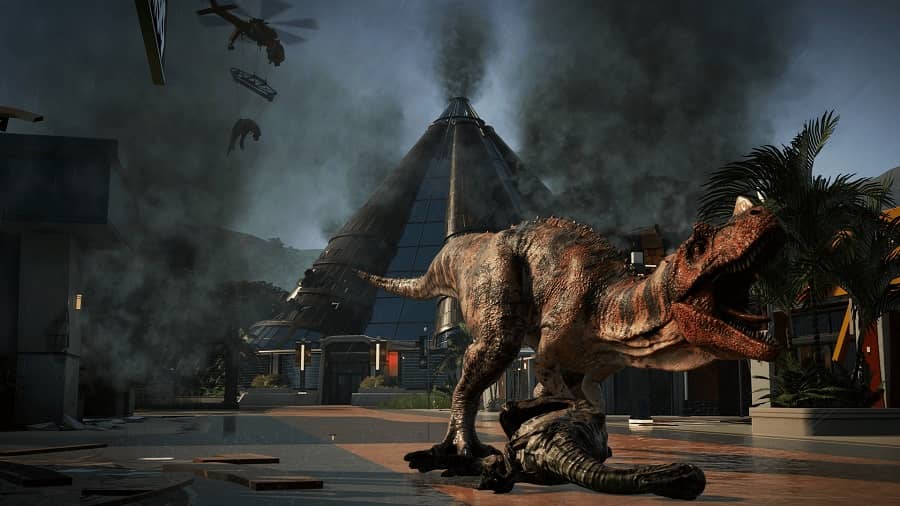 If there's one thing that's going to annoy your guests in Jurassic World: Evolution, it's slightly underdone hamburgers. If there's another thing that's going to annoy them, it's being mauled to death by dinosaurs.
Here's how to deal with the second issue and avoiding spending too much money compensating people for their horrific injuries.
Prepare for escaping dinosaurs
At some point, one of your dinosaurs is going to escape. It may be that it breaks through a fence, or that someone sabotages your park, or there's a power-cut. It will happen. To prepare for this eventuality you need to make sure that, as soon as they're unlocked in the game, your park has the following:
A ranger station with at least one ranger team
An ACU with at least one helicopter team
Deal with escaped dinosaurs in Jurassic World: Evolution quickly
While escaped herbivores don't do as much damage as rampaging carnivores, both need to be dealt with. As soon as you're alerted to an escape, go to the main map and look for the rogue dinosaur, highlighted in red with a claw icon. Then, do the following:
Go the ACU unit and assign a task to the helicopter team. Then click on the dinosaur and they will sedate it. You can also research ACU upgrades which will improve their accuracy and make it easier for them to bring him down quickly.
While they're doing that, look for the breach in the fence that let the dinosaur get out. If power is out or reduced, fix that, perhaps by shutting down other facilities to improve power output.
Go to the ranger station and assign a task to a ranger team, then click on the fence breach and they'll head off and fix it.
When the breach is fixed (the dinosaur should still be sleeping), go back to the ACU and click on transport team. Click on the sleeping dino, then click where you want to put it, usually in its cage. Or if it's a regular escapee, you might want to consider selling it.
Your park's popularity will suffer but the public are pretty quick to forget about all those horrific deaths (as long as you settle the lawsuits) and you can get on with building up your park.
---
More Jurassic World: Evolution