Remember Space Invaders? I do. Although I more fondly remember Arcadians; a Space Invaders rip-off for the Acorn Electron.
I've played and enjoyed many iterations of the classic Space Invaders formula over the years, but the latest to catch my attention is Super Destronaut DX. And honestly, if you're a fan of retro games, I highly recommend that you check it out.
Cheap as chips
Available for a mere £3.99/$4.99 on PS4, Xbox One, Switch and PC, Super Destronaut DX is an absolute bargain. The gameplay is typical Space Invaders with you shooting waves of alien spacecraft while avoiding their attacks. But of course, it has a number of fresh tweaks, too.
For a start, there are power ups. Shoot down a certain orange coloured craft and you'll obtain special ammo for a limited amount of time, such as homing rockets or explosive shots. There's also the issue of grey aliens to watch out for. Some will fly towards you from the bottom of the screen, while others will fall when you take out their craft.
Combined with a range of enemy projectile attacks, the grey aliens give Super Destronaut DX enough character to make it stand out. Although the inclusion of a score multiplier also helps, keeping the pressure on to eliminate enemy craft quickly in order to reach the top of the leaderboard.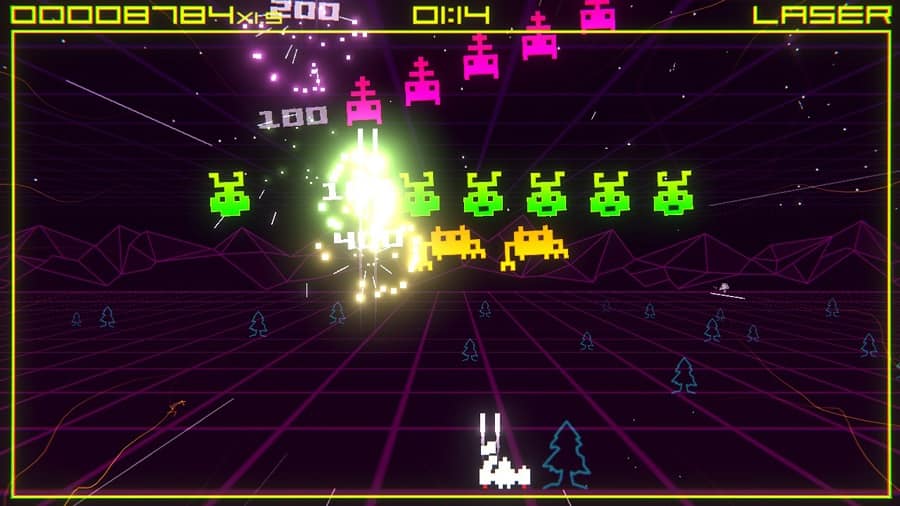 Modes ahoy!
What really makes Super Destronaut DX a must-buy, however, is its range of modes. There are 30 challenges for you to undertake in Challenge mode, tasking you with reaching a certain score multiplier or shooting grey aliens a set number of times, for instance. Then there's Classic mode, where it's all about getting a high score at your own pace.
To spice things up, there's also a Time Attack mode in which you have 90 seconds to get as high a score possible, while Hardcore mode gives you only one life. And if you've got a friend around, you can even challenge them to a game thanks to its Multiplayer mode. Super Destronaut DX really does offer exceptional value for money.
Perhaps the only thing that's disappointing about Super Destronaut DX is that it gives up all of its achievements/trophies way too easily. I got all 1000 of its achievement points on Xbox One in around 30 minutes. It's not a problem if you don't care about such digital awards, but it's a shame they don't provide a lasting challenge.
In any case, with its great presentation and pounding soundtrack, Super Destronaut DX is one hell of a retro inspired title. Be sure to pick it up if it sounds like something you'd be interested in; you won't be disappointed.

Super Destronaut DX is available on PS4, Xbox One, Switch and PC. We reviewed the Xbox One version.