It's Friday. The day before the week, and the day the GameSpew team come together to talk about what they've been playing this week.
It's been another scorching one in good old Blighty, so once again we've been avoiding the sunlight like vampires, staring at our TV screens in darkened rooms. Despite there supposedly being a lull in terms of new releases in the summer months, we're still finding plenty of games to keep busy with, both old and new.
Want to get in touch and let us know what you've been playing this week? Tweet us @game_spew. Have a great weekend, everyone!
---
Rich: Another busy week for me, but when it's full of great games there's no reason to complain.
I've been busy in Kingdom Come: Deliverance, turning what's left of Pribyslavitz into a nice place to live again. I've had to empty my pockets of all the groschen I've accumulated to do so though. Aside from that, I've also dabbled with a few short but sweet games such as Super Destronaut DX, Archangel: Hellfire, Tempest 4000 and Gekido: Kintaro's Revenge. Although I suppose the last one wasn't so sweet. This weekend I'm looking forward to cracking on with more Octopath Traveller, an RPG that really does capture the magic of the classics of the genre. Look out for a review of that early next week. The Encore DLC for Sonic Mania is also calling me…
Kim: I've put a lot of time into the wonderful Moonlighter this week. It released back in May, but I've only just thought to give it a go. Man, I was missing out. It's without a doubt one of the best indie games this year. I've also put a bit of time into The Long Reach, a freaky pixelated horror adventure that's just released on Xbox One despite being on other formats for a few months. It is damn freaky alright.
For the past few days, I've been sinking my time into Adventure Time: Pirates of the Enchiridion. Despite its name being a bit of a mouthful, it's a wonderfully light open world adventure filled with the typical humour you'd expect from Cartoon Network's Adventure Time. With turn-based combat, a pretty sizeable map to explore and a lovable cast of characters, I'm very much enjoying my time with it. Look for my review early next week.
Becca:  This week I finished the main storyline for God of War. I can confidently say that it is one of the best games I have ever played. It blew me away. Every time you think there won't be anymore big surprises it throws something new and incredible at you. And now, even though I've finished the storyline, I still plan to go back and do some more exploring because I know there's a lot that I've missed. I can't wait to see what else I can discover.
I've also played a ton of Captain Toad: Treasure Tracker on the Nintendo Switch. The puzzles are unique, the boss battles are challenging and original, and its just real, pure fun. There's even a way to play it two player so you can sit down with a friend and play as the funny fungi together. I highly recommend picking it up if your library of great Switch/3DS games is lacking.
Chris: This week I've been playing Yakuza 6, which has been sitting shamefully untouched on my shelf for a good few months. I've been having a whale of a time and then beating the whale unconscious by smashing it in the face with a neon sign. What's surprised me the most is how little I've been getting distracted by the arcade games. I felt sure I'd hastily abandon Kiryu's quest for vengeance in favour of spending six hours playing Puyo Puyo in the arcades, but that never happened. The ever-developing plot has kept me hooked to the point where I've been ploughing hour after hour into the game.
Well, except for one time, that is. There are still some weird tonal shifts, mostly tied to the side quests. On my way back to follow up a serious lead I spoke to a passer by and, as a result, spent half an hour dressed as a tourist mascot. Getting to pummel a gang of toughs dressed as some sort of half-onion, half-fisherman creature was well worth putting the main quest on hold for but it still felt a bit given how deadly serious Kiryu was about catching the culprit who'd wronged his adoptive daughter.
Still, I'm having a ludicrous amount of fun and I can't believe I waited this long to play it.
Jack: Y'all got any of that Warframe? This week I unlocked more frames and played with a few others. Playing with people who knew a lot more opened up even more stuff for me to do. Neverending stuff. I'm at almost 70 hours of Warframe now and I've unlocked 4 of 36 frames. I'm all in, and unlocking Octavia is still my number one goal.
Robert: The end of the world cup can mean only one thing for footy fans… the build up to the next season of club football! I have been getting into the spirit of things by playing Football Manager 2018. I am mirroring all the real life movers and shakers in the business by getting my team sorted for the start of the season. Though my transfers of non-league Bognor Regis do not quite match the estimated €100 million deal made for Cristiano ronaldo from Real Madrid to Juventus. To be honest, I am lucky to get a plumber to work for £100 as a part time keeper! But such is the appeal of Football Manager, so much detail is made into the big and small teams alike and you can really get stuck into the non-league hack-and-slash tournaments.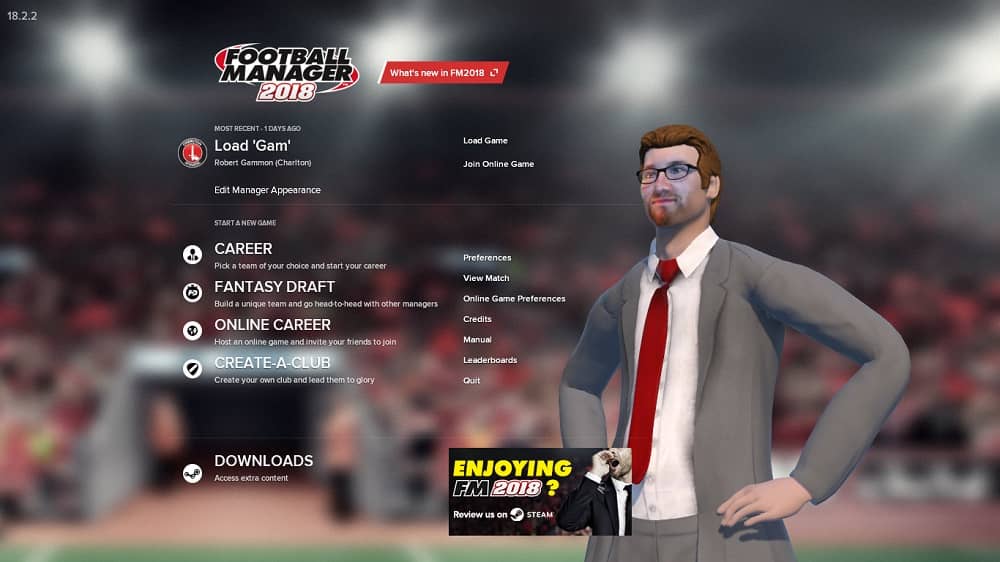 Matt: This week I've been playing Mothergunship and Mugsters, both of which I will have some coverage out for next week. They're vastly different games but both shine in their own respects. I've had my eye on Mothergunship for a long time now and I'm enjoying every second I get with the game. Mugsters is proving to be a very… er, interesting game. It certainly is not what I expected, but I think I'm starting to rather enjoy this one.