The moans of the zombies can be heard on all sides. You're surrounded.
Their hunger cannot be satisfied. You keep feeding them plate after plate of…salad? A strange appetite for these gruesome foes, to be sure – but hey, they are high in carbs so they definitely need their greens. You hear more moaning, and realise all hope is lost. Their numbers are too high and you can't prepare the salad fast enough! You run back inside, defeated, but relieved that you managed to hold off the attackers in what could be called… The Night of the Living Bread.
Fending off the unbread is exactly what you'll be faced with when you start up Overcooked 2, the sequel to 2016's Overcooked. Developed by Ghost Town Games and Team17, Overcooked 2 is a fast-paced, chaotic multiplayer cooking game for up to four players. With brand new kitchens, characters, and recipes, it became clear after the first few levels that it was going to be the next best thing since sliced (un)bread.
Enemies to the Yeast
In Overcooked 2 you're back in The Onion Kingdom once again to help protect the Onion King and his loyal dog companion, Kevin, against the onslaught of approaching baguettes. You must work together with your fellow chefs to learn as many recipes as you can and, most importantly, learn to cooperate in order to work as efficiently as possible. If you're playing by yourself, you have control of two different chefs that you can click back-and-forth between.
In each level customers will be ordering different recipes that you have to cook in a certain time limit. Players will have to chop, cook, wash dishes, dash across precarious bridges and more to get those plates to the hungry customers looking great and tasting delicious. The levels featured in Overcooked 2 will have you running around on the ground, floating down a river, and even flying in the sky to add even more challenge to an already hectic game.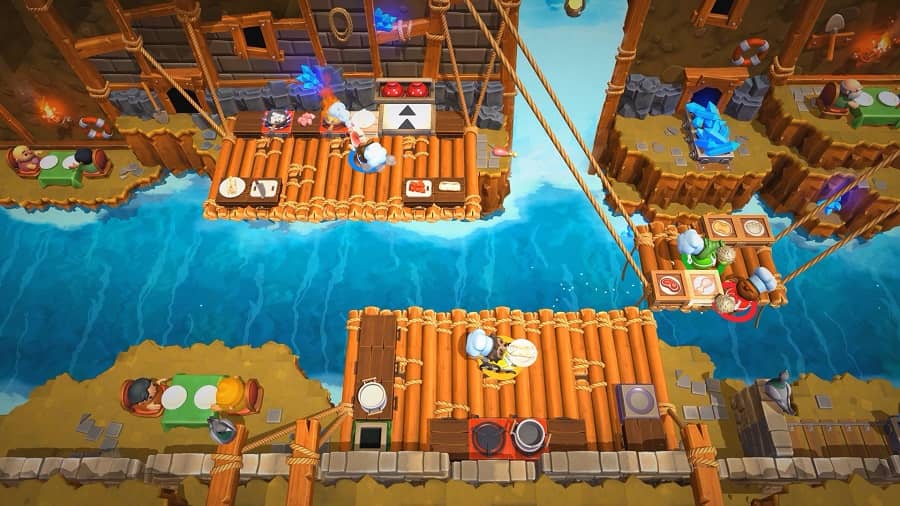 Just Like Grandma Used to Make
Just like the change in venue, Overcooked 2 also features brand new recipes for players to cook. Players will be making pizza, burgers, and tacos again, but will also be learning sushi, fried chicken, pasta, and more.
Each kitchen will be equipped with whatever the players need to make the food on their menu, but there's always a big twist. One level you may be floating down a river on two separate platforms that spin around each other, or flying in the sky on a platform that threatens to push you off with each gust of wind. Either way, none of the levels are easy and you'll have to work together to beat everything that Overcooked 2 throws at you.
Minor Bubbles in the Dough
There isn't much wrong with Overcooked 2. In fact, the first time I picked it up I played for more than four hours without taking a break. Needless to say, I love it – but it isn't without its imperfections. There is one thing that I like to call "The Crisis of the Corner Counter" that was a problem in the first instalment as well as this one. Say you're cooking a plate of sushi and you pick up the plate which has your nori and your rice on it, but no fish. You go to put your plate down to go chop up your fish, but when trying to put it to the left of the corner, uh oh, your plate has gone on to the corner counter. Unfortunately, there's no way to go around to the other side of the corner, and no matter how much you spam your pick up button you are not going to be able to grab your ricey roll.
It's something I've already encountered two or three times in Overcooked 2 (as well as dozens of times in the first) and, in a game that is incredibly fast paced, it can definitely slow down your process. A very small problem, but a very big issue in the heat of the kitchen.
I also came across another minor issue unique to Overcooked 2. This second instalment features moving conveyor belts that players can either travel across themselves or throw food onto to make them travel to the other side. Most of the time, the travel goes smoothly, but more then once when tossing my food onto the belt its gotten stuck in a corner. Another pesky corner! Then you're forced to walk to your chef back over to the stuck piece of food which you can either pick up safely or, more likely, knock it into the abyss below. Goodbye 3 star score. Both of these issues are minor and fixable, but notable nonetheless.
I Couldn't Possibly Have Another Bite
Overcooked 2 also features bonus levels, such as the Kevin secret levels which can be found throughout the map. These levels, at least to me, felt very difficult so take caution before jumping in to appease the hunger of the almighty Kevin. Other playable features include arcade mode, where you get put into a random level with random recipes and try to get the highest score possible. There's also versus where you can go head-to-head against your friends.
There have also been online features added to the game where you can play with others online in versus and co-op. I love the online additions because Overcooked is much better played with friends so, if your friends are unavailable you can just hop onto the interweb and join others! It's especially helpful during those pesky last levels of the game that I just cannot beat on my own. There's a lot of duties to juggle and it's simply better tackled with a sous chef.
Since its release in 2016, there hasn't been a party I've gone to where I haven't suggested we dust off Overcooked. Now that Overcooked 2 is released, I can't wait to play this version with all my friends. Players will recognise its familiar chefs and recipes, but are sure to enjoy all of the brand new features its sequel has to offer. Despite its few niggles, Overcooked 2 delivers everything that made the first game so great, but in a bigger, better and more appetising package.
Overcooked 2 is available on PC, PS4, Xbox One and Nintendo Switch. We reviewed the Switch version.