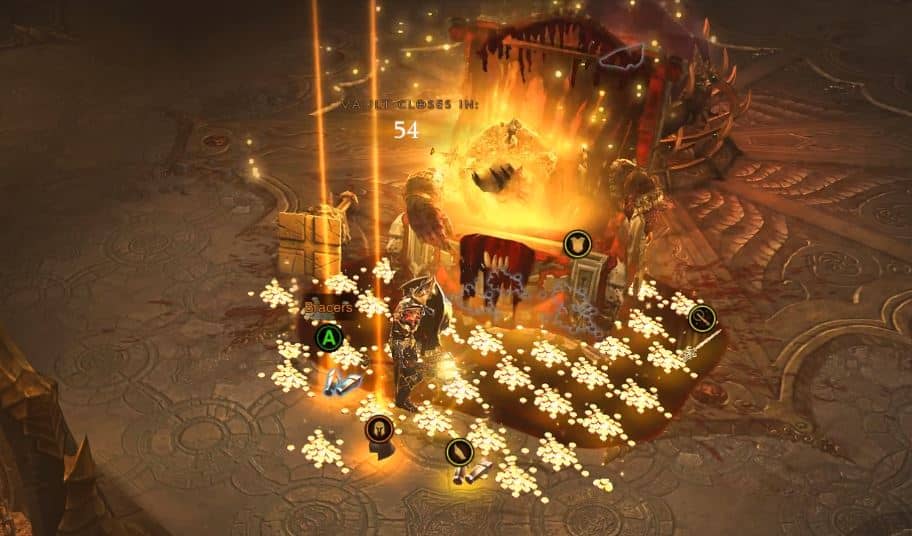 There are a lot of video games with special moments that put a smile on your face for one reason or another. For me, though, no moment is sweeter than when a portal to the treasure vault opens in Diablo 3.
I've been in The Vault several times now, but it never fails to fill me with glee. For the uninitiated, Diablo has a rare type of enemy: the Treasure Goblin. Carrying various types of gold and items, the Treasure Goblins only appear in your game for so long; if you don't kill them in time, they'll open a portal and leave. You see, it seems that these Treasure Goblins live in their own special realm, one filled with more gold and treasure than we mere mortals could ever imagine. And sometimes, only sometimes, does a lackadaisical Treasure Goblin enter your game, and forget to close his portal.
Hohohoh! A portal to The Vault!
The Vault is basically a curving path leading downwards, with a number of landings, all filled with gold. More gold than you can imagine. Piles of millions. And there are Treasure Demons wandering around, minding their own business, too; kill them and they'll relinquish even more treasure.
At the bottom of the vault awaits Greed, Baroness of the Vault. She's a vile, ugly giant obsessed with gold and riches. Fight her, and she'll leak out even more Treasure Demons as she attacks. When she's destroyed, she'll leave yet another pile of treasure for you to collect.
I remember the first time I entered The Vault. I certainly didn't expect it, and I'd never seen anything like it. A grin was fixed to my face as I rounded up all the gold and treasure. The second the Vault closed I couldn't wait to find it again.
In late end-game Diablo, playing on high Torment levels, gold doesn't matter so much; you'll easily pick up millions on a single Rift run or by doing a few bounties. But still, The Vault holds a special place in the game. Even if all that gold isn't necessarily needed, there's still nothing like the moment you see that Treasure Goblin accidentally leave open the portal. It doesn't matter what you're doing; you'll drop everything and get in it.
Now, if you'll excuse me, I'm going to walk around the plains of Sanctuary until one more of those pesky Treasure Goblins leaves its portal open for me.