Diablo III is coming to Switch, and while it's never going to replace the Xbox One X experience for me, the opportunity to play the game on the go or while away from home is very enticing.
Diablo's one of those games that, even though I've sank literally hundreds of hours into it over the last five years, I still keep going back for more. Once every few months I'll load up one of my umpteen level 70 characters on Xbox One, and for a few weeks, I'll become a slave to the loot, rarely playing anything else in the meantime. Sure, I'd rather have a Diablo IV, but I'll take the chance to play trusty old Diablo III on another format instead, I guess.
A EGX this past weekend, I got to take Diablo III Eternal Collection out for a spin. On the show floor was an exclusive demo of the game. Running in handheld mode, I played through a specially-crafted Greater Rift of the game alongside three other players. The demo had a fully kitted-out level 70 character of each class to choose from, and I went for a Necromancer, decked to the nines in a Bones of Rathma set. Hard as nails.
The trouble in jumping into Diablo at level 70 with a pre-made character is that it takes a short while to become accustomed to the equipped skills and loadout. The demo was only around 10 minutes long, and I spent probably five of those getting to grips with my Necromancer's skills. I couldn't change them – it was a Greater Rift, after all – and with a number of skills I'd never used before on my own Necromancer, it took some getting used to.
Once I did, though, my teammates and I were blasting through hordes of enemies on the tiny screens of the Nintendo Switch like there was no tomorrow. The demo itself was something of a showcase; starting in Old Tristram, the Rift took us through several familiar areas of the game, facing off against familiar bosses as we went. It was a lot of fun, and hopefully it's something that will get added to other versions of Diablo as a little treat.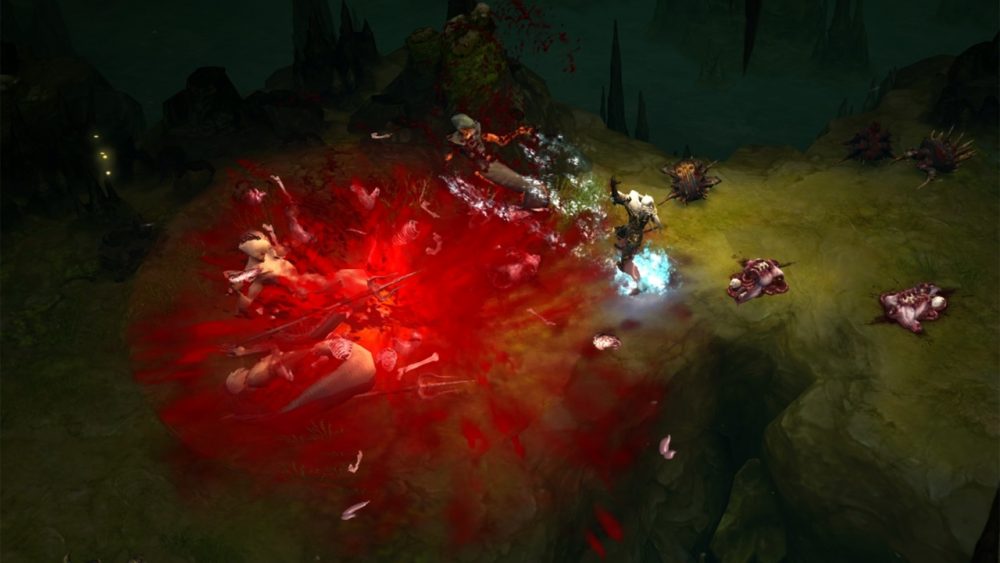 As for the Switch experience itself, it was more or less what I expected from Diablo III on Nintendo Switch. Honestly, it doesn't look great. Textures are scrappy, and character models are jagged and poor quality. Backgrounds and environments still look nice, but it's a massive downgrade from the PS4 or Xbox One version of the game. Even more so when you've become accustomed to playing in 4K on Xbox One X.
But that said, the performance of the game on Nintendo Switch was admirable. There were no drops in framerate, and combat was consistently smooth, even as new players dropped into the game. Since the demo was a specially-tailored experience, though, it's hard to say how actual gameplay will be impacted. Will we still face the same enemy density in rifts? If so, will performance drop as a result? As the demo focused more on bosses from the game, it was never particularly dense with regular enemies.
I think it's safe to say that Diablo III Eternal Collection on Switch is not going to be the optimal way to pay Diablo III. But nobody should expect that it would be. It's certainly going to shine most in handheld mode. The fact that this once PC-only game will soon be playable on a portable console is something of a feat, and being able to face off against hordes of the undead while on vacation is something I'm very much looking forward to.
Diablo III Eternal Collection is set to release on 2nd November. Pre-order now from Amazon.