FIFA is comprised of two major player bases: those that play Ultimate Team, and those that don't. The latter group has often felt underappreciated by EA Sports, and once again with FIFA 19 it has every reason to.
I probably play over 500 hours of FIFA every year. Of those, only about five are spent in Ultimate Team – a mode primarily designed to eke those £s out of you. I spend most of the year restarting a career mode with Manchester United every time they lose. This year confirms what I feared for career mode players like myself: "Hey, look! Champion's League! That's it!".
The FIFA 19 beta came along and slowly, word got out that career mode was practically unchanged, as was Pro Clubs. When Konami announced that it would not be renewing the Champions League and Europa League licenses for PES, FIFA players knew that could only mean EA would announce the partnership at E3. It's an addition that could be truly great, sure, but my fear was that EA Sports would merely do a bit of a reskin and add some new commentary. Sadly, that's exactly what it feels like. Every time FIFA gets a new feature off the pitch, there's a sense of "is that the best you could do?". Frankly, everything could do with a little bit more effort and thought put into it.
The Journey, FIFA's story mode, makes a return in FIFA 19, giving us the final part of Alex Hunter's journey. This year though, he's joined by two more characters: you'll also play as Kim Hunter and Danny Williams. While they're playable briefly in FIFA 18, they take more centre stage alongside Alex in FIFA 19 with dialogue choices, training, and matches. It's moved slightly away from being about Alex Hunter and his immediate family. Being able to spend more time with Kim as a playable character offers some more welcome representation of women's football, but I can't help but feel that Danny's inclusion feels a little like spoiling the broth.
The Journey's opening was a pleasant surprise as you get to play as Jim Hunter, Alex's grandfather, with EA Sports taking the time to give the segment an authentic 1960s look. Unfortunately, the training sessions that pad The Journey continue to be a real detriment to the mode – and now you have to do training sessions for three different players.
On the pitch, EA Sports continues to make the game feel ever closer to the real thing. In FIFA 19 there's more fluidity in movement, passing, shooting, the works. Defending feels more rewarding this year too – heading out from a cross feels more satisfying than ever. And with every new FIFA, the players feel more and more realistic. When I take a shot with Pogba, the way he sets himself and hits the ball is uncannily like how he achieves it in real life. Long shots need to be toned down a little bit on the pitch though; I bought Ruben Neves to partner Pogba, and they're both banging in goals from 20+ yards so often that they're my top scorers – even on Ultimate difficulty!
One of the bigger criticisms of FIFA 18 was how easy it was when playing offline. Hardest difficulty Legendary became a cake walk far too early, and players resorted to using in-game difficulty sliders to make it harder for themselves. This year, a new hardest difficulty has been added. It's a slight improvement, but there's still the odd game I'm winning far too easily – Manchester United 5 – 0 Spurs for example.
Ultimate Team is not a mode I venture into much, but it's continually improving year on year. There's an impressive array of game types to play in the mode; over the last few years FUT Draft and Squad Building Challenges have really helped to flesh it out. This year, EA adds Division Rivals which replaces the old Seasons mode. Like Squad Battles each week, Division Rivals will give rewards based on a weekly score. The addition of Division Rivals means that I might actually venture into Ultimate Team once in a while this year.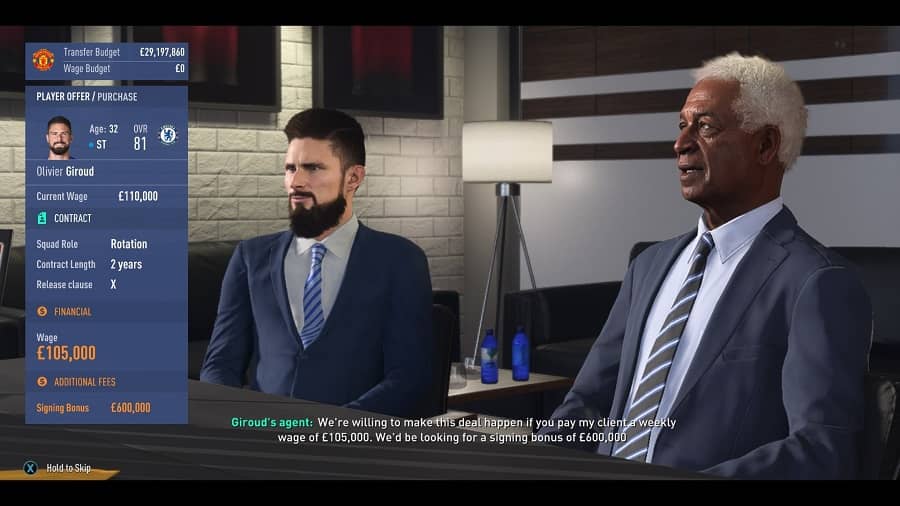 FIFA 19 also adds some much-needed flair to the stagnant Kick Off mode. While Kick Off is a mode I've barely touched in past iterations of the game – and one I doubt many players play regularly – the new modes are fun to try out. There are now five 'house rule' kick-off modes that range from a player being ejected from the match when a team scores, to no rules – that means tackling to your heart's content. It's a fun little diversion from FIFA 19's more mainline offerings, great for dipping into now and then with a friend. Kick Off still has the live form feature that changes the attributes of players dependant on their current form, which is an added bonus. There are also some detailed stats from your performances in this mode – something I've wanted in Career Mode for years.
Despite the updates to some areas of FIFA 19, there's undoubtedly going to be a large section of the FIFA community unhappy with the lack of changes in Career Mode and Pro Clubs. I'm disappointed that Career Mode hasn't seen any significant improvements, but the on pitch changes make for more exciting matches with attacking and defending feeling more cohesive. I'll no doubt be sinking many hours into FIFA 19 in the months to come, but I do wish the effort put into the game by EA Sports hadn't been spent on the modes I'm not really keen on.
FIFA 19 is available on PC, PS4, Xbox One and Nintendo Switch. We reviewed the PC version.