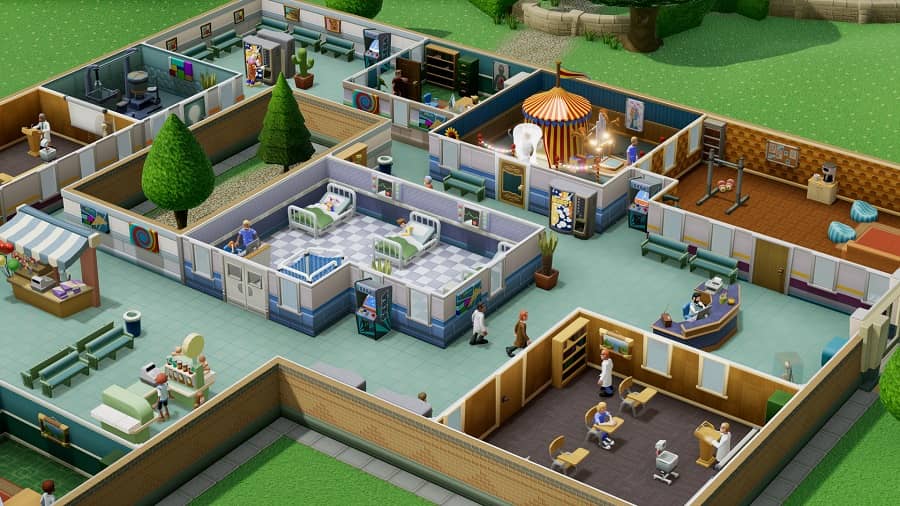 Looking to train up Two Point Hospital's doctors so they approach an acceptable level of competency? Here's how.
The doctors in Two Point Hospital doctors are a real mixed bag. You'll get a few who have a respectable star rating and hence can handle themselves but some, with a one star rating, are just starting out. But if you get them into training, you can beef up their skills as well as give them specialised skills such as Psychiatry.
How to train staff in Two Point Hospital
First, you need to build a training room. You can only do this once you've reached the game's third level.
Then, click on the training pedestal in the room and you'll be prompted to choose the course you want to reach, the teacher, and which doctors are to attend.
You have two choices: either use an existing staff member to teach (if they have the appropriate skills) or get an outside expert in. The latter stops you tying up one doctor but will cost you quite a lot of money, so be careful.
When you've approved the training, all the staff should make their way to the training room. Any who are late will leave later.
You can in fact train up other members of staff, such as nurses, but you'll really need to take advantage of your training room in the Two Point Hospital's fourth level. This is because, as a medical training hospital, you're forced to take doctors who have all 1 star ratings and training them up. So if you want to run a psychiatry room, you'll need to train up one or more doctors to have that skill.
But be warned, all the staff in training will be unavailable during the duration of the training. Send all your doctors to be trained and your hospital's popularity will suffer as your patients become unable to get treatment.
---
More Two Point Hospital guides