The main thing you'll look for when buying players in FIFA 19 is who has the greatest potential. Here's the current squad of players whose ratings will grow the highest of them all.
When picking a team of the best available players in FIFA 19, it's often hard to decide on a formation. Most of the best players are forwards and wingers. So those forwards like Hazard, Kane, Jesus, Aguero, and Lewandowski don't make the cut anywhere in this squad. Sometimes you can go for three at the back with two sets of wingers on each side.
For the sake of variety I'll be demonstrating the players with the most potential across a 4-3-3 attack formation. I'll also be filling a seven man bench to add more players into the mix.
Back 5
Three of the back five of my FIFA 19 squad come from La Liga: Atletico, Real, and Barcelona. In goal is David De Gea, and for best potential any of three goalkeepers could be between the sticks; one you'll see later on the subs bench, but Jan Oblak also shares the same potential as De Gea.
Like De Gea, Joshua Kimmich shares the highest right back potential with others. Among those are Jose Gimenez, Thomas Partey, and Odriozola. Kimmich is quite versatile though and proficient in RB, CM, CB and CDM.
Manchester United goalkeeper David De Gea at 27 has a potential rating of 93.
Bayern Munich's 23-year-old Joshua Kimmich is my right back choice, and has 88 potential.
Barcelona centre back Samuel Umtiti occupies the right centre back position with 92 potential.
Real Madrid centre back Varane completes a French centre back pairing with 92 potential.
Atletico Madrid's Lucas Hernandez, the lowest rating among the starting 11, but 89 potential.
Midfield 3
Some of the greatest passers of the ball in FIFA 19 need to occupy the centre of midfield. CAM is an interesting one; I've put Neymar in there, which allows me to fit in other players in the front three to truly make this the best potential squad. The two behind Neymar are pretty straight forward picks both with 92 potential, the highest of all centre midfielders.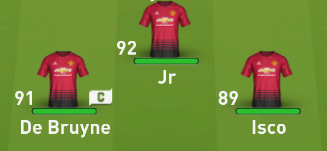 The second Real Madrid player in this 11, Isco, can also play at LW and CAM. 92 potential.
Manchester City's Kevin De Bruyne could have all of last seasons' individual awards. 92 potential.
Neymar Jr's world record move to PSG last year leaves him at 92 ovr with a 93 potential.
The Front 3
A lot was said about Barcelona's MSN a few seasons ago – Messi, Suarez, Neymar. This starting 11 front three is RDM. The two standout players in age and individual awards no doubt make an entrance as a powerful, skilful, electric front three. Two of these front three won't grow any further, but they are two of the highest rated in the whole of FIFA 19. With the two waiting to fill in those might boots on the bench, I believe this squad will be fine even when those stalwarts decline and eventually retire.
Lionel Messi has been nominated for the Ballon d'Or for the last 11 years, winning five. 94 potential.
Paulo Dybala has been joined by the player on the LW this year and will continue to grow to 94 potential.
Cristiano Ronaldo is the biggest name in football alongside Lionel Messi also winning five of the last 11 Ballon d'Ors. 94 potential. The oldest player in the whole squad at 33.
Substitutes
These FIFA 19 substitutes are some of the most exciting young players in world football. Some we already know will take over from Ronaldo and Messi battling for the best prizes in football for years to come. You may wonder how a certain young French player didn't make it into the starting 11. Well, he's not as highly rated as the others up front, but his potential is the highest across all players in FIFA 19.
AC Milan's Donnarumma almost left in the summer and shares De Gea's 93 potential.
Trent Alexander-Arnold could have been any of the right backs mentioned before, but his 88 potential and age of 19 makes him my pick as back-up to Kimmich.
Škriniar will be bought from Inter Milan by many career mode players this year. With 92 potential and a cheaper price than Umtiti and Varane, you can see why.
Paul Pogba may not be in the best of forms, but his World Cup performance keeps him at a potential rating of 91.
Marco Asensio can play either wing or CAM, so here he's my back-up CAM pick with 93 potential.
Leeroy Sané not picked for the World Cup by German manager Loachim Low looked like a larger misstep after Germany were knocked out in the group stages. 93 potential on either wing.
Kylian Mbappé is the highest potential player in FIFA 19 with 95. Both he and Pogba played a big part in France winning the World Cup in the summer.
Some quick stats:
6 from the Spanish La Liga
5 players from the English Premier League
4 players from the Italian Serie A
2 players from the French Ligue 1
1 player from the German Bundesliga