Another week, another seven days of playing games.
The busy month of game releases continues, and we're still deep into Assassin's Creed and Forza. We'd better mop up our progress quickly though, because this month isn't about to let up: Soulcalibur VI, Starlink and Call of Cthulhu are all coming out this month to name a few – and of course, there's the big one: Red Dead Redemption 2. Our bodies are ready.
But before all of that happens, here's what we've been playing this week.
---
Rich: Once again, Forza Horizon 4 has been eating up a great deal of my spare time this week. I just can't get enough of it. Also, Assassin's Creed Odyssey has happened, which means that I basically have no time left at all to function like a sensible human being. Being someone who likes to explore every nook and cranny of video game worlds, I can see myself playing both of those games well into the future.
Other than those two behemoths, I've been thoroughly disappointed by Dakar 18, and moderately entertained by Fist of the North Star: Lost Paradise. Though it has to be said, the latter title is worth your time if you want a Yakuza style game with even more violence and blood. Oh, and against my better judgement I purchased WWE 2K19, which actually seems to be a lot better than last year's offering. There'll be more on that next week.
Kim: I've dabbled a little bit in Forza Horizon 4 and Assassin's Creed Odyssey – both excellent, but massive, games that I've not quite had the headspace for this week. Instead, most of my gaming time has been spent – much to Richard's chagrin – tapping away on my phone. I've played a hell of a lot of Susie Dent's Two Words, which is basically a cross between Countdown and Scrabble. I've learned new words! I've also been playing Cat Condo, an annoyingly pointless yet addictive clicker game that Becca mentioned last week, and against my better judgement I downloaded it "to see what all the fuss was about". Now I can't stop playing it. Just… one… more… cat. DAMN YOU, BECCA.
Chris: I'm currently moving virtual figures around in Space Hulk: Tactics, and being glad I didn't have to paint them. Commanding legion of Xenomorphs is entertaining in the short term, if a tad samey.  Before that, I've been spending a stupid amount of time playing Assassin's Creed Odyssey, which is easily the most entertaining the series has been since Black Flag.
True, naval combat's fun but the sheer amount of freedom you've got is amazing. And yet the mercenary system ensures you rarely get bored since, unless you're just pootling around, you're frequently watching your back. In particular, I love the way that the mercenaries don't fall for the same tactics; I spent a good two minutes whistling for a mercenary to wander close so I could throw him to his death, but he never fell for it.
Stan: This week I left modern life and sat back in the animus as it took me to Ancient Greece in Assassin's Creed Odyssey. I am loving it so far! I chose Kassandra, and she's badass. The sheer amount of quests and things to do is incredible. I'm currently level 17 and spending a lot of time on the side quests and conquest battles. Combat feels smoother than Origins and the naval gameplay is so addictive. I've spent a lot of time headhunting the perfect lieutenants for my ship, and following my walkthrough to get the best lieutenants I've formed a team of merry men and women.
Before playing Assassin's Creed Odyssey I had no idea what drachmae was, but now I can't get enough of it. I'm wheeling and dealing my way through Odyssey like Del Boy in a London market. Following the guide on how to make money in Assassin's Creed Odyssey I've become more rich than I deserve to be (because of the choice system Kassandra is a terrible human being…kind of a reflection me). Assassin's Creed Odyssey is stealing my time like I steal drachma from merchants.
Becca: This week I've played oodles and oodles of Super Mario Party. I've been craving getting a new game for my Switch, and Super Mario Party was exactly what I needed. With all the different ways to play the game, there's something for everyone. If none of my friends are around there's even a challenge mode where I can play by yourself. I'll be bringing Super Mario Party to any gatherings I attend for a long time coming.
I've also been playing a mobile game called Part Time UFO. In Part Time UFO you play as a little spaceship guy that has a claw attached underneath him. Each level, your goal is to pick up items with your claw and stack them in certain configurations. It's actually a lot more interesting and a lot more difficult than it sounds. You can customise your UFO with boosted speed or a slower claw to fit what you think will be best for the level. Oh, and the theme song is really cute. [Sorry Becca, I'm not falling into your trap this time. I won't be downloading this one! – Kim]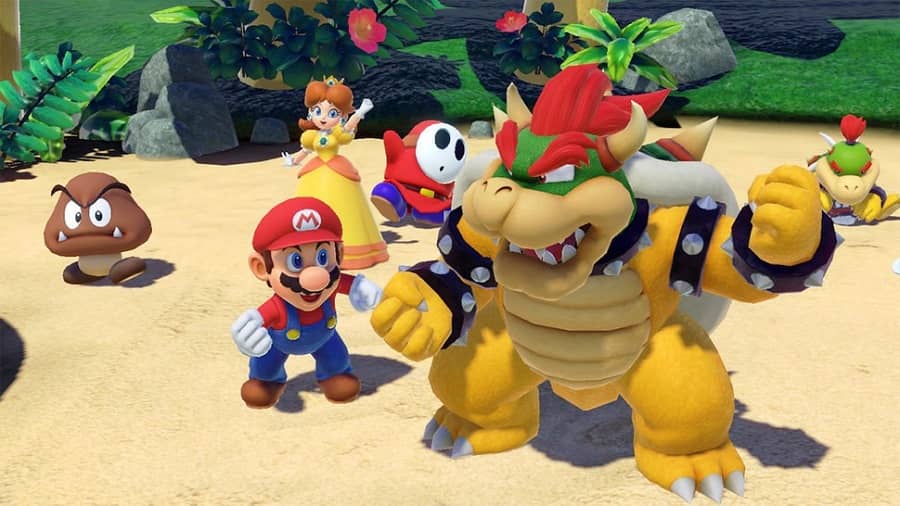 Jack: It's come to my attention that writing about my week is guaranteed to always contain FIFA 19. It's always my go to game when there's nothing else to do. I'm currently restarting career mode every poor performance in real life by Manchester United – which at the moment is every match.
There was plenty of tinkering in Forza Horizon 4 at first to get it running at 1080p 60fps on my PC. So far I've gone through most of the tutorial stuff which is almost beat for beat what it was in FH3. My first wheelspin got me an Aston Martin DB5, though, which I cannot complain about.
I finally got around to making a start on Divinity Original Sin 2 this week, but I'm really going to need to commit a full day's play on that to really get my head around everything. I've only ever heard good things about it, and I'm hoping it'll be my introduction into turn-based RPGs of this ilk.
---