Is Pumpkin Spice season over already?
Halloween feels long gone already and those of us having to cope with another 365 days until next Halloween are curling up with a game for comfort on these long, cold nights. November and December seem to be prime time for gaming so, we're really looking forward to what's coming.
In the meantime, here are some of the great games that the Gamespew team dove into this week while crying over the loss of our beloved All Hallow's Eve. Happy Friday everyone!
---
Rich: Guess what I've been playing this week? Yeah, still Forza Horizon 4. I've been desperately trying to make money so I can afford a castle, and now I can happily say that one is mine. Diablo III also has me in its grasp once again thanks to its Switch release. It really is a fantastic port.
For review purposes this week I've spent plenty of time with the excellent Taiko no Tatsujin: Drum 'n' Fun! and the disappointing Gal Metal. If you want to get some exercise while playing video games, I can definitely recommend them both if you're going to use motion controls. It's not the best way to play them though; buttons always win for that.
Kim: For some reason that I'm not quite aware of, I've rediscovered Pokémon Go. That means for the last week or so, I've been logging into the game every few hours to see what pesky pocket monsters await me. It's also an extra reason to want to leave the house, so that's something. GIVE ME ALL THE POKÉMON. Except Mr. Mime. You can keep that freaky bastard.
In terms of "proper" games, I've played and reviewed D'Avekki Studios' and Wales Interactive's latest game, The Shapeshifting Detective. I'm a sucker for a FMV game, and this latest addition to the collection is one of the best.
Becca: For a while, my roommate has been trying to get me into Dead by Daylight. I've played a bit of it here and there when I'm in the mood, but I've never gotten super into it. That definitely changed this week. I loaded up the game and we played for hours. I also bought Micheal Myers and have been trying to level him up. What can I say? That theme song makes me so happy. The loading times for Dead by Daylight feel incredibly long so, at Gamespew Kim's recommendation, I started playing the adorable Picross Mon on my mobile phone. Picross Mon is a picross game, plain and simple, but with adorable monsters cheering you on as you solve the puzzles. Its fun and player friendly and well worth playing to pass the time a little.
I also played through the cute point-and-click hidden object game My Brother Rabbit which tells the story of an older brother who helps his sister cope with his illness by creating an imaginary world for them to play in. The puzzles are challenging but simple enough so its definitely friendly for anyone at any gaming skill level. I highly recommend trying it out.
My Brother Rabbit
Stan: While I was playing Red Dead Redemption 2 last night a thought popped into my head: it was the moment from Step Brothers when Brennan asked "Did we just become best friends?" No readers, I don't think my best friend is a game, but in the same tone as Brennan the question instead asked "Did you just become my favourite game of all time?" Hearing the incredible Unshaken, sung by D'angelo (I'm not even going to pretend I'm cool enough to know who he is), I just couldn't help but be completely blown away by that moment. And so many moments from the game. It's just a masterpiece.
But, in the philosophical words of The Emperor, "No. No. No." It's not quite my favourite game of all time. That privilege still goes to The Legend of Zelda: The Ocarina of Time. Whether it's the awesome bosses or the memorable moments, Ocarina of Time will always hold a special place in my heart. That's why, on the 20th anniversary of The Ocarina of Time, it seems so right to me that I'm currently playing Red Dead Redemption 2, a game that could well be my second favourite game ever (sorry Witcher 3). But it seems that Nintendo are aware of this, and are busy making the sequel to Breath of the Wild which could include dungeons! It's so flattering to have so many games fighting over my love…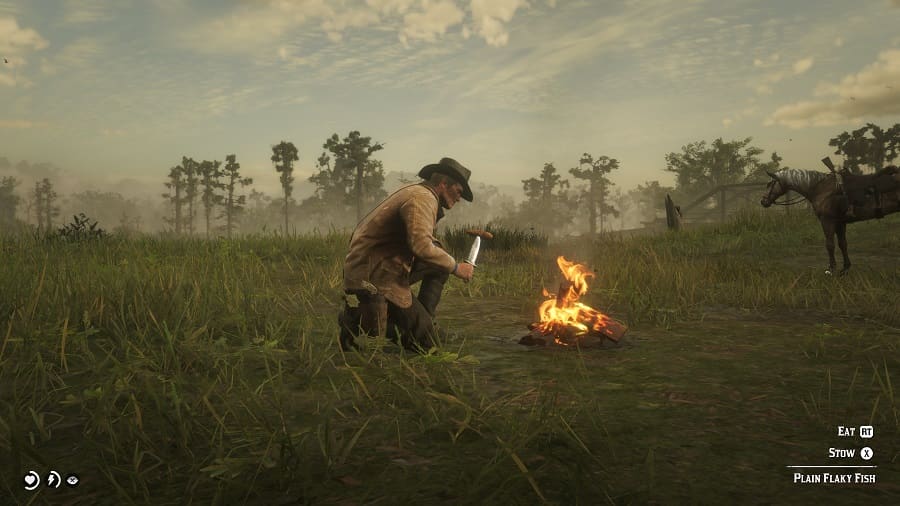 Chris: This week I've got my hands dirty with the gory Corpse Party: Book of Shadows (the 1,525th media product to use "Book of Shadows" as a subtitle). While it has some strong moments, and doesn't lose anything if you've not played any of the previous games, it can be pretty repetitive.
I've been having much more fun with The Shapeshifting Detective, deceiving people as I attempt to solve a murder. I'm mildly disappointed I can't assume someone's shape and walk up to that person, scaring the living daylights out of them. But hearing what people say about your detective behind your back is a delight.
Jack: Blimey. So, we're at that wonderful time of year where it's hard to keep up with the sheer number of games coming out because they all are, all of them. I've been pottering about on Red Dead Redemption 2 throughout the week trying, and notably failing, to hunt anything. I'll find a 3-star deer, get ready to shoot it, and some other cowboy wannabe comes trotting past and scares it away. I have also once restarted the game to avoid losing my horse Eliza after an unfortunate incident involving a train.
Warframe's big expansion, Fortuna, came out Thursday so I've tried to get some time into that despite still feeling like I have hundreds of hours of content left in the base game. With Origin Access Premier I also got access to Battlefield 5 today which so far has only been tweaking settings to try and get it to run alright on my PC (feeling more dated with each passing AAA release), but I've been taking shots with NVIDIA's Ansel which is already supported on BF5.
---