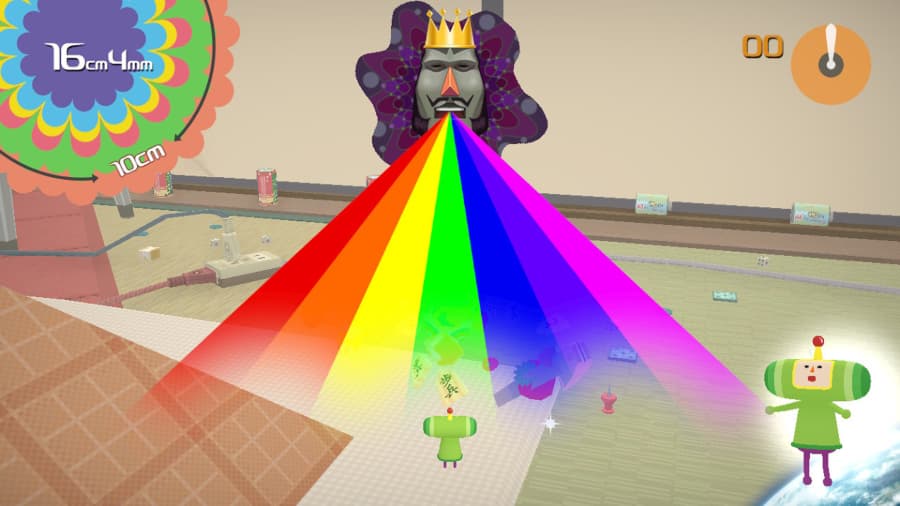 I've waited so long for a new Katamari game. So long. And finally, one has rolled along. Granted, it's in the form of a re-release – but it doesn't matter. Katamari Damacy is just as fun as it ever has been.
Available now on Nintendo Switch and PC, Katamari Damacy REROLL is a remaster of 2004's Katamari Damacy that released on PlayStation 2. The remaster isn't the most extensive – it's no Crash Bandicoot or Spyro, for sure – but it's just as bright and attractive as you remember any Katamari game being. Some of the textures look a little rough, and some objects are hilariously blocky, but that's part of Katamari's charm. It doesn't have to be a technical marvel to be fun.
If you've never played a Katamari game before, you're in for a treat. I played it for the first time on Xbox 360 after my boyfriend tried to explain the concept of the game. "Basically you just roll stuff up into a big ball," he said. "And the aim is to roll up as much stuff as you can to get your ball as big as possible". OK. It does sound weird when you've never played it before, but that's exactly what Katamari is. Katamari Damacy has a loose story in that the stars in the sky have disappeared, and it's up to you – The Prince – to replace them. And to do that, you've been sent to Earth with your Katamari in order to roll up stuff to make new stars with.
And when I say "stuff", I mean everything. Katamari Damacy REROLL is level-based, with each level starting you off with a different-sized Katamari. You'll have a time limit, and a set size goal of how big your Katamari needs to be. Sometimes you'll start off with a tiny Katamari, which means you'll be rolling up small objects, like pennies, paperclips and candy. Other times, it'll start a little bigger. Your Katamari grows as you roll up items, allowing you to pick up bigger things. It's not just inanimate objects either – animals and people can be rolled up once you're big enough. Some levels even let you get so big that you can roll up entire buildings and towns.
So yes, Katamari Damacy REROLL is all-out bizarre, but it's all the better for it. It's a rare breed of game that rarely makes it over to the west, but one that fills a very nice niche that not many other titles can live up to. You may have goals and timers, but Katamari still manages to be completely stress-free. Reaching those goals is never difficult, so playing through each level, rolling around your Katamari and watching it grow ends up being a totally cathartic experience. Getting used to the controls is the most frustrating part of the game – they're unusual in that you'll use both analogue sticks to move, and one at a time to turn around – but you'll soon adjust.
You can't talk about Katamari without mentioning its incredible music. The soundtrack is an intrinsic part of the game; as random and wacky as Katamari Damacy's gameplay. There's a mixture of Japanese and English lyrics, but no matter the language, each track is an absolute joy. You'll find yourself singing "na na na na na na Katamary Damacy" for days, I promise.
After so long since a Katamari release – the last one on home consoles was Katamari Forever on PS3 in 2009 – it would have been nice to have a brand new game rather than a re-release – but ultimately, it doesn't matter. Katamari Damacy's gameplay is timeless. It doesn't matter that you're rolling up items on a 14-year old map instead of a brand new shiny one. That core gameplay is just as entertaining as it ever was. That's not to say that a new entry to the series wouldn't be much appreciated – it would, of course – but Katamari Damacy REROLL is a very welcome release all the same.
Unfortunately, the PC version of the game has a couple of annoyances. Regardless of the settings you choose when you play the game, it will always start in windowed mode at 720p. The first time you play, you have to go through an entire tutorial section before you can access the graphics options to change it. Should you need to make any tweaks to the settings as you're playing, too, it's tough; they're only accessible through the home hub that you visit between each level. It seems a small but ultimately annoying issue that could have easily been fixed by allowing you to access the menu at any time.
Still, those minor grumbles aren't enough to dampen the sheer joy of playing Katamari. If you've never played Katamari before, then what are you waiting for? It's a delightfully bizarre adventure that everyone really needs to go on at least once. And even if you're well-versed in Katamari Damacy, there's no reason to not jump back in. Katamari Damacy REROLL may not exactly be modern-looking, but it's still the best that Katamari has ever looked. And hell – it's just Katamari. What more do you need?

Katamari Damacy REROLL is available on PC and Nintendo Switch. We reviewed the PC version.