Deep Silver and 4A Games have announced yet another reason to preorder their upcoming Metro Exodus: a free panoramic poster.
The poster, titled The Creatures of Metro Exodus, will be available to anyone who preorders a physical copy of Metro Exodus. Simply buying a copy of the game at launch will also probably net you one though, at it comes in the case of all first-run physical copies. You can see what the poster looks like below.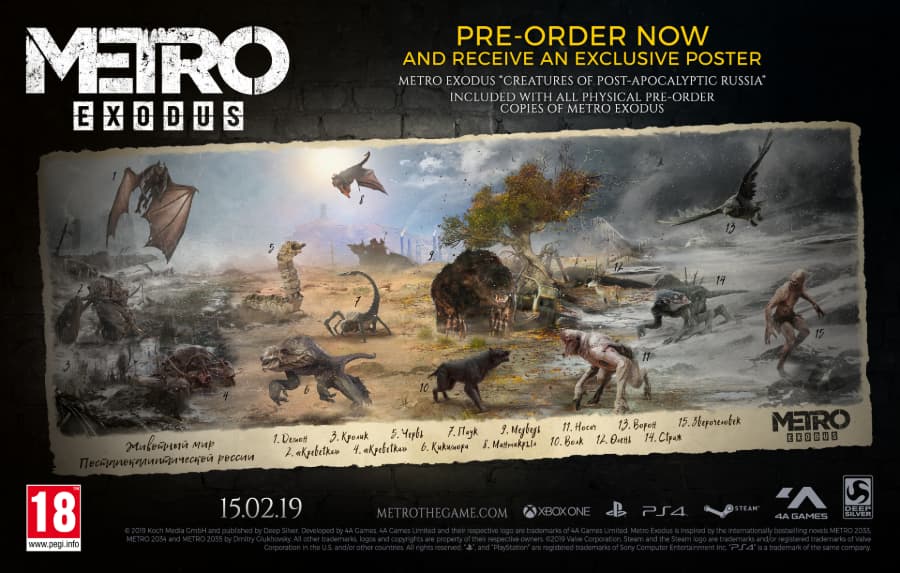 The poster will be included in both standard and Aurora Limited Edition versions of the game, and comes in addition to the previously announced preorder goodies. They are, in case you need a refresher, as follows:
All digital and physical Xbox One preorders include a copy of Metro 2033 Redux
All digital and physical PS4 preorders include a Dynamic Theme based on the Metro Exodus 'Winter' artwork
All physical PC preorders and Steam preorders include a digital art book and the Metro Exodus OST
So, no matter which format you preorder Metro Exodus on, you're in to receive a treat or two. We think Xbox One owners who don't already own Metro 2033 Redux get the best deal though.
Metro Exodus launches for PS4, Xbox One and PC on 15th February. Preorder your copy on Amazon.
---