Originally released for PC in 2013 and then PS3 in 2014, it wasn't until it was remastered for PS4, Xbox One and PC last year that I finally got around to playing King Art's The Raven.
A typical point and click adventure game with a story steeped in murder and mystery, I found myself enjoying it a great deal on Xbox One despite its sluggish movement and less than stellar visuals. And now, The Raven Remastered is available on Nintendo Switch, too.
Whether you play it on Switch or not, the premise of The Raven Remastered is the same. Why wouldn't it be? With a story spanning three chapters, you primarily take control of Anton Jakob Zellner, a middle-aged Swiss police constable out to prove himself. And the possible resurgence of the Raven, a master thief who's believed to be eyeing up a set of rubies known as the Eyes of the Sphinx, is the perfect opportunity. Also on the case is inspector Nicolas Legrand. Celebrated for shooting the Raven dead four years ago, he's now questioning if he gunned down the right man.
If you've played any point and click adventure game on console in recent years, you'll get to grips with The Raven Remastered very quickly. You move the portly constable Zellner around with the left stick, and once you're in range of an item or object you can interact with you can press the respective face button to do so. If there's more than one interactive element in range, you can switch between them with the right stick. Like any good point and click adventure you have an inventory too, which can be easily accessed with the push of a button.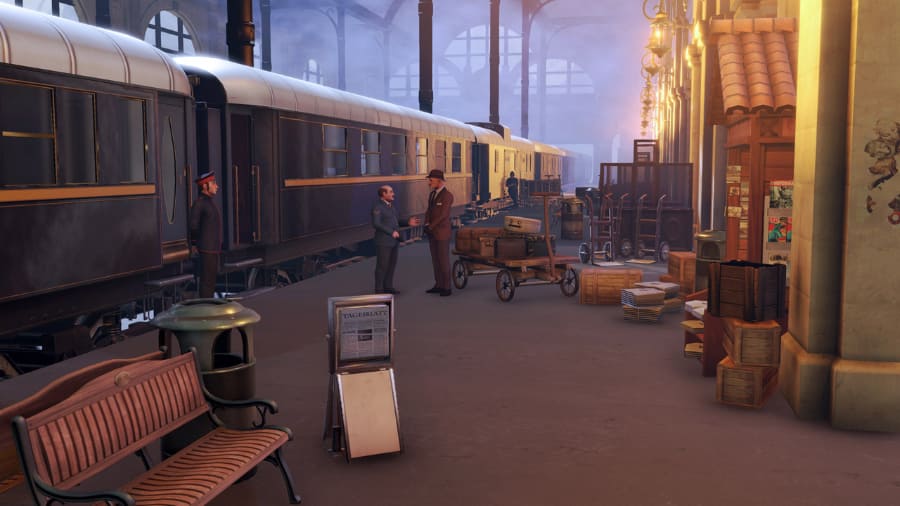 Despite the Switch having a touch screen, which in theory is the perfect control scheme for a point and click game, unfortunately it's not supported. Whether you're playing the game docked or handheld, you've got to use the left stick to move and the face buttons to interact. It's not really a problem, just a bit of a missed opportunity to make this Switch port stand out. There's nothing here to draw you to the Switch version unless you don't have a PS4, Xbox One or PC. Well, apart from the fact that you can play it anywhere in handheld mode.
As usual, being able to play The Raven Remastered anywhere is quite a draw. With mystery being one of the game's assets – drawing you into its story as one twist after another is thrown your way – it's the perfect game to sit down with on a lengthy train journey. Also, while the game's visuals weren't particularly impressive on other formats, nor are they in docked mode on Switch, in handheld mode they're not to be sniffed at. There are no issues with performance, either.
Unfortunately, the issues that plague other versions of the game remain: Zellner's sluggish movement makes getting from A to B sometimes more of a chore than it should be, and there's the occasional puzzle that makes little sense. They never frustrate enough to truly turn you off the experience, though. You might get a little aerated from time to time throughout The Raven Remastered's 10-hour adventure, but you'll push on because you'll want to see it through to its conclusion. You'll want to see how it ends.
A story that keeps you on the edge of your seat is hugely important to point and click adventures such as The Raven Remastered. And thanks to its clever writing and mostly believable voice acting, it manages to accomplish that. It's not quite up there with the likes of the original Broken Sword, but it deserves to be remembered as a cult classic. Control issues aside, The Raven Remastered is one of the best point and click style adventures available right now, and its presence on Switch is very much welcome.

The Raven Remastered is available on PlayStation 4, Xbox One, Switch and PC. This is a review of the Switch version.