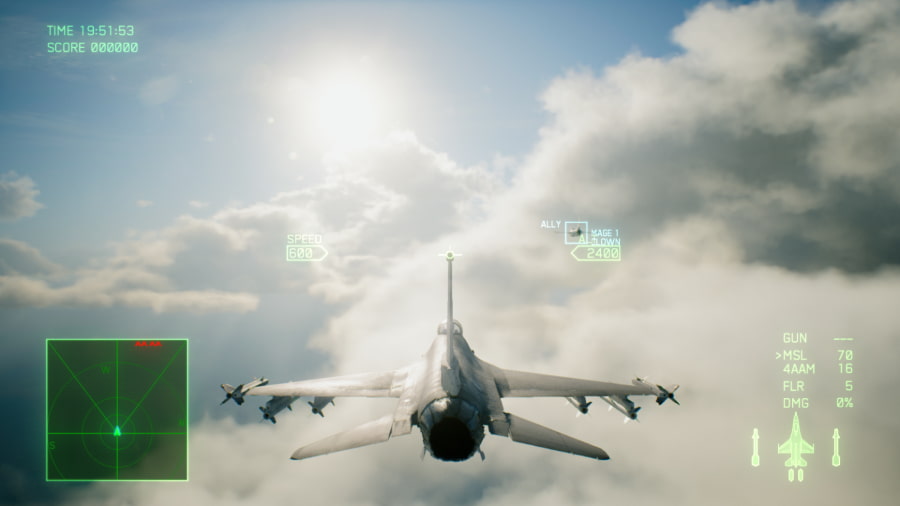 Another week and we'll once again be knee-deep in zombies in Raccoon City. That's in another week though: what have we been playing in the now?
As usual, the GameSpew team has been playing a whole smorgasbord of games this week in the aim of providing you, our dear readers, with honest and reliable gaming opinions. What can we say? It's what we do. Some of the games we've played are good, some of them are bad, and many of them sit in that grey area in between that's often the worse place to be.
So, what have we actually been playing? Read on…
---
Rich: Last weekend, I shaved all my hair off and became a silent assassin. Well, okay, not quite. I simply immersed myself in the Hitman HD Enhanced Collection on Xbox One. I found it hugely enjoyable – even Hitman: Absolution, which looks great in 4K – though its RRP is a real killer.
Moving into the week, Ace Combat 7: Skies Unknown is the game that's been taking up most of my time. It's been too long since we've had a proper Ace Combat game, and Ace Combat 7 doesn't disappoint despite being occasionally frustrating. I've also had a little dabble with the Xbox One version of Guacamelee! 2, which is just as good as ever. And how can I forget my time spent with The Grand Tour Game? You can read about that over at Gizmodo UK.
Kim: I've been in a bit of a gaming funk this week and have struggled to find anything to really sink my teeth into. I tried a bit of Onimusha: Warlords, which, despite having no experience with the original release of the game, is still pretty fun. In trying to find something to waste my time with, I loaded up Stardew Valley, a game I've previously sunk tens of hours into. But it's been that long since I played, I have no idea what to do to keep my farm running. I also revisited Moonlighter, and was reminded how delightful it is.
On Switch, I've spent quite a lot of time playing Fill-a-Pix: Phil's Epic Adventure. Gotta love those picture puzzles. Plus, it's quite cathartic before bedtime and sends me to sleep quite nicely…
Becca: This week I've been spending a lot of time dilly dallying in Red Dead Redemption 2. I noticed that I was progressing a little too fast so I spent a good long time catching legendary fish and just generally messing around. I've decided that I don't care about being nice to people, so I've been doing a lot of robbing and looting and tomfoolery. It makes the game much more fun, apart from always running away from the law of course.
I also played through Hello Neighbor: Hide and Seek, a prequel to the popular Hello Neighbor. I wasn't entirely impressed by what it had to offer, but it did do some things to improve upon its predecessor. I put quite a few hours into the farming simulator My Time at Portia where I mined for hours upon hours so that I could craft a million things and create an unstoppable workshop the likes of Portia have never known. I've also played through the third episode of The Walking Dead: The Final Season and sobbed like a belligerent baby. I don't want the story to end, but I'm also incredibly excited to see the finale.
Stan: "I want to be the very best, like no one ever was…" and that's why I'm still playing Football Manager 2019 Touch on the Switch, and Pokemon: Let's Go Pikachu. I'm well on my way to being the best football manager/Pokemon trainer there's ever been: move over Roy Hodgson (yup, Hodgson is a Pokemon trainer too: he actually raises a flock of Pidgey back home). It's a time consuming career though – I'm only now about to save Silph Co.
Recently in Football Manager 2019 Touch I absolutely destroyed/annihilated/humiliated Southampton with an amazing 1-0 thrashing. It's looking like Portsmouth may actually avoid relegation this season! And it's all up from there: we'll be going for the league title next season. And I'm not one to be outdone by Gary Lineker; if Portsmouth do win the league I promise that I'll write my next review in just my underpants – I don't care what my editor thinks…
Matt: This week I've finally sunk back into Darksiders 3 and it's getting better and better. This series is one of my favourites, and I'm very happy it was resurrected. It still suffers from some loading issues, but when it's smooth, it's fast and exciting. With Ace Combat 7 out now, I hope to dedicate a good chunk of the weekend to that, along with the Jump Force beta.
Jack: This week I've been down in Pokémon City! Pokémon Go got me more invested in Pokémon Let's Go, and vice versa. I've started to get confused about which Pokémon it is I need from each; shouting "ooo I need that!" at Pokémon Go only to remember once I've caught it that it was on Let's Go I needed it.
Another free short story-driven exploration game appeared on Steam this week as well, What Never Was, that I quickly checked out. More on that in a short post here on GameSpew soon. Apart from that, I've tried to figure out ways to be more engaged by FIFA 19 career mode to avoid spiralling back into the Ultimate Team scene.