The first season of True Detective made a statement when it debuted back in 2014.
Boasting mesmerising performances from Matthew McConaughey and Woody Harrelson, a cinematic sensibility and a compelling storytelling that agilely jumped back and forth in time, it was one of the most interesting crime dramas in years and a gripping character study of two broken men. Widespread critical acclaim, awards nominations and strong viewing figures followed, with writer/showrunner Nic Pizzolatto becoming more or less an instant star, and series director Cary Fukunaga further embellishing his growing reputation.
And then it all went a bit wrong. The difficult second season was a strangely mundane tale of murder in California. Another A-list cast was assembled (Colin Farrell, Vince Vaughn, Rachel McAdams) and while there were some good performances, the intensity and strangeness that made season one so great was gone. In short, it didn't really feel like True Detective; it lacked the same artistic sensibility, and none of the varied cast of characters were that interesting. It pulled in reasonable viewing figures but was panned by some critics.
Part of the issue was time, with Vanity Fair noting that while Pizzolatto effectively had three and a half years to plan and write that superb first season, the second was effectively created and produced in 14 months. This left the third season a little up in the air. That same Vanity Fair piece noting that HBO wasn't convinced that Pizzolatto in sole creative control was the formula for success, and was considering imposing a writing staff or different showrunner. That first season benefited from the strong, continuous input of Fukunaga and the feeling at the studio was Pizzolatto needed a creative counterpart. These did not seem like changes that would go down well with Pizzolatto, with the TV auteur reaffirming that he didn't want to work "by committee" in a Vanity Fair interview.
Years passed. Literally – it's been about three and a half years since series two first aired. There have been some changes behind the scenes: David Milch (the man behind dramas like NYPD Blue and Deadwood) came on board to work with Pizzolatto while Graham Gordy joined the writing staff. This felt like a compromise of sorts. True Detective is still very much Pizzolatto's baby, but there are others there to give creative input. Once again, Pizzolatto has had the time to craft something truly special with season three – and thankfully he has. This new True Detective is a very different show to the first season, but it has rediscovered its distinctive feel, the brooding sense of atmosphere, the intensity, the cinematic direction and the vivid characterisation.
The action has shifted from Louisiana to the Ozark Mountains in Arkansas, from wide open fields and swamps to a neighbourhood almost surrounded by dense woods. The story is the disappearance of two girls in 1980; the sort of thing that's every parent's worst nightmare, the kids going out to play and then never coming back. That's how it starts off at least. This being True Detective, things quickly get much more complicated. That disappearance is investigated by detectives Wayne "Purple" Hays (Mahershala Ali) and Roland West (Stephen Dorff).
It's Ali, though, that's the living, beating heart of True Detective season 3. The timeshifting narrative from the first season has been brought back and expanded, with the action shifting between three different periods: the investigation in 1980, Hays being interviewed about the case by police in 1990 as he attempts to balance work and family life, and a TV crew interviewing Hays about the notorious case in 2015 as he struggles with what appears to be early onset Alzheimer's disease.
This format sets the stage and requires a fantastic, multifaceted performance from an actor – and the Oscar-winning Ali is the perfect choice. Originally brought in to play a supporting role, Ali pushed for the lead and more than justifies his faith in himself with a powerhouse performance. Well, three powerhouse performances really.
In 1980, Hays is in his 30s, with short curly hair that evokes memories of Samuel L. Jackson in Pulp Fiction and a relaxed, easy confidence. 10 years later, there's already a sense that the years are taking their toll; this Hays has a close-cropped, almost military haircut and a world-weary exasperation that's at times playful and at times angry. There's a muscular, athletic physicality to him and a quick temper that makes a scene where he admonishes one of his children for getting lost in a supermarket genuinely shocking. It contrasts starkly with the almost Zen-like calm with which he goes about the 1980 investigation. And then, through clever prosthetics and make-up, he goes from his 40s to his mid-to-late 60s; an old man whose wrinkles and grey hair are complemented by a deliberative tone and a heavy, drawn-out quality to his movements. This older Hays is grieving the loss of his wife and coming to terms with the fact that he can no longer trust his mind, the very thing he used to rely upon to break cases and bring murderers to justice, the thing that gave him his identity.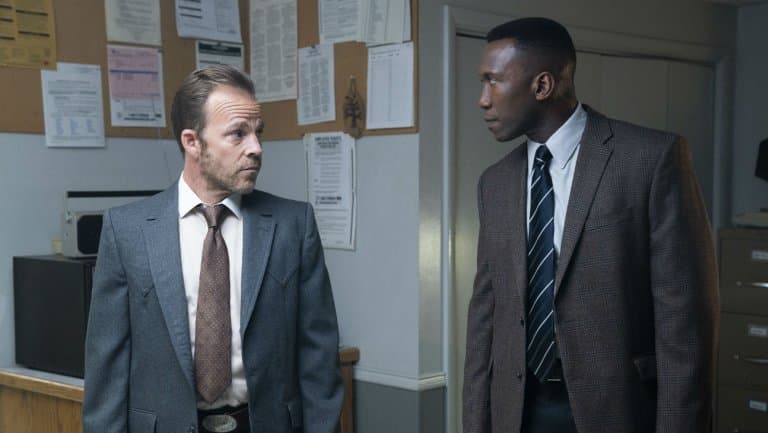 Each time period is compelling in its own way, but the way True Detective shifts between them is mesmerising; Hays/Ali ageing before our very eyes. He's also ably supported – Dorff's fellow detective is a good foil, with the two of them trading jokes and discussing future plans. They clearly like each other and have been working together for years, in stark contrast to the odd couple dynamic between McConaughey and Harrelson.
Carmen Ejogo plays Hays' future wife, the two of them meeting during the course of the investigation in 1980, fighting and making up in 1990 and then leaving a tangible absence in 2015. This three-stage relationship is powerful and gives this season a human quality that was generally in the background in the first season, between McConaughey's philosophical ramblings and Harrelson's over-the-top histrionics. They played characters on the extremes of human experience, while this third season focuses on people who are more likeable, more relatable, more "normal". This has led to a more conventional drama, but in many ways a more affecting one too.
Finally, Scoot McNairy is on good form as Tom Purcell, the father driven out of his mind by worry and whose desperation to find his missing children often turns to anger that more isn't being done; that detectives are going through his house instead of scouring the streets; that no one can wave a magic wand and make everything as it was.
True Detective season 3 pulls off a delicate balancing act. It retains the feel of that iconic first season and many of its defining features, but at the same time feels like something new. This is a different story with very different characters, and not a lazy retread of ideas from season 1. The break seems to have allowed Pizzolatto to rediscover his magic touch and he's crafted a compelling tale that effortlessly shifts between its timelines and uses each of them to build up complex, multi-faceted characters whose shifting personalities both convey the impact of the case and of life in general. And, just as McConaughey was perfect for Rust Cohle, the detective as disturbed as the killer he was chasing, so Ali is perfect for this more down-to-earth tale. Ultimately, this is one of those portrayals that's so convincing that it immediately becomes almost impossible to imagine anyone else in the role and, while it's not the only reason that this third season of True Detective shines, it's a performance that dominates and defines this latest interpretation, elevating it to must-watch status.