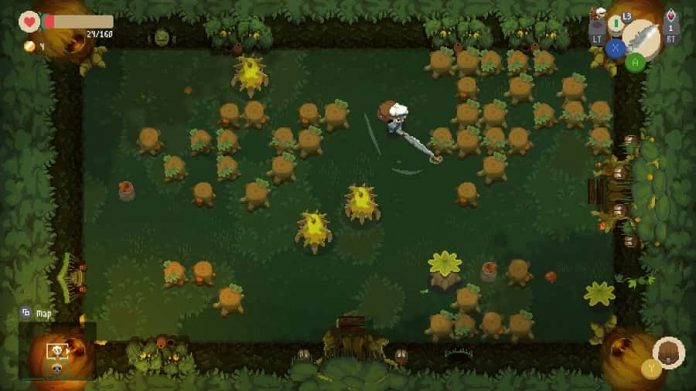 Want more Moonlighter? Of course you do.
Moonlighter, a shopkeeping-meets-RPG game from Digital Sun, was one of my indie highlights of last year. By day, you're a merchant selling your wares to make a living; by night you're an adventurer, exploring ruins in a roguelike adventure to defeat foes and collect valuables to sell in your shop. It's a strange pairing of genres, but one that works exceptionally well.
Since its launch, Moonlighter has has a number of free updates, but today marks the release of its biggest one yet. Called 'Friends and Foes', the update adds 'familiars' to the game, giving your hero a companion on their travels. There's also a wealth of new minibosses to fight, new story and lore, and numerous other fixes and changes. Here's the full list of changes, as per Digital Sun's press release:
Companions

— Nine new familiars have arrived to aid you in your dungeon crawling! Kill a particular enemy 10 times and a very special egg will appear! Give the egg three days to hatch and your fresh-faced familiar will be ready for action! Each sporting different mechanics, they can damage enemies, restore your life, get items for you, act as an additional chest, and more!

Minibosses

— Eight new minibosses are here to challenge you! They will appear as guardians of the dungeons, securing gateways leading to deeper rooms. They will emerge at the end of the first and second floor in each dungeon.

Zenon's Campfire

— From now on, when you visit the dungeons at night, Zenon will be there, sitting by his campfire, ready to tell you some forgotten stories of Rynoka and Moonlighter's world. Those tales will be unlocked with the game's progression.

Tomo Stories

— We've modified and added more lines for Tomo. They should explain her relationship with Will better, shedding some light on their mutual past.

Banker Information

— We have introduced a lot of special warnings and UI changes to avoid the Banker "stealing" your money. A lot of you forgot to revisit that mustachioed capitalist and were losing the investment.

Sorting Items

— We've added a sorting mechanic inside the inventory.

Get the Broom!

: We've added the possibility to get the Broom

™

from Le Retailer (if you've managed to lose it somehow!). The Broom

™

is important for getting some achievements – so we hope you like this little feature!

Prices Update

— We've added a new system in the Shop to better inform whenever an item's price gets updated.

+ Minor changes and Fixes

I'm definitely excited about getting a companion in the game – cute animal buddies are my absolute jam. And the opportunity to find out more about Moonlighter's world through campfire tales sounds delightful, too.
If you're yet to try Moonlighter, now's the perfect time. And if you haven't visited Rynoka in a while, what more of an excuse do you need to jump back in? Moonlighter is such a special game; it apes tried and tested genres, but blends things together to make something completely unique and unparalleled. The fact that Digital Sun continues to support the game with such meaningful enhancements is a true gift that I hope keeps on giving.
Here's the trailer for the Friends & Foes update, which is available now on all formats.
---