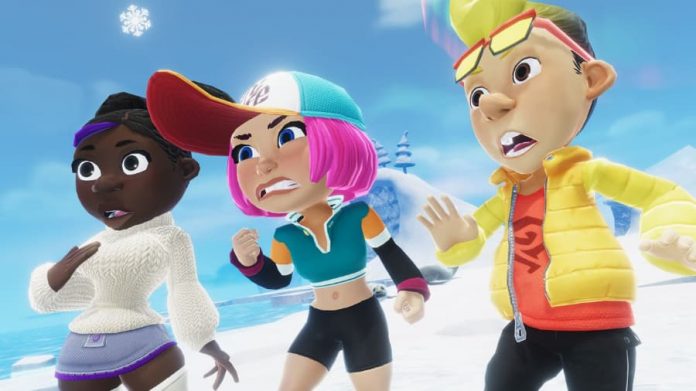 Stunt Kite Party is indeed a game best played with a party.
Sure, it has a single player campaign that can eat up quite a few hours of your time, but you probably won't enjoy it all that much. That's because it often feels like the CPU cheats, and the gameplay that Stunt Kite Party provides is best enjoyed with others. It's the type of game that will make you laugh at each other, form rivalries, and generally have a whale of a time playing when everyone is on the same skill level. Though those you want to play it with will have to be close by, as it doesn't support online play.
What that means then, is that Stunt Kite Party will have limited appeal. But if you do have friends or family that often like to join you for a bit of gaming fun, you should definitely invest in it. I mean, for one, it's quite an original concept. And two, it has enough match types to keep a group of people entertained for hours.
Unsurprisingly, Stunt Kite Party is all about controlling kites. What makes them stunt kites I'm not quite sure, but it also doesn't really matter. All that matters is that you and up to three other players launch your kite upon the countdown of a timer, and then compete against each other to complete a wide range of objectives. You might have to pop balloons, for example, or shoot meteors out of the sky. And whoever comes out on top after one or more events is declared the winner.
Controlling your kite can feel a bit troublesome at first. You don't have direct control – i.e. pressing up doesn't make your kite fly upwards – instead, your kite automatically moves forward of its own free will and you simply steer it left or right. You can propel your kite forward with a sudden flourish of speed, which is essential in match types such as Balloon Popper where you need to burst balloons. And you can slow down the movement of your kite, too, which comes in particularly handy when trying to stay in the confines of a shield during matches of Alien Attack. Other than that, there's only one other match type that introduces more buttons for you to worry about. Meteor Attack requires you to shoot meteors out of the sky with projectiles, making Stunt Kite Party more like a space shooter for a minute or so.
Adding more complication and unpredictability to many match types is the addition of power ups. They randomly spawn in bubbles, and should you pick one up, you can activate it with the press of a button. Some power ups will help you by providing a shield, while others make your opponents' lives a bit trickier, instantly knocking them to the ground or reversing their controls. They're nothing out of the ordinary, but they add a little extra variety to each match up.
There are ten match types to compete in overall, each with their own rules and hazards to watch out for. When taking part in the game's Cups game mode, a set number of events will be selected for you. If you want to choose your own events, Custom Tournament game mode lets you do that. And if there are less than four players taking part, bots can be added to fill in the gaps in both modes. Although you probably shouldn't bother as they're likely to just cause frustration.
Visually, Stunt Kite Party is bold and colourful. There's a diverse range of characters to play as, and they are all very much larger than life. None of them play any different from one another though – the character you decide to play as is purely a cosmetic choice. And while playing through the game's Story Mode can be a chore, it does allow you to unlock some additional characters to add into the mix. Many alternative kites and character skins can be obtained by completing various objectives, too.
Uniqueness is what keeps Stunt Kite Party afloat. It's disappointing that playing against the computer in Story Mode simply isn't all that fun. And it's disappointing that there's no online play. But honestly, you'll have never played anything quite like it before. If it's impossible for you to gather some people around to play Stunt Kite Party then don't bother with it, you're not going to get any fun out of it. If you often have a riotous time playing the likes of Mario Kart 8 Deluxe or Super Smash Bros. Ultimate with friends locally, however, buy it. As party games go, it's up there with the best.
Stunt Kite Party is available on Switch.