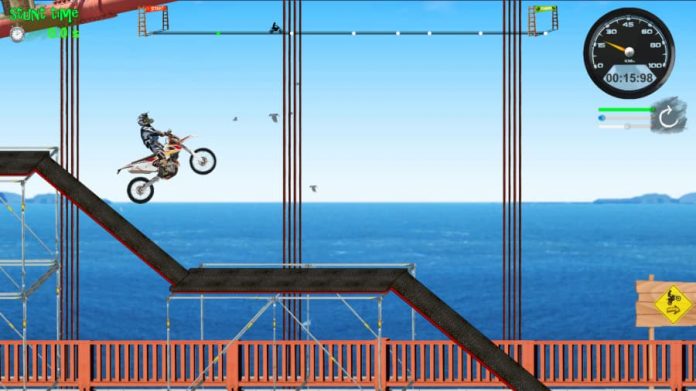 Released last Friday, World Enduro Rally is the cheapest game ever released on Xbox One. And even better, there are no microtransactions or DLC available for it.
With a price of just £0.79/$0.99, you might do a double take when you see it on the Xbox store. You might also recoil in horror when you see the transparent joystick in the lower left-hand corner when you watch the game's trailer. But don't worry, that's not actually there in the Xbox One version. While World Enduro Rally's mobile roots are obvious, work has been done to make it more at home on console.
Anyone familiar with RedLynx's Trials games will find World Enduro Rally instantly familiar. Across a range of stages, you drive from left to right, overcoming obstacles in order to reach the finish line as fast as possible. So of course, it's advantageous that you don't crash. You'll come up against huge jumps, logs on the floor, rotating platforms and more, and to negotiate them effectively you need good control of your bike. That means not simply holding down the accelerator and hoping for the best. Though you can try it if you like.
Mechanically, World Enduro Rally isn't going to set your world on fire. Animation is a bit stiff, and the game's physics don't always work as you'd expect, but it's enjoyable nonetheless. And while you can blast through all of its stages at your own pace, to place at the top of the leaderboards takes considerable skill. You don't only need to have expert control of your bike to avoid falling off it, you also need to perform outlandish stunts in order to earn hefty time bonuses.
It's not going to leave a lasting impression on you, but honestly, World Enduro Rally is way more entertaining than you could ever expect it to be for its price. I've had much more fun playing it than I had with Fallout 76, that's for sure. And if you haven't got an Xbox One, World Enduro Rally is available on PC, too. In fact, it has been available since last November on the format. A game being £0.79/$0.99 on Steam simply isn't as noteworthy though.