Guess what we've been doing this week? Playing lots of games!
How did you guess? Clearly you're very good at this game. But as always, here at GameSpew Towers we've been busy twiddling our thumbsticks and working our way through hordes of games so we can bring you, our dear readers, lots of lovely content about lots of lovely games. We're kind like that.
Anyway, whether for work or pleasure, here are the games that have been keeping our screens warm over the last week. Let us know what you've been playing by tweeting us @game_spew. Have a great weekend, everyone!
---
Rich: Having been on holiday when Devil May Cry 5 released, I spent last weekend pretty much playing it solidly. Thankfully the game didn't disappoint. Its combat is brilliant, and it has got the crazy scenes you'd expect of a Devil May Cry game in 2019. It looks bloody nice, too.
I've also spent time this week playing MX vs ATV All Out Anniversary Edition, which is certainly an improvement over the original edition but still not great, and Left Alive, which is absolute tripe. Thankfully, it seems like The Division 2 is going to make me forget their awfulness. From what I've played of it up to now, it seems brilliant.
Kim: I've been captured in the unforgiving grasp of Treasure Stack. Please help me. It's an addictive little puzzle game, but by god is it frustrating. And disappointing that its online community is already practically non-existent, just a couple of weeks after its release. I've been unable to get in a ranked match for a few days, and since the game's much more fun playing competitively than it is in solo play, it's rather disappointing. Come play against me in Treasure Stack, please!
When I've been able to free myself from its evil shackles, however, I've made headway in One Piece: World Seeker. As freaky as Monkey D. Luffy is, I'm having fun. It's a gorgeous open world, if a bit empty at times, but it's a solid adventure game with plenty to do. If you're playing it too, I put together a few tips here, and look out for my review next week once I've put a good few more hours into it.
Becca: This week I tested out of a few rounds of Dead by Daylight's new killer, The Plague, on the PTB. She's due out in a few days so I've been saving up my blood points as much as I can to beef her up when she comes out. Her vomiting ability is absolutely disgusting and I can't wait to try it out on unsuspecting survivors. And the new survivor, Jane, has a few intriguing abilities I'm excited to try in action as well.
I also played a couple hours of the lovely choose-your-own-adventure style game, Electric Sleep, that puts you in a pixel art, serene (and at some points unsettling) setting where you have to discover how you came to be there while making decisions that will completely change the ending depending on what you do.
I've also played quite a few hours of the romance visual novel, Arcade Spirits. The dialogue is really funny and the art style is gorgeous. I'll definitely be playing through a few more times to see what kind of other shenanigans I can get the protagonist into. I'll have a write-up on my time with that early next week.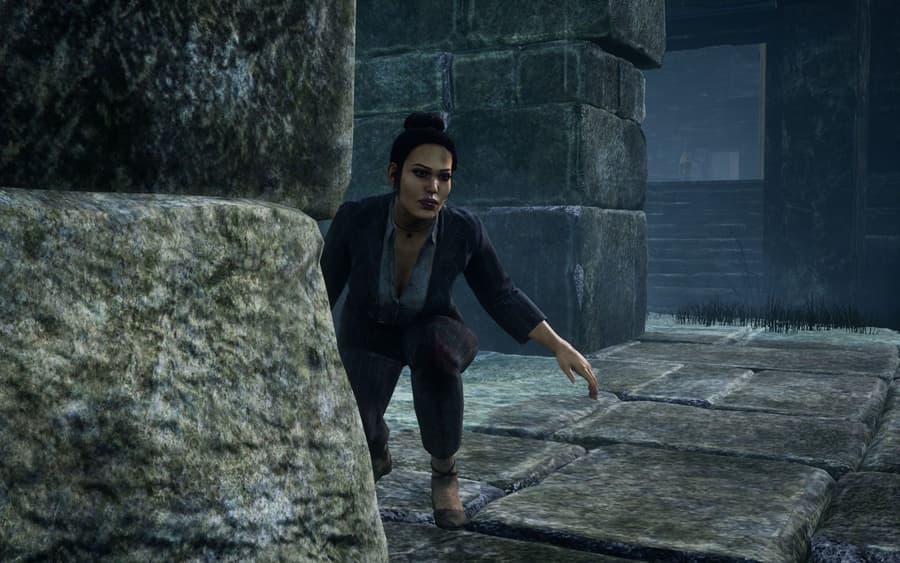 Chris: I've been dipping back into Devil May Cry 5 and, despite my initial reservations, I've come to enjoy playing as V even though he's not your typical DMC protagonist. But most of my time's been spent playing Resident Evil 2. I scrapped my original Leon run and decided to play through the game as Claire. There were a few subtle differences though, and now well into my second run play, I'm a bit confused.
Just who is it who keeps putting the medallions back in the statues? Where does all the new ammo come from? Who keeps re-locking the doors? And why do the events in each story not quite sync up? It's giving me an odd "Russian Doll" vibe; I'm not convinced there aren't multiple Leons and Claires running around.
Jack: My play time on Anthem dwindled throughout the week as my desire to play was finally sapped by all the games' issues. Onto The Division 2 now I think, if I can get it running OK on my PC that is.
I've also been back at Metro 2033, and it seems to get tenser. A mistake by me to replace a gun I had plenty ammo for one I had about four shots for has lead to welcome changes to my play style. Metro on the hardest difficulty is awesome. Can't wait to get to Last Light and then Exodus – once I've upgraded my PC, that is. It's just gone from wanting just a new CPU to now practically a whole new build…
Matt: I have evenly divided my week into a handful of games, with Devil May Cry 5 getting the slight edge. It's been a wholly entertaining and enjoyable experience. Outside of that, I've spent a good amount of time with the Season of the Drifter in Destiny 2, mainly getting my shiny new Thorn and playing through Gambit Prime. Trials Rising and Jump Force have taken up the remaining bits of my spare time. I am starting to shake in anticipation, as Sekiro is only seven days away.
Stan: This week's been a huge week for me outside of gaming. I got married! We've also been discussing the idea of adopting a child too because we can't have our own. I also took down a few dragons. Sadly, none of this happened in real life (I'm already happily married – well, I am, my wife is just married). But, I just can't call Skyrim a game; it's a second life, a whole new world to explore. I just never want to leave Skyrim.
That is, unless I want to play Football Manager 2019 on the Switch, or watch MasterChef (I'm only human). I'm the first ever Dragonborn Portsmouth FC manager, which may be hard to believe – Harry Redknapp does look an awful lot like a scaly dragon (how does he have such a beautiful son?). I've also been leaving Skyrim to read both Eden's Gate: The Reborn and Star Wars: Queen's Shadow. Both great novels – and you can read more on my thoughts of them next week. Playing Skyrim, I feel a lot like Gunnar trapped in the world of Eden's Gate…
Robert: I was lovingly gifted Rimworld, the desolate colony survival strategy game. With minimal graphics and a learning curve that is absolutely brutal, it isn't everyone's cup of tea. But sure is mine. The relentless difficulty and the way game throws event after event at you makes the game take a life of its own as you truly bond with your settlers and grow fond of everything they do, no matter their flaws. While to some people it may be a game of pure numbers I am with the developers who see the game through an RP lens and treat the different modes as storytellers. I simply can't get enough.